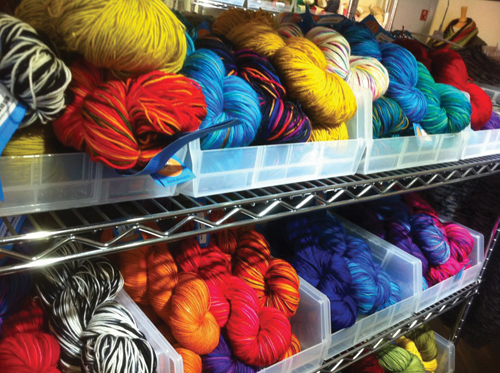 The Ball & Skein & More
In 2009, Kris Gregson and her husband Oz Barron were thinking about a change. Living near Boston for most their lives, they thought a different environment and a slower pace of life would be beneficial. Through a series of fortunate events they not only discovered Cambria, but they also found a small yarn store for sale, one that had been in business since 1978. Seeking a great adventure, they sold their house in Boston and moved to Cambria to re-open and run The Ball & Skein & More.

When you step in to the new larger space, you'll be amazed at the incredible variety of yarns and supplies on display. "We deal with over 90 vendors," says Kris Gregson. "It's a lot of work, but we wanted to offer a wide range of items for fiber fans of all abilities and budgets. Oz is our in-house IT department, so we keep everything in the computer. We can tell if we have enough yarn in stock for your project. We do a lot of special orders as well, but sometimes you just want to walk out with a project ready-to-go!"
Since re-opening in 2009, they have grown the store to be among the top 15% of yarns store nationwide and tripled the size of the store by moving it to a new, much larger location right on Main Street in Cambria's Historic East Village.
"Our focus here is all about quality and value," says Kris Gregson. "Our favorite thing is to find those unique products with great stories and share them with our fiber-loving community. We try to find items that offer the value and quality everyone deserves on all budgets. While a hand-dyed cashmere and silk blend yarn will cost more than a commercially dyed wool/alpaca blend, the quality and value of both products are the best we can find in the industry."
In addition to yarns of all fibers from around the world, you'll see fair trade, organic, local, and un-dyed yarns. Feel the beautiful crochet hooks made from reclaimed woods, at a very reasonable price. Comb through the fabulous selection of buttons, as well as roving, spinning, weaving, and felting supplies.
"We're proud to offer the largest selection of Manos del Uruguay yarns available anywhere in the US," says Oz Barron. "Manos", as it is known in the industry, is a certified fair-trade yarn from a woman's cooperative in Uruguay that has been producing beautiful yarns for over 40 years. They have transformed thousands of lives over the years. "We love the story of the cooperative. We made the commitment to carry every yarn they make in every color. It's a big undertaking but it's such a great product, a great value, and above all a great story that we feel privileged to be able to share it with everyone."
Among their other offerings, you'll find large selections of brands such as Alchemy, Colinette, Trendsetter, Noro, Frog Tree, Rowan, Mountain Colors, Blue Heron, Addi, Kollage, Baah, and more.
Kris and Oz say, "Come by and see us, we love to meet our fellow fiber fans!" Happy Stitching!
Visit CambriaYarn.com to find out more.
Subscribe to weekly travel news
comments