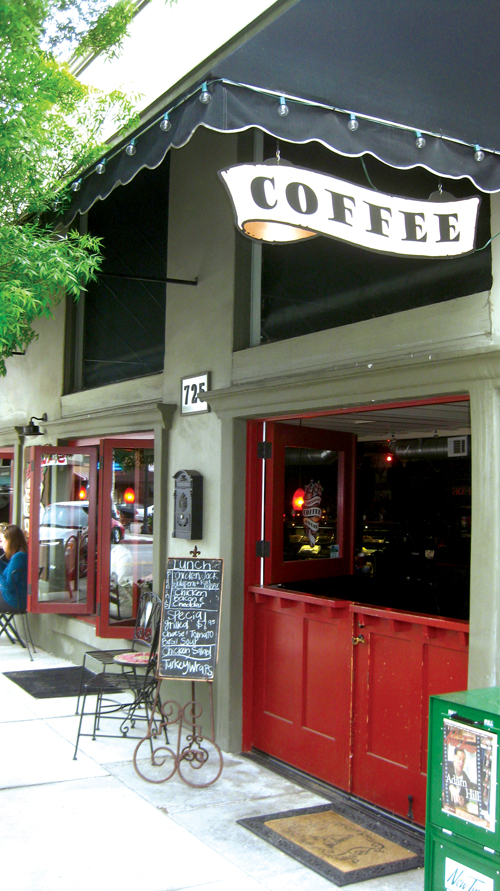 Located amidst quaint retailers and artisan restaurants in the heart of downtown Paso Robles, there's a quiet coffee shop the feels and smells a lot like home. Whether you're a long-term local or a first time visitor, the baristas at Amsterdam Coffee House will welcome you with smiles, a wide array of drinks and treats, and an invitation to lounge in their spacious seating area.
"We created our dream," said Stephanie Bourgult, who co-owns the coffee shop with her mother, Rosemary Bourgult. "We wanted a low-key, comfortable environment to relax with friends."
That dream came true almost by accident. Stephanie said she and her mom had talked about running a coffee shop for years, but the planning discussions were similar to pipe dreams of winning the lottery. They only half expected it to ever actually happen.
Then, a random stroke of luck changed everything. Stephanie was on maternity leave, and she and her mother were shopping downtown. As a new mother, the cold winter weather and brisk walking wore on Stephanie. She needed a warm place to rest but wasn't hungry enough to grab a table at one of the restaurants. The other businesses weren't built for sitting, so the Bourgults found themselves wishing out loud for a coffee shop and noting how well their plan would work in the area. Someone happened to overhear, and he told them about a vacant business space nearby. It would make the perfect coffee shop.
They researched the lease information and were surprised to find they could afford it. After finalizing a business plan and setting dad (a cabinet maker) to work redesigning the space, Amsterdam Coffee House was open just three months later.
"It took off more than we ever thought it would," said Stephanie.
Everything about the shop's environment encourages customers to relax, to get lost in a world of earthy aromas and engrossing conversation. The seats are comfortable, arranged in semi circles to encourage friendly discussion in some places, while allowing for peaceful isolation in others. Every window along the south-facing wall opens wide to bustling 13th Street so that the separation between "in" and "out" barely exists. It's ideal for a day of people watching, and it lets the city sounds and fresh air waft in as if the shop itself were breathing.
But the atmosphere is not the only thing that makes Amsterdam unique. The spot is well known amongst aficionados for its 100 percent organic coffee selection and espresso concoctions with flavors that are bold but smooth with rich cream frothed to perfection.
The staff uses a semi-automatic espresso machine that requires a hands-on approach and allows baristas to stay in-tune with the drinks while delivering them with speed and efficiency. At Amsterdam, there's no need to wait for scalding lattes to cool. They're made so that they're ready to drink right away.
"We're total coffee snobs," said Stephanie.
It's a trait that's evident in the delicious drinks they produce, but the Bourgalts are far from pompous with their expertise. Even when other employees are on the clock, Rosemary can be seen swooping through the shop greeting customers, clearing dishes, and wiping tables. The only thing customers need to know in order to enjoy the drinks at Amsterdam Coffee House is their address (725 13th Street). They'll take care of the rest.
"This is a place for the community to socialize," said Stephanie. "My favorite thing is interacting with the people that come in, sometimes twice a day. We know their names, their drinks. We get to be a part of their lives."
In addition to drinks, the shop carries a variety of freshly baked pastries from Edna's Bakery and Panolivo. The decadent éclairs and crumbling coffee cakes go great with a warm cup of Joe and are sure to satisfy that early morning sweet tooth. For a heartier meal, try their breakfast burritos, which are made on the spot and loaded with eggs, cheese, veggies, and a choice of meat, including a tri-tip option that must be what heaven tastes like.
Their lunchtime offerings include a fabulous grilled panini with juicy chicken, gooey cheese, and bacon crumbles served with pita chips. It's simply amazing.
Of course, any eatery in Paso Robles ought to offer wine as an option, and Amsterdam doesn't disappoint. Bottles of local reds protrude from a crafty rack near the cash register while white wines share refrigerator space with an impressive selection of micro brewed beers, soda, juice, and water. When the summer heat renders coffee consumption unimaginable, Amsterdam is still ranks as a beverage oasis. Year round, it's a great place to press pause on the daily grind, an activity packed vacation, and the general stresses of life, so that you can reconnect with friends and the finer things in life.
Perhaps the business's philosophy is captured best by the quote painted on a wall: "Our lives are not measured in the number of breaths we take, but in the moments that take our breath away."
Stop by Amsterdam Coffee House for an experience that's sure to leave you breathless. They're open from 6 a.m. to 7 p.m. Monday through Thursday, from 6 a.m. to 9 p.m. on Fridays and Saturdays, and from 7 a.m. to 6 p.m. on Sundays. Give them a call at 239-7779 for more information.
— Nick Powell
Subscribe to weekly travel news
comments