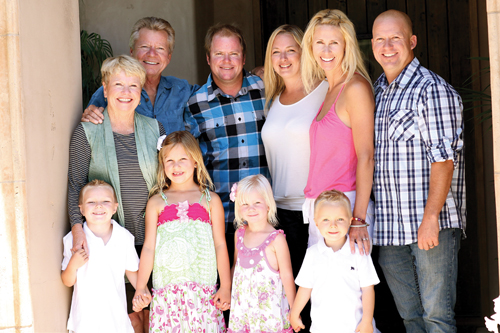 Peachy Canyon Winery, which produces wines sold in 48 states as well as internationally, was founded by Doug and Nancy Beckett in 1988. The winery produced just 500 cases in its first year but now makes 85,000 cases annually. Doug and Nancy moved with their two sons, Josh and Jake, to Paso Robles in 1982 so that they could raise their family in a rural environment. Doug and Nancy, who met in graduate school, were both teachers before moving into the wine business.
Now this winery, which was started as a result of a decision that Doug and Nancy made for their family, is a strong family-run business. Josh Beckett is the Winemaker, and has been since 2003. While both sons were introduced to winemaking and grape-growing through their family's business and vineyards, Josh officially entered the wine business with a job at Paso Robles' Westberg Cellars where he worked in all aspects of production. Josh also spent time working in the wine industry in Australia.
Jake spent a number of years Vineyard Manager, working to manage the four estate vineyards as well as the other vineyards from which Peachy Canyon Winery sources fruit. Now, Jake is the General Sales Manager and travels to promote the brand.
Peachy Canyon is know for its Zinfandel, says Peachy Canyon Office Administrator Stephany Holstine, "Zinfandel is what we are known for, but we like to dabble in other varietals as well. We currently make eight different Zinfandels." The four estate vineyards, over 100 acres total, produce numerous clones of Zinfandel as well as Cabernet Sauvignon, Petite Sirah, Malbec and Petit Verdot. Peachy Canyon also buys fruit from over 20 vineyards in the Paso Robles AVA.
Peachy Canyon makes mostly reds, including Zinfandel, Malbec, Cabernet Franc, Cabernet Sauvignon, a red Bordeaux blend, a Sangiovese-based blend, Petite Sirah and Cirque Du Vin, a blend of Cabernet Sauvignon, Zinfandel, Petite Sirah, Merlot, Petit Verdot and Malbec. They also produce a few whites, Viognier and Chardonnay as well as a 100% Zinfandel dessert wine.
The Becketts are big on supporting local growers, and are involved in the growing of the non-estate fruit they purchase.
The four Peachy Canyon estate vineyards, Snow Vineyard, Old School House Vineyard, Mustang Springs Ranch and Mustard Creek Vineyard are farmed with a focus on sustainability. The Peachy Canyon Winery website highlights many of these sustainable practices, including the composting of all winery byproducts into the soils, canopy management practices to control mildew and minimize spraying and weeding by hand as opposed to spraying as much as possible. They also focus on water conservation and use reduction.
Another way that Peachy Canyon keeps their vineyards sustainable is by planting a cover crop and disking it back in to the soil. They also use ladybugs, lacewings, and praying mantises as alternatives to sprays to control vineyard pests and say they only spray when the crops are in "dire straits."
Peachy Canyon also participates in the Sustainability In Practice Program, or SIP, which is an independent organization that certifies vineyards as being farmed sustainably. The SIP standards examine sustainability in many parts of the business, including finances, worker conditions and environmental factors.
Stephany says of the Peachy Canyon tasting room, "Tasters can expect a friendly outgoing atmosphere." Visitors to Peachy Canyon Winery can also be sure that they are getting a great sampling of what Paso Robles has to offer, as well as a glimpse into a family-owned winery that grew up with the wine industry of Paso Robles.
Peachy Canyon Winery is located at 1480 N. Bethel Road in Templeton. Tasting room hours are daily from 10:00 am to 5:00 pm. For more information, visit their website peachycanyon.com or call (805) 239-1960. They can also be found on Facebook and Twitter.
— Kate Joyce
Subscribe to weekly travel news
comments