Award-winning wines, culinary offerings, local artists & live music
–The 21st annual Atascadero Lakeside Wine Festival will take place on Saturday, June 25 from 4-8 p.m. at Atascadero's Lakeside Park, located at 9305 Pismo Avenue, Atascadero.
The boutique wine festival is a combination of fine wine and culinary offerings, paired with local artists displaying their creations, all situated in a lakeside setting. There are 98 total vendors – 70 foods, wineries, beers & hard cider. Live music will entertain festival-goers. The evening event has grown exponentially throughout the years, having emerged as one of the most popular wine festivals on the Central Coast.
A shuttle service will provide complimentary transportation within Atascadero. View times below: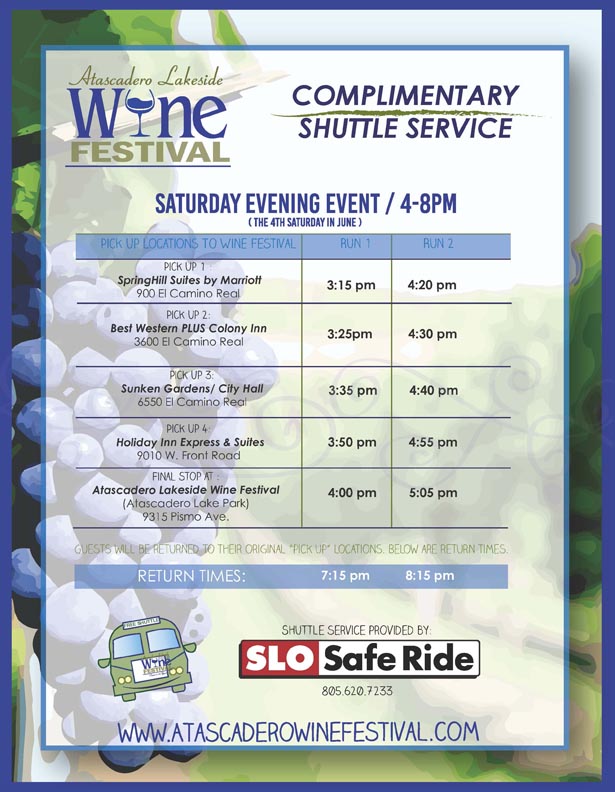 As part of the festivities, wine festival ticket-holders will have free access to the adjoining Charles Paddock Zoo, to roam around on their own or take part on one of the tours beginning at 4:30 p.m. Ticket holders can hang on to their ticket stubs for "Sunday Funday" activities at participating vendors.
The annual festival benefits local community projects and the Charles Paddock Zoo.
Tickets: $50 in advance, $60 at the gate. For more information and online tickets, visit www.atascaderochamber.org. Tickets will also be sold at the chamber office, (805) 466-2044.
comments