Local, family-owned and operated wineries team up to deliver great wines at a great price point
 –When it comes to hospitality, Bob and Daphne Balentine of Line Shack Winery know just what it takes to make guests feel like part of the family. The couple is celebrating the one-year anniversary of their tasting room, conveniently located on 11 St. across from the Paso Robles Downtown City Park. With extended evening hours, it's the perfect place to visit before or after enjoying lunch, dinner, or a movie in downtown Paso Robles.
In addition to the varied wine selection from Line Shack, the tasting room features wines from Heart of the Matter Winery, owned and operated by their son, Jack.
"All of our kids – Jack, Morgan, and Nick – grew up in the wine business, and Jack has been helping us since he was literally out of diapers," Balentine said.
Family matters
Bob and Daphne are the winemakers for Line Shack Winery, with Jack serving as their assistant winemaker in addition to being the winemaker for Heart of the Matter Winery. Keeping things all in the family, the winery and tasting room is staffed solely by the Balentines. Daphne oversees administration and tasting room operations, with Morgan and Nick pitching in to help with social media, tech, forklift duties, and more.
Guests enjoy a warm, inviting, friendly atmosphere while interacting directly with the owners and winemakers. Be sure to check out the photo of their original Line Shack Cabin hanging on the wall and enjoy a glass of wine while the family shares its history.
"We can answer any questions you have, and we always have a nice, warm Paso Robles welcome for you," Balentine said. "There's just this festive family vibe going on. It's also the perfect place to stop by before dinner for a glass of wine while you're waiting for a table at one of the nearby restaurants. Most people stop by again afterwards to enjoy the late-night fun of music and dance with our great wines."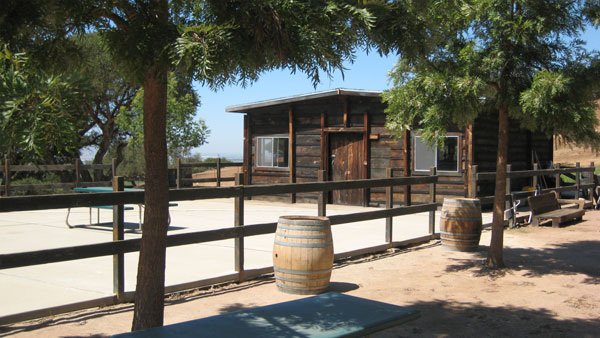 Great wines at great prices
The Balentines developed their palates and a true love for wine three decades ago. Their attention to detail while doing home winemaking in Monterey County has steadily increased since moving their family to Paso Robles and producing their first vintage in 2004. Today, their award-winning wines are nationally distributed in 25 states.
Between the two labels, there's a hand-crafted wine for every palate. Balentine points to his Cabernet Reserve, a blend of four clones of Cabernet Sauvignon from three different vineyards, barrel sources and ages, as his favorite offering. Another best seller is the Line Shack Syrah, a massive, jammy, fruit-forward wine.
Heart of the Matter's Rosé of Dolcetto is a crisp, refreshing, bone dry, Provence-style wine. New to the lineup, the White Rhone Cuvee is a satisfying blend of Viognier, Roussanne, Piquepoul Blanc, and Clairette Blanche.
Fruit for their wines has been sourced for the past 20 years from the San Antonio Valley of Monterey County and small vineyards around Paso Robles. The warm days, cool nights, coastal influence, and diurnal swings in both areas help develop the intense varietal flavors while balancing the acidity of the fruit.
Stop by and enjoy a flight of all the Balentine's wines from their Line Shack and Heart of the Matter wineries. Don't forget to ask Daphne about the cheese plates and bugles.
Visit the tasting room at 840 11th St #3 in Paso Robles; open daily from 4 to 9 p.m., and 4 to 10 p.m. on Fridays and Saturdays. For more information, call Bob at 805-975-9106 or visit lineshackwine.com and heartofthematterwines.com.
– Megan Friberg
comments