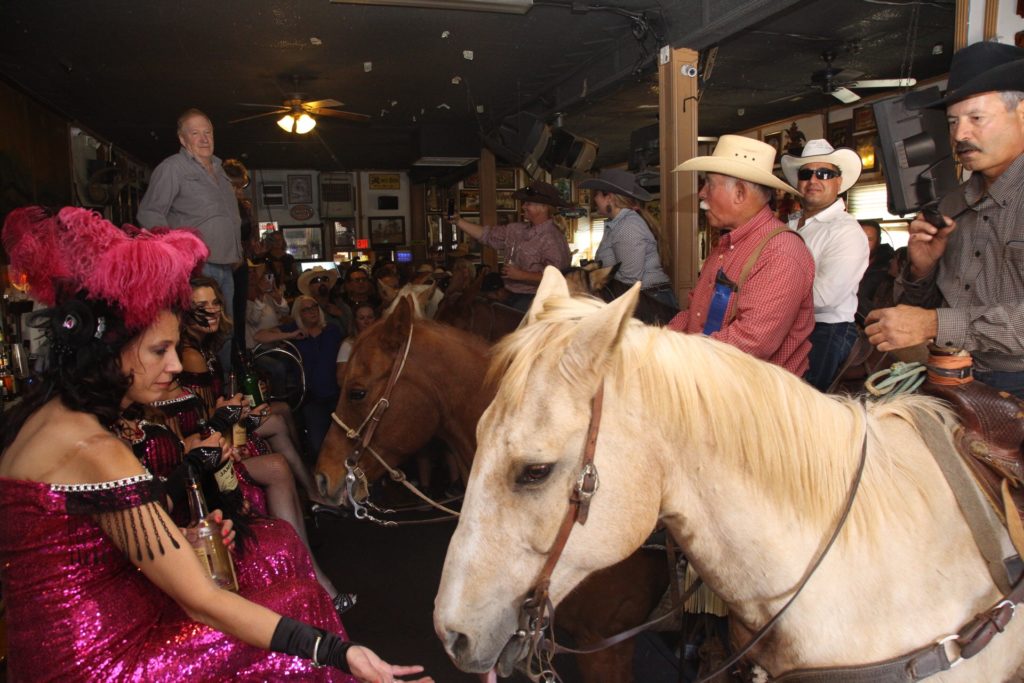 An old time saloon rooted in Paso Robles history
–Before "Beer for My Horses" hit the country music charts the Pine Street Saloon was already serving horses and their riders. The Pioneer Day parade, held annually in October, unofficially ends at the Pine Street Saloon where, for the past 40 some years, horses are ridden right up to the bar. Saloon owner Ron French said, "People get a real kick out of it and how often do you get to have a beer with a horse?"
Sharing a beer with a horse isn't the only thing that sets this bar apart. You might find yourself bending an elbow with a ghost. Regulars talk about noises and things moving. "I don't really believe in ghosts," said French. "It's an old creaky, wooden building." Nevertheless, French set up night-vision cameras and has video footage of glowing "supercharged dust particles" zipping through glass and around the room and lamps and a vacuum cleaner moving across the floor. A few years ago, the rumors of hauntings earned the Pine Street Saloon an episode on the Travel Channel's hit show, The Dead Files. This year the Travel Channel returned to film a new episode for Ghost Adventures, scheduled for release around the end of 2021.
The saloon has been in the family since purchased by French's mother, Pat, in 1971. Built around 1857 the saloon had a reputation as a bordello and visits from Jesse James. Drury James, one of Paso Robles' founders, was Frank and Jesse's uncle. In May 2021, the Pine Street Saloon was voted the "Best North County Bar" in the New Times "Best of SLO County."
No nonsense drinks, live music, entertainment, and safe rides home
"We have daily drink specials and serve lots of beer, Jack and Coke," said French. "We can make foo-foo drinks but they're not very popular here."
The saloon is cash-only but there's an ATM. The décor is rustic. There are pool tables and the jukebox plays two kinds of music: country and western. A food trailer serves on Thursday, Friday and Saturday nights.
Karaoke, Open Mic and live music guarantee a good time. "About 10 local bands play here on a rotating schedule. Once in a while we mix in out of town acts and sometimes we are just surprised!" said French. "Pink dropped in to sing Karaoke a few months ago. Merle Haggard was a regular, even recorded a commercial for us a few months before he died. I haven't aired it out of respect."
The saloon has attracted Paula Nelson (Willie's daughter), Kacey Musgraves, Kenny Lee Lewis, Travis Howard, Ramblin' Jack Elliott, Louie Ortega, actors Gary Busey and Robert Carrandine, Jason Lee and Benedict Cumberbatch.
Live music, karaoke, open mic or other entertainment starts at 9 p.m. on various nights throughout the week. Call (805) 238-1114 for more information.
The saloon's limo offers free safe rides on Friday and Saturday nights anywhere in the city limits. Tips for the driver, please! "If you don't have a designated driver and can't afford a cab, we want to make sure you get safely home," said French.
Pine Street Saloon is located at 1234 Pine Street, Paso Robles. For more information call (805) 238-1114 or visit PineStreetSaloon.com.
comments