Owner loves, 'watching women transform,' in well fitting lingerie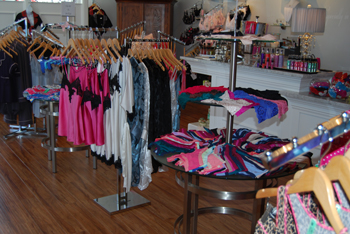 – Bella Raye Lingerie Boutique offers one-on-one attention to women looking for lingerie or properly fitting bras. Owner Coreen Manske opened the boutique, located in downtown Paso Robles, in April.
The owner starting working in retail lingerie when she was 19 and loves helping women pick out the perfect lingerie or properly fitting bra. She said she gives special attention to each customer to ensure she is fitted with the right bra based on specific size and shape. Men will particularly enjoy shopping for the perfect gift to give their wives or girlfriends, Manske said. She designed Bella Raye to provide an intimate shopping experience for both men and women.
"I basically love watching women transform," she said. "Putting them in lingerie or the properly fitting bra, their demeanor changes. Statistically, 70-percent of women are wearing the wrong sized bra. I carry bras and lingerie from all over the world – Paris, Turkey, Canada and the U.K."
Bella Raye carries lingerie in sizes ranging from petite to 3x and bras from 30 to 44 band and A to J cup in stock. The boutique carries brands such as Eberjey, Aubade, Hanky Panky, Else, Felina and Honeydew. The owner said she feels it is important to have a large variety of styles and options for every price range. The boutique also carries candles, local artisan jewelry, local bath and body care, romance items, hosiery, pajamas and more.
Bella Raye carries a full line of bridal undergarments, such as bustiers and garter belts. It also has a bridal registry and can accommodate parties such as girls' nights out, bra fittings and bachelorette parties.
Bella Raye is venturing into new territory by offering hotel delivery of specialty boxes. She offers three themes of boxes: total romance, romance and the black box. The total relaxation box will include a bathrobe, bubble bath, massage oil and more. The romance box will include massage oil, rose petals, lingerie and other couple-related items.
"The black box will be a little more naughty," she said. "Customers can make requests and some of the items can vary per box."
The owner said she needs a few hours' notice to assemble the boxes and have them delivered to hotels in North San Luis Obispo County.
The store is open Monday, Tuesday and Wednesday from 11 a.m. to 5 p.m. and Thursday, Friday and Saturday from 10 a.m. to 6 p.m. 565 12th St., a half-block west of Spring Street. For more information, call the store at (805) 221-5623.
– Heather Young
comments