Extended hours provide visitors with more dining options
–Cambria is a charming beachside hamlet known for its art galleries, antique shops and cafes, but try finding a place to eat after 9 p.m.
Now, you're in luck as the newly established Cambria Pub & Steakhouse is open daily from 11 a.m. to midnight serving delicious pub grub all day. "We are filling a gap sorely needed in this town," said John Raethke, general manager of the restaurant.
Raethke pointed that the town goes to sleep by 9 p.m. and visitors arriving late in the evening are out of luck getting a decent meal. "It's so rewarding to see a family of four come in the restaurant late in the evening and get something to eat."
The extensive pub menu includes a wide variety of dishes from gourmet burgers, sandwiches, sliders, salads, flatbreads and the signature fish and chips.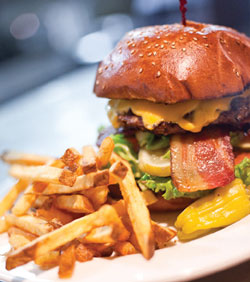 The pub grub specialties are the surf-themed burgers named after the spots frequented by surfers along Moonstone beach. The Exotics burger is topped with fig jam and arugula and the Roses burger is loaded with caramelized sweet onions, Maytag blue cheese and Portobello mushrooms.
The Cardiacs burger is smothered in barbecue sauce, topped with cheddar cheese and bacon and to satisfy the spicy palate The Pico is loaded with chili, pepper Jack cheese and chipotle ranch sauce.
The flatbreads have delicious toppings from pesto, fig and prosciutto to pancetta and Portobello. Sandwiches are generous sized with specialties such as flat iron steak sandwich, BLT on brioche with avocado and griddled turkey Jack. All sandwiches come with delicious freshly made crispy chips.
On a lighter side, there's the kale salad, Caesar and the classic Pub wedge.
It's the giant onion rings that people love, informs Raethke. "These are made of colossal sweet yellow onions." Another specialty is the generous platter of fish and chips.
Although the restaurant has a rustic look on the outside, the interiors designed by John's wife Monica feature a nautical theme. The pub downstairs with a dog-friendly patio is decorated with surfboards. The theme continues in the upstairs dining room and the Moonstone Lounge accented with seashells and aqua furnishings.
Upstairs the fine dining menu offers plenty of choices but the focus is on steaks — prime rib is served daily and there are specialties such as the 20-ounce bone-in rib eye cut and the 10-ounce filet mignon. A favorite with diners is the rack of lamb seared with Merlot reduction and the sea scallops dipped in lobster cream sauce and baked on a bed of kale topped with pancetta. For vegetarians the homemade lasagna is packed with veggies. The dining room offers both the dinner menu and pub grub.
Given that this is a pub, there's a selection of domestic and imported beers as well as local brands and beers on tap such as Firestone, SLO Brew's Reggae Red, Great White, Guinness and Stone IPA.
But it's the Hot Mary that's the house specialty. "It's the hottest Bloody Mary in town," exclaims the bartender referring to the bar's secret mix of a combination of hot sauces.
For Whiskey lovers, the bartender points to the Irish brand Tullamore Dew and Basil Hayden's 8-year-old Straight Bourbon Whiskey. The wine list includes a good number of excellent Central Coast wines.
Besides a varied menu and a good selection of beverages, the restaurant has lined up live entertainment from Thursday through Saturday on the upstairs deck. A comedy night is in the works.
Cambria Pub & Steakhouse is located at 4090 Burton Drive, Cambria, CA. 93428. It's open daily for lunch and dinner. Pub food served all day from 11 a.m. to midnight. Dinner served from 5 p.m. to 10 p.m. weekends and from 5 p.m. to 9 p.m. on weekdays. For more information call (805) 927.0PUB (0782) or visit thecambriapub.com.
– Mira Advani Honeycutt
comments