Popular gallery offers beads, charms, glass art, paintings and more
Cambria permeates a whimsical charm and Teresabelle Gallery perfectly matches its colorful ambiance. Located in the West Village, this popular gallery offers everything from beads and charms, Venetian glass jewelry and fused glass tabletop art to sun catchers, original paintings, fine art prints and fair trade crafts.
This spacious, light-filled gallery offers American artist designed and handcrafted gifts and accessories focusing on messages of hope, joy, support, renewal and inspiration. Featuring one of a kind, limited edition fine art, one local artist, Julie Dunn, portrays Central Coast ocean and vineyard landscapes on canvases, prints and ceramic tiles.  Another of the area's artists collages fabric and paper combined with large, colorful stamps from around the world to create unique greeting cards and art pieces.
Jani Mohr, owner of Teresabelle Gallery, is always looking for new ideas to offer her eclectic visitor mix. "I like to promote art with inspirational messages that make you stop, smile and reflect for a while," she said. Cambria is the perfect halfway meeting place between Los Angeles and San Francisco along with having an added international tourist base.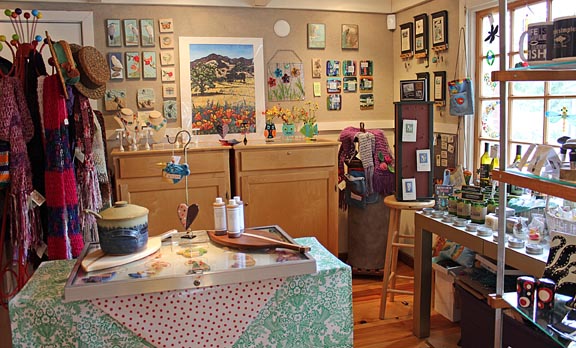 Two new specialty lines Mohr has introduced this spring are Grammy Award-winning musician Gary Kvistad Woodstock Chimes and Chamilia, fine jewelry from the Swarovski Group, known for their stunning crystals. Born in Wisconsin, Chamilia crafts each piece from sterling silver using images that reflect our journey through life and the gifts we can bring to those around us. Gary's chimes are specially designed for long lasting musical enjoyment by using extra thick tubes, tuned to perfection, frictionless suspension and precise placement of individual components.
When asked what initially brought her to the area, Mohr mentioned that it was one of several considerations along with Taos, Portland and Santa Fe. She had named her dog Cambria, mail from Cambria was accidentally sent to her and the name just kept coming up in her life. She finally visited and from that point on she knew that it was just meant to be. Purchasing the gallery in 2007, her focus has been on primarily promoting local and West Coast artist creations.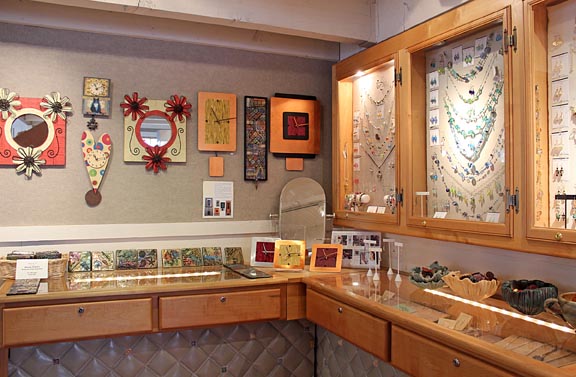 Along with Cambria being such a nature-oriented and dog-friendly destination, a strong sense of community was another reason she landed here. She first got wind of this town's hospitality at the annual Pinedorado Days parade during Labor Day weekend.  Little kids, elderly people and everyone in between were all dressed up and celebrating while watching Clydesdales, bands and vintage cars pass by. 
"There's such uniqueness with the ma and pa stores that are still here," Mohr said.  "There are no big box stores and it's a lot like the quaintness that South Pasadena and Carmel once had. Things here are design-oriented with a homemade feel. There's a genuinely local, creative spirit." 
Mohr, previously Director of Creative Staffing for Hallmark in Kansas City, Missouri, started out teaching color theory and design on the college level in Michigan. Looking to the future, she would like to expand the gallery into more gift items with words and corresponding images. "I want to offer more than a piece of jewelry. I want something to have a point of view that means something significant to the person giving or receiving that gift." 
Visit the Teresabelle Gallery at 766 Main Street in the West Village of Cambria or call (805) 927-4556 for more information.
-Leslie Jones
comments