The community's flower shop sells bouquets, gifts and more!
Started in 1989 by Mark and Jane Jepson, Adelaide Floral has been a staple in the small community of Templeton, providing flowers for all occasions; birthdays, get well, anniversaries, sympathy, funerals, proms, weddings and more.
Danielle, the daughter of the founders, grew up in the floral business. She worked with her mother as a child, and all through high school. She found herself back in Templeton in 2005, and after the loss of her father to an illness, teamed up with her mother to run the business. They have put their love, time, and energy into creating a wonderful floral business, and they adore what they do. Their commitment to quality shows, and the fresh flowers they sell are pulled daily from local flower supply trucks. Adelaide Floral is proud to deliver to Templeton, Paso Robles, and Atascadero. They can also send orders out of town and worldwide. Looking for an indoor or outdoor plant? Look no further, Adelaide Floral has that too.
Jane and Danielle are passionate about creating stylish arrangements using unique, artistic flowers. They are happy to create custom orders, and they can get just about anything with a little notice. With last minute orders or full wedding ceremonies, Adelaide Floral can create the perfect centerpiece for any occasion.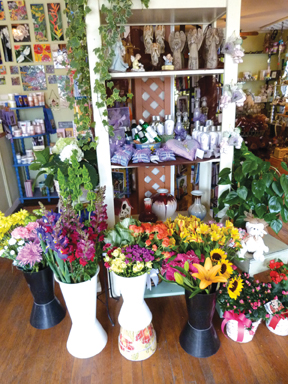 They carry a unique variety of gifts that they hand pick together. "A customer favorite, and ours too, is our candle line, "A Cheerful Giver". I would hands down say this is the best candle line ever, and not just because we sell them. They smell amazing, they burn great, they are attractive and they are USA made! We have one burning in the shop and in our homes all the time! Another favorite is the windchimes we carry. "QMT wind-chimes, Shenandoah Melodies", they are so peaceful and harmonic and also USA Made." says Danielle They also carry Leanin' Tree cards, flags, Willow Tree figurines, Bearington Bears and much more.
Seven years ago, they opened "Adelaide's Kid Corner," after seeing that Templeton needed a children's boutique. "We were up for the task of providing as much quality good stuff for children that we do for adults in Adelaide Floral. We did our research and came up with the best collection of high-quality unique brands. Our favorite is our California local brand "Giggle Moon". If their name hasn't already hooked you their clothing will! We also carry another popular favorite "Kickee Pants", as well as "Mustard Pie", "Robeez" toys by "Melissa and Doug", children's books and much more! We have so much to offer in such a small space. Some customers refer to it as "Eye Candy". Please do stop in and see us! We love what we do, we love our customers, and we truly are one stop shopping in the heart of Templeton." says Danielle.
From baby showers, to birthdays and holidays, Adelaide Floral & Kid Corner has the community's needs covered. Shop small, by supporting this family-run business, and see the difference in customer service.
Adelaide Floral and Kid Corner is located at 300 South Main Street in Templeton, and is open Monday – Friday from 9 a.m. – 5:30 p.m. and Saturday from 9:30 a.m. – 4 p.m. For more information or to place an order, call (805) 434-2997, go to www.adelaidefloral.com, or see their Facebook page at www.facebook.com/adelaidefloral.
-Cassandra Frey
comments