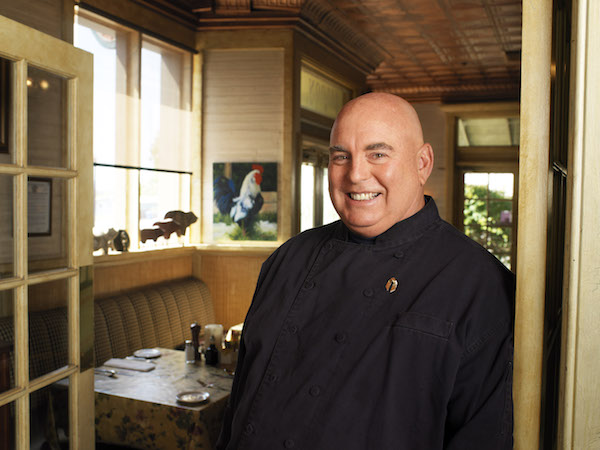 Serving up great food and great service
—Since 1994, McPhee's Grill Chef-Owner Ian McPhee and his wife June have been serving customers in their downtown Templeton restaurant. McPhee attributes his success in reaching this milestone to both the growth of the surrounding wine country, tourism, and the loyalty of his local customers. McPhee recalls when the couple first opened their restaurant, there were about 20 wineries in the surrounding area; today, more than 250 dot the countryside.
The menu offers fresh seafood, wood-grilled steaks, local produce and gourmet pizzas and pasta. Start with Sweet Potato Fries and Crispy Tempura Salad and move on to Filet Mignon, Rib Eye, or Macadamia Nut Crusted Alaskan Halibut. There is a choice of desserts to top off each perfect meal. Check out the menu on the restaurant website www.mcpheesgrill.com.
After operating Ian's Restaurant in Cambria for 10 years, the McPhees and their partners purchased the current building in Templeton, spent four months remodeling the building, and opened McPhee's Grill. Family-owned and operated, the restaurant has employed all four of the couple's children, with two still working there today.
"We have customers from the first week we opened our restaurant in Cambria in 1983 that that still come to our restaurant in Templeton on a regular basis to this day, " McPhee said. "It's an amazing thing. We love being supported by the community. It's truly the most rewarding part of my job."
Over the last 20-plus years, McPhee's menu has maintained house favorites while seasonal, farm-fresh ingredients inspire a revolving selection of new menu items. "This is not a job to me – it's part of my life and lifestyle," McPhee said. "I am so happy to be here and I love what I do."
Continuing the family's legacy, the McPhees have opened McPhee's Canteen in the Paso Robles Tin City. The new restaurant, managed by son Max, serves up burgers, sandwiches, salads, wood-fired pizza, fish and chips plus a wide selection of wine and beer. The new canteen is located at 3070 Limestone Way, Paso Robles. Visit www.mcpheescanteen.com
McPhee's Grill is located at 416 Main Street in Templeton. Dinner served Wed-Sun from 5-9 p.m. Reservations required. For more information call (805) 434-3204 or visit www.mcpheesgrill.com.
comments