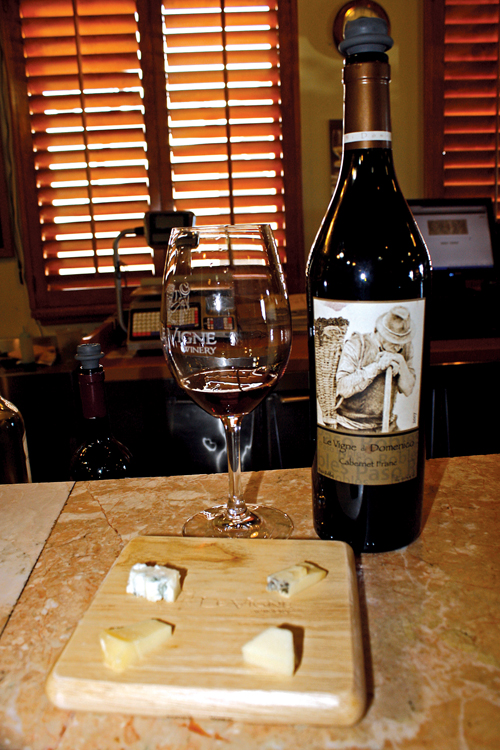 Wine taste in style at Le Vigne Winery
As soon as you enter the spacious tasting room at Le Vigne Winery you will notice that there is more to this winery than just tasting. Behind the bar is a big blackboard listing special offerings that include a variety of Panini sandwiches and Gelato from Leo, Leo Gelatos. At one end of the bar are the wines and at the other end is a refrigerated case packed with an enormous selection of cheeses. Nearby are shelves with bottles of olive oil from a variety of producers, and gourmet foods. You know right away that you are in for a special time here.
The tasting process involves two types of pairings. One is the Cheese Flight and the other the Decadent Flight. "Most people seem to prefer the cheese flight," John the serving attendant said. One wonders why because the Decadent Flight pairs wine with chocolate!

Le Vigne is owned by the Filippini family, Sylvia and Walter. Sylvia's family purchased the property in the 1960's and cattle and hay were raised there. Vines weren't planted until 1982. Walter Filippini was raised in Italy, studied at the Culinary Institute in San Pellegrino, Italy, and became an award-winning chef, eventually opening a fashionable Italian food store in New York City for film producer Dino de Laurentis. He came out to Beverly Hills, California to open a west coast version and then became a partner in Ital Cheese a cheese manufacturing company. It was there that he met Sylvia, who was distributing their products.
The Filippinis own Peacock Cheese an importing and distributing company, bringing in high quality cheese and food items from international sources. In 2001 they acquired the winery in Paso Robles from Sylvia's family. Since then they have expanded the winery and added their own special touches such as the gourmet cheeses and foods. Winemaker Michael Barreto joined the company in 2003.
Barreto, of Portuguese ancestry, came to his career more or less by the back door. Raised on a Central Valley dairy farm, he attended California State University in Fresno and obtained a degree in Agricultural Business ultimately working on the accounting side of the farming industry. His travels to agricultural regions implementing accounting software brought him into contact with the wine industry and he decided to change paths. In 1997 he went back to school to study enology and winery management.
At first he only made wine at home but became more and more interested in working in the industry and so he and his wife, Joey moved to the Central Coast in 2001 where he worked at Courtside Cellars in San Miguel. In 2002 he started his own wine brand, Barreto Cellars, making his wine at Le Vigne Winery. He specialized in grape varieties that are native to the Iberian Peninsula of Spain and Portugal. The association with Le Vigne led to his being offered their winemaker position.
Barreto, along with the Filippinis, believes in the pairing of wine and food.  "When people ask me what is my favorite wine, I say, the one that goes best with the food I am eating," he said. At Le Vigne this is taken to heart and as one tastes their way through the Cheese Flight it is obvious that this is a great way to learn the qualities of both the wines and the cheeses.
The Flight offers five Kiara label wines and two Le Vigne label wines with two French cheeses, one California cheese, One Italian cow's milk cheese, and the "Blu di Bufala," a Blue Italian Water Buffalo Milk Cheese. Sauvignon Blanc, Pinot Noir, Sangiovese, Cabernet Franc, and Ame de la Vigne, a blend are the wines in the Cheese Flight. Along with your gourmet pairing you receive the cheese board with the Le Vigne logo imprinted on it. Perhaps that is what makes more people choose this Flight, but one shouldn't discount the Decadent Flight with wines paired with imported chocolates. If nothing else do what this author did and try at least one selection. Mine was the 2010 Kiara Barrel Select Viognier paired with a deep milk chocolate containing sweet Indian curry and coconut.
Le Vigne has so much going on it will make your mouth water thinking about it. Once a year they hold an Olive Oil Pairing Seminar offering their brand as well as other choices with food and wine. "We hold a Culinary Experience Program," Barreto said, "every month except during harvest. " January brings a Blending Seminar where you can take a turn at blending your own wine. February there is a Truffle Making Class. "In March Walter taught a pasta sauce class during the Zinfandel Festival," Barreto explained. Then there are Library Wine Tastings that are paired with appetizers and a Mozzarella Tasting and Macaroni and Cheese Festival in August.
May brings the Paso Robles Wine Festival with a Wine Club reception where they will offer tasting of the new Amarone style wine, a three-course Winemaker Dinner, and a Cooking class with Walter and Michael to make Braised Beef Short Ribs.
 Le Vigne's Cheese Lady, Zina Miakinkova started the cheese and wine pairing program at the winery and developed the Wine and Cheese Club. Zina is highly regarded in the Paso Robles area as a cheese authority and has worked with many of the area wineries developing their own wine and cheese pairings.
Le Vigne can host your special event or your wedding outside in the vineyard area adjacent to the vintage Pullman railcars. These train cars are also used during special events.
It's a guarantee that with the cheese, the chocolate, the foods, and most importantly the wines, you will come back to Le Vigne Winery again and again.
–Ruth Ann Angus
comments