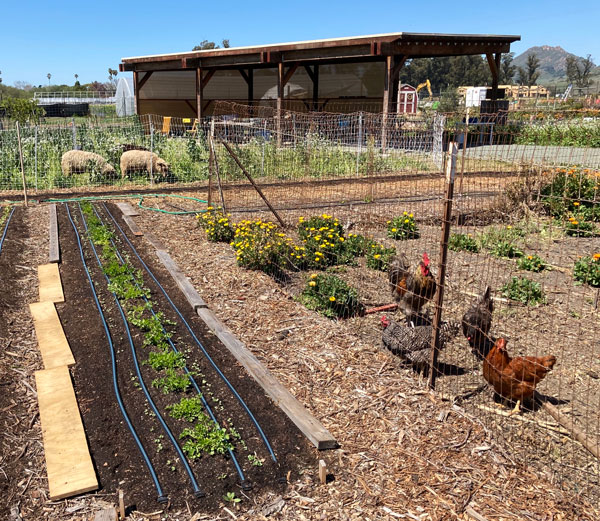 Prospering through sustainable agriculture and farm-based education
Visitors to the Central Coast come here to bask on the beaches many not realizing that this is primarily an agricultural region. One way to discover more about farming and how it contributes to the lifestyles enjoyed here is to take a tour of City Farm San Luis Obispo. You will discover is how tenant farming is working and how area youth are incorporated into an agricultural program.
When 180 acres of prime farmland came available in 1994 the City of San Luis Obispo looked for ways to continue supporting agriculture in the area. Several organizations and the public came together and out of that came Central Coast Grown (CCG), which took over the site and in 2019 and rebranded the project as City Farm San Luis Obispo.
The mission of the City Farm is to "empower the next generation to live healthier, more prosperous lives through sustainable agriculture and farm-based education." The mission includes outreach to give the public a better understanding of how important regenerative and sustainable agriculture is for everyone.
What is tenant farming?
 The City Farm SLO subleases parcels of land to small independent organic farmers and supplies a state-of-the-art irrigation system, road maintenance, weed abatement, and drainage swales. The project assists the farmers with electricity billing, security, regulatory reporting, and marketing promotion. Visitors tour different farms and have an opportunity to hear the farmers' stories.
The farmers share technical assistance and marketing opportunities with City Farm SLO. The farmers also supply fresh organic produce to area farmer's markets, restaurants, SLO Food Coop, SLO Veg, and San Luis Coastal Unified School District's Food Service.
City Farm SLO Youth Programs
City Farm SLO supports youth through programs, such as the Youth Empowerment Program (YEP). Teenage participants in YEP participate in a wide range of educational workshops and hands-on farming activities that provide enrichment and leadership development.
Visitors learn about the variety of educational programs and get to see the young people in action. Workshops introduce students to diverse career opportunities in agriculture, financial literacy, public speaking, SMART Goals (Specific, Measurable, Achievable, Realistic, and anchored in a Time Frame), self-care, writing resumes, and STAR Interviews (Situation, Task, Action Result).
The YEP hands-on farming activities focus on regenerative farming methods dealing with preparing the soil, fertilizing, transplanting, weeding, irrigation, field safety, and harvesting. Sessions are held once a week for eight weeks on Saturdays from 9 a.m. to 1 p.m. Students are paid for their work and are eligible for paid summer internships.
Schools programs
Area schools take advantage of 15-minute free video lessons about farming methods. The videos are geared for a variety of grades. Kindergarten and first-grade students take a virtual tour of the farm to see the variety of vegetable crops. Second and third-grade students view a video on pollination and fourth and fifth-grade students see one on soils. City Farm also welcomes on-site school trips to the farm where the children can get hands-on experience.
Along with a high school Farm Box Program where students grow, harvest, and cook wholesome foods under staff direction, a weekly business class offers marketing and selling techniques as the students proceed to interact with their community.
Volunteering and farm tours
Anyone can volunteer for a day helping on the farm on the second and fourth Saturdays from 9 a.m. to noon. No experience is necessary. Volunteers participate in planting, transplanting, harvesting, mulching, prepping beds, feeding the chickens and sheep.
Small groups and families can take a guided hour and a half tour led by City Farm SLO educators and farmers. The tour is perfect for any age and run Monday, Wednesday and Thursday at 10:30 a.m. to noon, 1-2:30 p.m. and 3-4:30 p.m. Fee is $125 for one to five guests. Add additional guests for $15 per adult and $10 per child.
City Farm SLO is located at 1221 Calle Joaquin, San Luis Obispo and reservations are strongly encouraged. For a reservation or more information email programs@cityfarmslo, call (805) 769-8344 or visit cityfarmslo.org.
– Ruth Ann Angus
For reliable and affordable weed abatement in Paso Robles and Templeton, call Ant's Tractor Mowing at (805) 203-0669.
comments