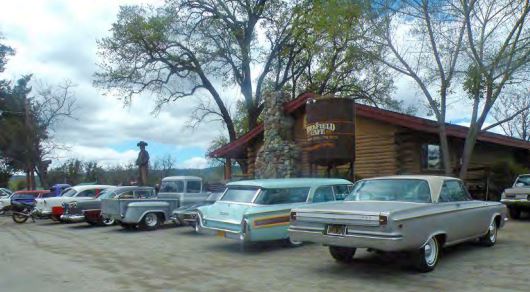 It's shakin' down under in Parkfield
—Why would anyone go to a place that is centered smack dab on the San Andreas fault? Not the place to be in the event of "the big one," Parkfield, California is known as the earthquake capitol of the world. The town has population of 18 and is a primarily a ranching community.
Other than the U.S. Geological Survey (USGS) conducting experiments on the fault since 1985, the V-6 Ranch and the Parkfield Café are the most prominent businesses. "The Parkfield Experiment," by the USGS studies what goes on before, during and after an earthquake in the fault and the surrounding region.
Along with waiting for the next big one, Parkfield offers quite a few adventures. A stop in the Parkfield Café for lunch is a good idea. Owners of the V-6 Ranch built the café out of logs in 1989. The café has an old-world décor with branding tools and other ranch items hanging from the ceiling. The menu features locally grown produce, meats cooked over oak firewood, and breads from Brian's Breads.
Visitors to the area can participate in trail rides, cattle drives and other ranch activities. You can stay in the Parkfield Lodge or perhaps the room located in the Water Tower that was once the source of the town's water supply.
The annual Parkfield Rodeo returned in 2021 after taking 2020 off. The Parkfield Bluegrass Festival is scheduled to return in 2022 and there's the annual Artisan's Fall Roundup with handcrafted and western themed items for sale every October.
The town, originally named Russelsville, was active in mining in the 19th century. There was even a post office from 1885-1954. About the time the town applied for the post office, the name was changed to Parkfield, reportedly because of its setting among stately oak trees.
A geologist's goldmine
For geologists Parkfield is a goldmine as the most studied earthquake zone in the world. The San Andreas Fault Observatory at Depth (SOFAD) drilled holes more than two  miles into the earth across the fault. Their target was a spot on the fault that appears to generate sequences of repeating microearthquakes. They completed the drill in 2005 installing a series of sensors to record earthquakes in the area.
Earthquakes of 6 or greater on the Richter scale have occurred about 22 years apart, the last one in 2004. The town sits directly on the San Andreas Fault. One of the most active faults in California the San Andreas is approximately 800 miles long and up to 10 miles deep, dividing the North American Tectonic Plate from the Pacific Plate. The Pacific Plate's relentless movement northward causes the earthquakes.
ꟷRuth Ann Angus
comments