The Alsace-inspired winery to offer vacationers a room with a view and a place at the bar
–Longtime family-owned Edna Valley winery Claiborne & Churchill recently announced the completion of a beautifully renovated tasting room, along with new, charming wine country guest accommodations.
Claiborne & Churchill, still run by original owners Claiborne Thompson and Fredericka Churchill Thompson, has been producing Alsatian-style "alternative whites" in San Luis Obispo since 1983. In 1995, Clay and Fredericka built their pioneering, eco-friendly strawbale-constructed winery and opened their tasting room in the Edna Valley, and over the years they have expanded their picturesque garden area to accommodate more guests and larger parties for tastings and seasonal events, such as their summer concert series called "Sips & Songs."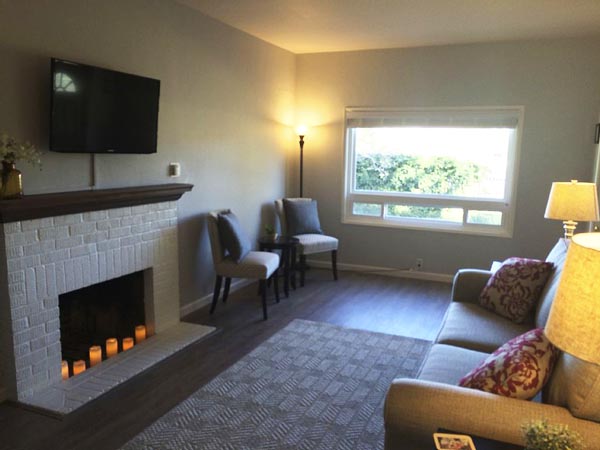 Now, upscale indoor renovations to the winery's welcoming tasting room, (which is, to the delight of visitors, right in the barrel room!) allow the popular producer to accommodate more visitors comfortably. Updates to the interior include a new feature wall and a rolling barn door reclaimed from an old dairy barn on the property, attractive lighting, and a custom stone-topped bar with an expanded serving area and hooks to hang bags. The spacious tasting room is the perfect place to sip Claiborne & Churchill's aromatic white wines and lush Pinot Noirs, and the recent addition of artisanal, imported cheese pairings from local cheese shop Fromagerie Sophie makes for a truly gourmet tasting experience.
Longtime tasting room attendant Hilary Langdon says she is very pleased with the renovations. "Claiborne & Churchill has always been a beautiful, comfortable environment for guests and employees, but now there is just that added wow factor," said Langdon. "We were ready for an update, but one that still expresses who we are deep down: an inviting, hospitable, relaxing place to enjoy wine and enjoy others."
For guests who are interested in holding their own private parties at the winery, Claiborne & Churchill will be taking reservations for small, special events such as birthday, anniversary, and graduation parties.
As an accompaniment to their expanded gardens and interior updates, the Thompsons also spent the fall of 2015 remodeling a lovely, two-bedroom duplex cottage next door to the winery. In the spirit of family and team work, it was a project everyone took part in. The Thompson's daughter Elizabeth, Claiborne & Churchill's outside sales manager, could be found many an afternoon working on projects with her parents, sanding down woodwork and painting. "If you are from out of town," she says, "staying with us will be a perfect way to enjoy the heart of wine country here in San Luis Obispo. We couldn't be more pleased to be able to offer this to our customers and guests."
The cottage is perfect for couples hitting the road for a weekend, for parents visiting students at Cal Poly, or for anyone just looking for a relaxing "getaway." The unit is now available for vacation rental through the VRBO/Homeaway website, or by emailing elizabeth@claibornechurchill.com. Centrally located in SLO Wine Country, Claiborne & Churchill's vacation property is only a ten minute drive from Pismo Beach, San Luis Obispo, or Arroyo Grande, and a fifteen-minute drive to Cal Poly. Claiborne & Churchill Cellar Club members will be offered a special, discounted price on their stays.
comments