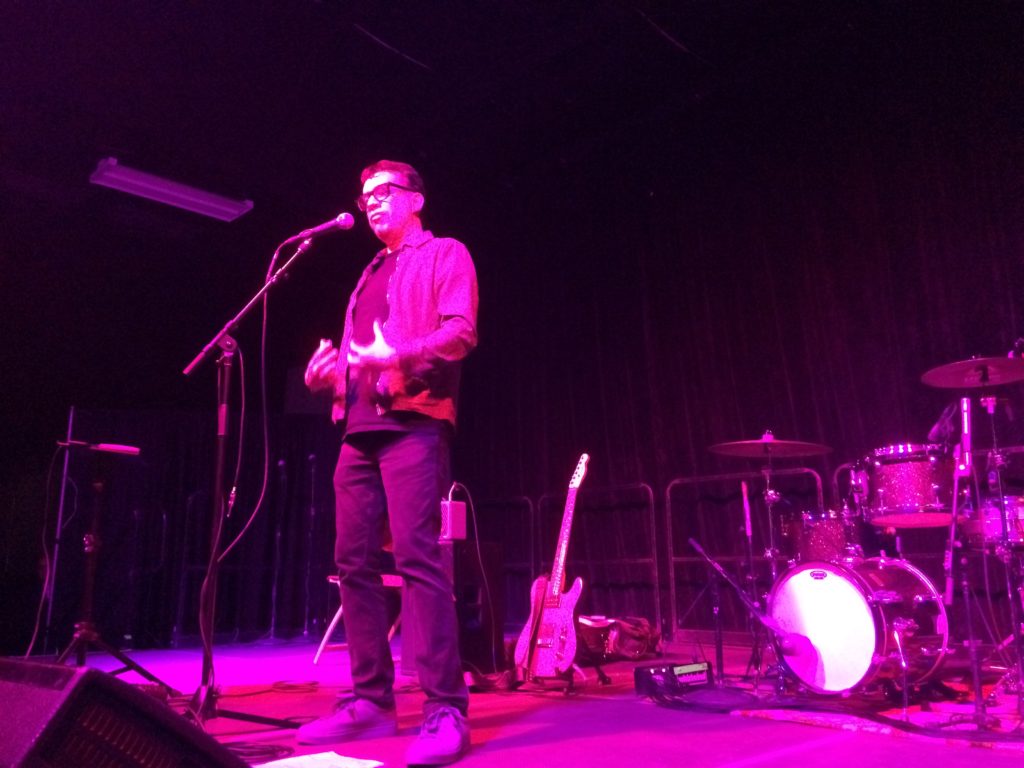 Fred's energy gained the full attention of the crowd which continuously broke out in laughter
—In a sea of pink and purple lit faces, you'd be hard-pressed to not see a grin from ear-to-ear on every person in the audience. The much-beloved comedian, actor, and musician Fred Armisen, recently brought his entertaining and exceptionally funny performance to The Alex Madonna Expo Center in San Luis Obispo. 
Comedy For Musicians But Everyone Is Welcome features Fred in all of his funniest, raw, pure glory. This tour interlaces Armisen's thoughts and observations with spot-on impersonations. This show is especially geared towards people who are musically inclined, with many inside jokes for musicians embedded in the content. He shares his unique appreciation for many kinds of music and keeps the jokes rolling. The funnyman recognizes unspoken offbeat nuances in human nature and expresses his musical dexterity on drums and guitar.
The Madonna Inn's spacious warehouse-like Expo Center went all out for the show and set up a little bar area, and a small stage for the intimate evening between Fred and his fans. Opening up for Armisen was special guest Chris Laker, who warmed up the crowd with a spread of scrumptiously funny lines. The comedian hails from New York and recently made his television debut on Jimmy Kimmel Live.
The crowd seemed to be a good mix of interesting folks from around the Central Coast. Two fans showed up dressed as characters from Portlandia -Lance and Nina. Down-to-earth Armisen brought the pair on-stage to recognize their efforts, as well as a few other local fans, where he held an impromptu live reading of a scripted skit.
Fred has intensely funny facial expressions which transform him like a chameleon-from character to character, performing many different personalities, and some of the best are women. His many lady voices and psyches are accurate and hysterical, with the blink of an eye his voice and mannerisms change into someone completely different.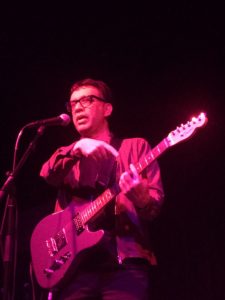 Last year, Armisen's Netflix special, Standup For Drummers, brought some of the funniest drummer jokes and spot-on accents from across the United States. This one-man show is not to be missed-and it solidifies his comedy genius.
Fred Armisen is most often recognized from his years performing on Saturday Night Live from 2002-2013, and Portlandia from 2011-2018. The comedian has starred in many well-known movies and T.V. shows, and his body of work shows a knack for the theatrical arts. Armisen's different roles as a director, writer, producer, composer, and multi-talented artist are well documented. Aside from the long list of professional work in Hollywood as an actor and comedian, Armisen's past is riddled with music, and he has a history of playing drums on stage. In the late 80's he was performing with the New York City punk band, Trenchmouth, followed by a stint playing drums with The Blue Man Group in Chicago.
"I love you, Candace," screamed a lady in the audience, to which Fred replied, taking off his glasses, and in the perfectly angry feminist Portlandia figure's voice, "Candace would say, I'm not here to be loved, I'm not here to be looked at!"
Local Fred Armisen enthusiast Jason Frey shared, "I'm a big fan of Fred from watching Portlandia and his other, super funny comedy projects. I'd already seen his "Standup For Drummers" special on Netflix, so I knew his comedy show here in SLO would be great. I was right up at the stage with my wife, and couldn't stop laughing during the entire evening. It was fun for us and the audience to interact with him throughout the whole show. At one point, three people joined on the mics to play characters in a short skit. Fred was really pleased with the hometown crowd and kept commenting on it. He thought the venue did a nice job for this all-ages event. I'm happy we didn't miss out on seeing him live!"
–Cassandra Frey
comments