Laetitia Vineyard & Winery winemaker discusses the use of stems in winemaking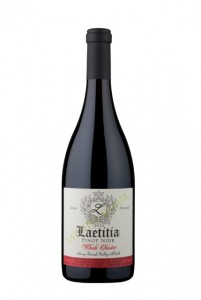 Whole-cluster fermentation is gaining rapid interest as a winemaking practice, but how much does the average consumer really know about this mysterious method and its effects?
"Whole-cluster fermentation is the act of using the entire bunch or cluster of grapes, including the stem, in alcoholic fermentation," said Winemaker Eric Hickey of Laetitia Vineyard & Winery, who has used whole-cluster fermentation for about a decade. "The winemaker can vary the amount of whole clusters included in the fermentor. For example, in our case, I use anywhere from thirty to seventy percent whole clusters in a given batch. The remaining percentage in the fermentor is made up of de-stemmed grapes."
The use of whole-cluster fermentation began as an experiment for Hickey, who has made a career of exploring different approaches to Pinot Noir from Laetitia's Arroyo Grande Valley AVA estate. "We have a vast array of plantings, clones, and diversity when it comes to Pinot Noir," he said. "Not all of our lots do well with whole-cluster, but through all of our trials over the years, we've located the specific clones and sites that work well."
In Burgundy, where Pinot Noir is king, whole-cluster fermentation has been used for hundreds of years, perhaps somewhat out of the convenience of tossing an entire bunch into the fermenting vessel. The hallmark of whole-cluster wines – a signature burnt tobacco note entwined with the fruit aromas and flavors – became synonymous with the Pinot Noir variety in Old World winemaking.
"It's not always obvious, but there's an extra layer of structure to whole-cluster Pinot Noir," said Hickey, "and when it's at its best, there is a dusty chalkiness to the mid-palate."
Whole-cluster fermentation can be practiced on any variety, and is often used to tone down fruit characteristics and add another dimension to the wine. (For example, Hickey also uses whole-cluster fermentation on Grenache from the Santa Barbara Highlands Vineyard for the NADIA Wines label.) While New World winemakers have used this method for many years, a fruit-driven, de-stemmed Pinot Noir became popular as the variety gained a foothold in the United States market in the late 1980s and 1990s. Today, the pendulum is swinging the other direction, with many winemakers moving away from "pure-fruit" Pinot Noir by fermenting clusters whole to impart complexity, tannic grip, and a lift on the palate.
To bring this style further into balance, when Hickey whole-cluster ferments Pinot Noir, he leaves the intact bunches to rest in the fermentor after harvest rather than crushing them immediately. In this anaerobic environment, fermentation then begins within each individual berry as yeast penetrates the skin wall under the pressure of carbon dioxide, a process called carbonic maceration. "When fermentation takes place inside the berry, you tend to get very high levels of delicate red fruit and floral aromas," said Hickey. "In the case of the whole-cluster technique, the high fruit tone is a good counter balance to the earthy tobacco characters the stems provide."
Each vintage, Hickey rounds-out the Laetitia Pinot Noir program by offering a whole-cluster Pinot Noir made from clones conducive to the practice. The most recent release is the 2012 vintage, which included Pinot Noir from clones 115 and 2A to produce a wine marked by focused flavors and a refreshing grip in mouth feel. Crisp notes of cassis, whole-leaf tobacco and black peppercorn mingle with a touch of sweet oak and sultry black tea on the nose and palate. With its heightened earthiness, the 2012 Laetitia Whole Cluster Pinot Noir pairs well with similarly earthy cuisine such as roast duck, sautéed porcini mushrooms, or eggplant lasagna.
"Consumer response [toward whole-cluster wine] has been great," said Hickey. "It usually appeals to those who prefer a Pinot with more power, structure and less 'pure red fruit' on the nose."
To discover more about Laetitia Vineyard & Winery or to peruse their wide variety of estate wines – including sparkling wines and those from sister label, NADIA Wines – please visit www.LaetitiaWine.com.
comments