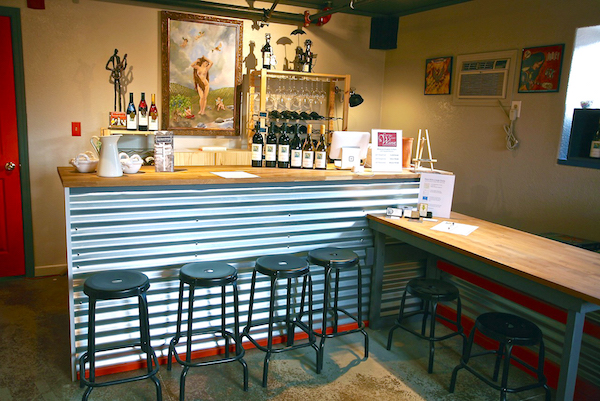 Enjoy outstanding wine while browsing over 500 vinyl records
—Located in the sunny countryside of Templeton, Demeter Family Cellars is a haven for both wine and music enthusiasts. Owners James and Diane Demeter have operated the winery since 2015; their love for wine started two decades ago right here on the Central Coast.
"I am a wine lover…During the 90s I befriended a few of the winemakers in Paso Robles while visiting my parents in Cambria, who gave me valuable insights into the craft. One day I walked into a local wine, beer and cheese-making shop in Woodland Hills and thought it would be fun to make some wine. I started as a home winemaker in 2000 with 100 pounds of grapes…I knew that if I wanted to do things on a professional scale I would have to use full-sized barrels and equipment…I ended up processing 3,000 pounds of grapes [in 2001] in our driveway in Woodland Hills that won numerous medals and never looked back," said James, who has lived on the Central Coast with his wife Diane for 16 years.
Music is part of the experience when visiting Demeter Family Cellars as James has been involved in the rock industry for decades. Starting in the 1970s, James was the lead guitarist for The Heaters, a pop band that toured as openers for Talking Heads, Van Halen, Cheap Trick, and more iconic bands. James then moved from the stage to instrument repair work, eventually transitioning to equipment design with the start of Demeter Amplification. As James notes, "I became the leading designer of tube equipment in Los Angeles," building equipment such as pre-amps, tube direct boxes, and guitar amplifiers for musicians such as Bonnie Raitt, The who, Lee Sklar, and more. During a tasting experience, visitors are able to learn more about the music industry by touring the Demeter Amplification factory, learning about the equipment, and browsing the 500 vinyl records available to play in the tasting room.
Just a handful of exquisite wines to try at Demeter Family Cellars include the 2015 Sangiovese, an acidic cherry-flavored wine, and the 2015 Pinot Noir, a clove and blackberry full-bodied wine. These wines have won medals at the Central Coast Wine Competition, so each sip is sure to please. Guests are welcome to bring light snacks to enjoy on the patio while wine tasting; cheese and crackers are often provided with these experiences.
"We want to offer an old-school Central Coast wine tasting experience. We have neighbors who come over on their horses and friends drop by on their bikes…We would love for local wine lovers and their friends to visit," James said. "We are pet-friendly and love to hang out and talk to our guests."
For pleasant conversation, award-winning wine, and an immersive music experience, Demeter Family Cellars is the perfect wine-tasting excursion.
Demeter Family Cellars is located at 6990 Kingsbury Road, Ste A in Templeton. Open Saturday and Sunday from 11 a.m. to 5 p.m. Monday to Friday by appointment. For more information, call (805) 712 – 0002 or visit demeterfamilycellars.com.
—Sadie Mae Mace
comments