Refreshing and creative, Thomas Hill Organics takes pride in each dish
Visiting one of the best wine regions in California isn't complete without a cozy dinner and a glass of local wine. Thomas Hill Organics is the perfect place to discover layers of exciting flavors, textures, and colors that tantalize the senses. Marvel at the wall of wine, and take a seat inside, or on the enclosed patio, where the ambiance is unlike anywhere in Paso.
Thomas Hill Organics is a delightfully elegant restaurant in downtown Paso Robles, where visitors can enjoy a delicious menu of upscale cuisine. The restaurant was established in January of 2009 by Debbie Thomas, and is celebrated for its use of the many local, farm-fresh ingredients around the Central Coast.
Customers always come back for more – not only because the service is friendly, informative, and the food is divine – but the relaxed, warm atmosphere beckons them to stay awhile. Thomas Hill Organics is a must-try if you are in town, especially after a long day of wine tasting. Expect to find good portions of classic dishes with a twist.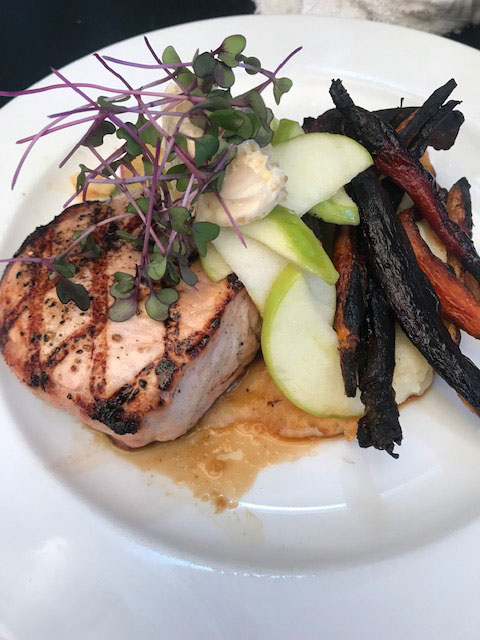 Taste what the Central Coast grows, and sample from their seasonal menu which changes every two months. Thomas Hill Organics is noted for serving lighter foods, and guests love to savor their delicious options like scallops, which can be found nestled in a bed of creme fresh, nectarines and a mango dressing. They source ingredients from local farms with no sprays, as sustainably as possible. Fruits, vegetables, and fresh-baked breads come from local purveyors, as well as exotic and grass-fed meats.
Restaurant owner Debbie Thomas' love of organic gardening started out on her family's farm in the outskirts of Paso Robles, where she grew over 900 fruit and nut trees. She said, "I knew nothing about the restaurant business when I opened, but I had courage, confidence, and self-belief that I could do it! If you think you can do it you will, if you think you can't you won't!" Thomas decided to use the fruits of her labor, and opened an organic restaurant, after working in sales and marketing for many years. Thomas is a supporter of local charities, including Wine 4 Paws, Big Brother/Big Sister of SLO, and RISE.
Originally, Thomas moved to Paso Robles to get out of the LA traffic saying. "I couldn't be happier," she said. "I love the rolling hills, the beautiful scenery; the people here are friendly, warm and always willing to lend a hand. I love great food and wine, and Paso has both."
Thomas Hill Organics is a full-service, casual-fine dining restaurant, offering lunch and dinner six days a week, and brunch on Sundays. The ambiance is upscale without the attitude, and the comfortable patio is used 12 months of the year. They offer off-site catering for weddings and private parties. Reserve their private indoor dining room for a special occasion, rehearsal dinner, or business function. The bistro has burger and beer night on Mondays. On Tuesdays, enjoy 1/2 off all bottles of wine under $100.
Thomas Hill Organics is located at 1313 Park St., Paso Robles. For more information call (805)226-5888 or visit www.thomashillorganics.com. Hours: Sunday brunch from 10:00 a.m.- 2:00 p.m., lunch Monday-Saturday from 11:00 a.m.- 3:00 p.m. and dinner Sunday-Thursday 5:00-9:00 p.m. and dinner Friday & Saturday from 5:00-10:00 p.m.
–Cassandra Frey
Click here for Paso Robles restaurant recommendations
comments