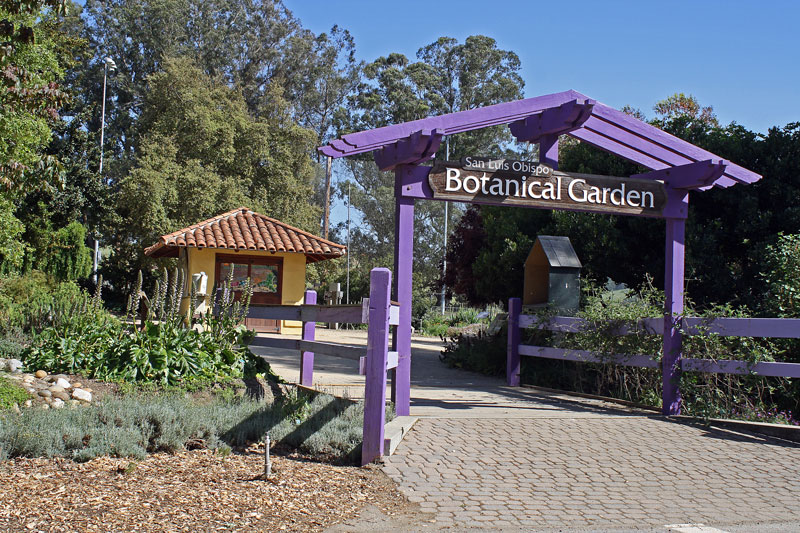 If you like plants and learning about how things grow, then you'll enjoy a visit to the San Luis Obispo Botanical Gardens. Especially since this is the only garden of its kind in the world exclusively devoted to the ecosystems and plants of the five Mediterranean climate regions.
About the San Luis Obispo Botanical Garden
Begun in 1989, the San Luis Obispo Botanical Gardens came about through the interest and hard work of Eve Vigil while she studied at Cal Poly University for her graduate degree. Her professor suggested planting xeriscape gardens locally. They developed a master plan and were able to acquire use of 150 acres of El Chorro Regional Park. Friends of the Botanical Gardens as a 501c3 volunteer organization began work on the gardens and continue today doing maintenance.
The San Luis Obispo Botanical Garden and its facilities are dedicated to the education, research, and celebration of horticulture, and sustainability is their highest priority. The Garden's award-winning design for all 150 acres features plans for 50 miles of paved trails, cafes, and more gardens. Garden members receive benefits like 10% off all plants in the nursery.
San Luis Obispo Botanical Garden is open during daylight hours, ADA compliant, and a unique attraction for kids and adults alike.
About 12 acres of the Gardens are planted and developed with trails. These include the Preview Garden, with the plant life of the five major Mediterranean climate zones, the Children's Garden, the Fire Safe Garden, Display Garden, the Oak Glen Pavilion and Gift Shop, the Education building, and the Discovery Trail.
Live Oak Music Festival
The gardens are now host to the annual Live Oak Music Festival in June. This three-day festival offers live music by folk and traditional musicians as well as many new performers on the music scene. Hundreds of people attend and many camp in the El Chorro Regional Park campgrounds.
Walk and Talk with Eve Vigil
Walk and Talk with Eve Vigil in the Botanical Garden each month on the first Tuesday from 11 a.m. to noon. Speakers may touch on the garden's history, what's in bloom, important maintenance – when and why – or whatever interests the group. Learn how the garden beds were initially prepared, what the irrigation schedule is, and much about the plants. You may meet new people and learn great tips and tricks for having a stunning water-frugal garden. The talk is free, no RSVP needed, just show up and enjoy.
Spring plant sale
The Spring Fundraising Plant Sale is Sat., March 28, from 10 a.m. to 1 p.m. Is it time to add some new color to your garden? Find the perfect plant for your yard. The garden features charismatic colorful plants that make a great statement without affecting your water bill. Free admission into El Chorro Regional Park is included.
This is more than just a plant sale. It is an opportunity for visitors to learn more about the California-Mediterranean climate and see a multitude of plant species that thrive in such a climate. Plants are drought resistant and wandering through the garden will give inspiration for your own landscaping.
The gardens are located at Highway One at El Chorro Regional Park and are open daily during daylight hours. The lower pathways are composed of decomposed granite and are designed to be ADA compliant. Some of the upper pathways are not. Dogs are allowed in the Garden on a leash and it is asked that owners please pick up after their pets. Admission is free but donations are appreciated. El Chorro Regional Park charges a $3 per vehicle admission fee on weekends and holidays from April through September. See www.slobg.org for more information.
– Story and photos by Ruth Ann Angus
comments