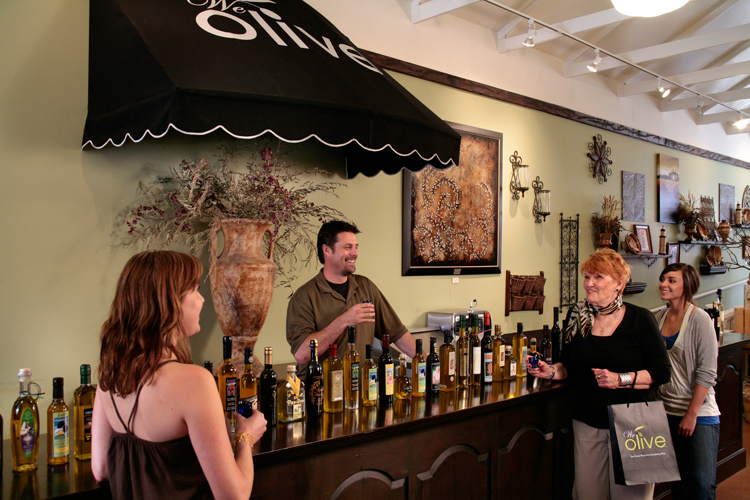 Olive oil tasting involves smelling the aroma of an oil, and then sipping it to taste its positive attributes. Official tasters drink the oil from dark blue glasses, to ensure they can't see the color of the olive oil (and be influenced by an oil's green or gold color).
Look for three qualities
Tasters should look for these three positive attributes:
Fruityness: Any positive organic smell or taste.
Bitterness: A sign of freshness that is usually tasted on the sides of the toungue.
Pungency: A peppery, burning sensation in the throat.
Not all olive oils have all three of the attributes, but some should be present.Try it for yourself! Grab that bottle you've had in the pantry for ages, and taste it to see if it's still good. Pour some into a wine glass – about an inc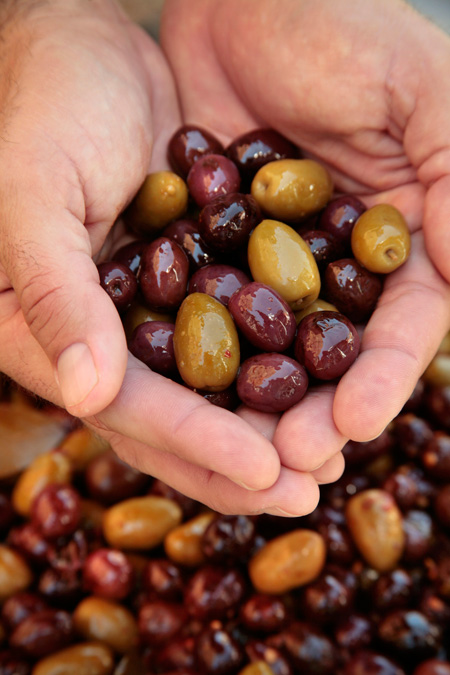 h or two high – cover the glass with one hand while warming the base of the glass with the other. Place your nose into the glass after a minute and breathe in. Does it smell fruity, like green apples or cut grass or tomato leaf? Great! Or does it smell unpleasant, like paint thinner or bacon or a musty cellar? In that case, it's probably defective and should be thrown out.
Next, slurp in about a quarter of a teaspoon and let it sit on your tongue while you breathe in. Finally, swallow a bit and look for any signs of pepper in the throat. If an oil has a greasy feeling on your tongue, it's probably past its prime.
Remember, olive oil is a fresh product, much like a fruit juice. It needs to be used within 24 months of when it's made, and it needs to be used within a few months of opening the bottle.
Here's where you can taste local olive oil
Alta Cresta Orchard
Produces award-winning Italian-style extra-virgin olive oils from the orchard in the heart of Paso Robles Wine Country. Stop by and taste what fresh olive oil is all about only 8 miles east of downtown Paso Robles. Free tasting by appointment only. 6075 High Ridge Rd., Paso Robles. www.altacresta.com, (805) 206-3866.
Olivas de Oro
Local grower and producer of award-winning olive oil. Enjoy olive oil, vinegar, and artisan-crafted food tastings and a rotating selection of cheese and charcuterie. Located in Tin City 3989 B Limestone, Paso Robles. Open Thursday and Sunday 11 AM to 5 PM, Friday and Saturday 11 AM to 6 PM, olivasdeoro.com, (805) 227-4223.
We Olive
We Olive is located at 1311 Park Street in Paso Robles. Open Monday through Saturday from 10 a.m. to 6 p.m. and Sunday from 11 a.m. to 4 p.m. For more information about the Paso Robles location call (805) 239-7667 or (805) 239-7961 www.weolive.com .
Olea Farm
Enjoy European hospitality as proprietors Clotilde and Yves Julien lead you through the flavors and textures of olive oils that are uniquely Californian and yet so distinctly representative of Olea Farm. Come taste Sat & Sun 10 a.m. to 4:30 p.m. 2985 Templeton Rd, Templeton. www.oleafarm.com (805) 610-2258
Pasolivo Olive Oil
World-class producer of organic and estate-pressed extra virgin olive oils. Come taste handcrafted olive oils and delicious artisanal foods on your Westside winery tour. Opens at 11 a.m. Closed Tue. & Wed. 8530 Vineyard Dr., Paso Robles. www.pasolivo.com (805) 227-0186.
comments