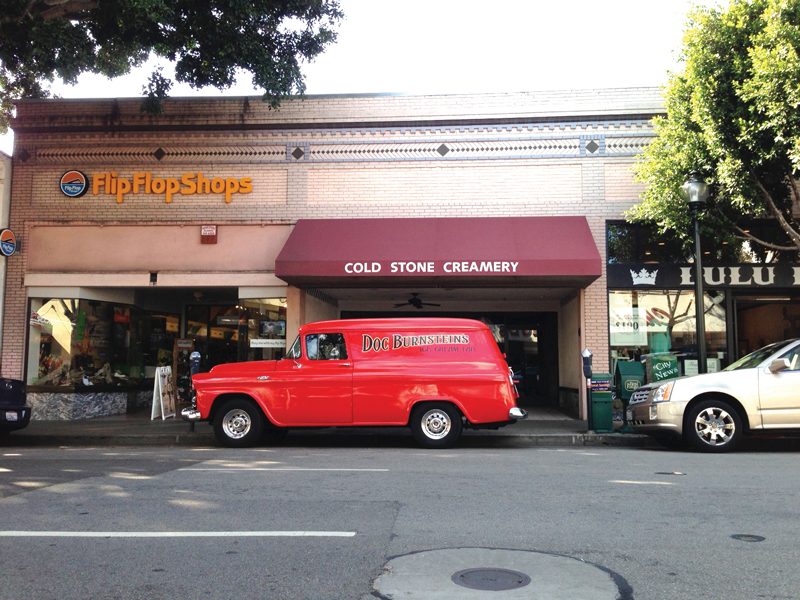 The doors are locked. The windows are boarded. The sign still bears the faded stain of Cold Stone Creamery, which formerly occupied the building, in a prime spot on busy Higuera Street in downtown San Luis Obispo. But the sound of hammer and drill can be faintly heard over the din of the bustling main street shoppers, and the telltale 1950s era car parked out front, painted red and emblazoned with his name, assures anxiously awaiting fans that Doc Burnstein's Ice Cream Lab is coming to San Luis Obispo.
The ice cream parlor, distinguished by the zany, white-haired Einstein-like cartoon ice cream inventor, has been a mainstay of the Village of Arroyo Grande for decades, if you count the years when it went under the moniker Burnardo'z Candy Kitchen & Ice Cream Parlour. Original owner, Chuck Burns, put the story in motion in 1976; but when subsequent owners let the quality of ice cream drop beneath Burns' standards, modern-day owner Greg Steinberger stepped in to bring it back to its original glory.
With a grand vision in mind, Steinberger persuaded Burns to share his "secret recipes" and mentor him in the art of making memorable ice cream. Thus, in 2003, Doc Burnstein's (a blend of Burns' and Steinberger's names) was born, and with it came to life an old-fashioned parlor that would capture the imagination and win the hearts and taste buds of thousands of children and adults.
Known for the model train that whirs around the top perimeter of the store, and the weekly Lab Shows where guests learn the story of ice cream and help create an all-new, never-before-seen flavor, Doc's Lab has been an iconic stop for locals and visitors alike for ten years.
And now, the legend is growing.
Solemn when it comes to the science of his craft, yet childlike in his tone of wonder and joy when he talks about the business and its involvement with the community, Steinberger is a character not unlike Willy Wonka. And the "factory" in the works behind closed doors in the center of SLO promises to be no less alluring than that fictional chocolate one.
With Wonka-like enigma, Steinberger says he won't give away too much of the surprise that is on-schedule to be unveiled this autumn, but he can't help but hint at a few delicious details.
"Our goal is to make it feel a little bit like you are in Disneyland," he says with contagious excitement, explaining that the SLO location will play on youthful imagination and fantasy by bringing to life the imagined home and lab of the Doc Burnstein character. "We're going to play up a little bit of the back story about Doc being an inventor from the 1950s."
Steinberger says he anticipates that people will be impressed with the finished result, which will include a production room just like their Arroyo Grande location. Once up and running, the SLO shop will nearly double Doc's production, with capacity for 60,000 gallons of ice cream a year, which he already has earmarked both for scooping and selling wholesale to other shops. But upping the scooping is not all he has planned.
Steinberger is building a legacy. "This is going to become something that can translate to pretty much any location," he says of the paradigm he is creating in SLO. "We plan to continue to grow to become a brand name as well-known as Ben & Jerry's. This is just our first real step in that direction." Although still in mid-stride on the SLO project, he already has plans to add a commercial facility in the area to boost production and bring Doc's Super-Premium ice cream to grocery stores far and wide.
But Doc's home will always be in SLO County. Steinberger has made sure of that by offering the company up for community ownership through a unique shareholder program. Not only does this program allow for Steinberger's planned expansions and improvements to the company, but it ensures that, "No matter how big this gets—worldwide, hopefully, someday—it's still going to all be rooted here," he explains, referring to the blueprint for the system which he borrowed from his hometown team, the community-owned Green Bay Packers.
Steinberger also established the company as a Beneficial Corporation, a new business model adopted in California which stipulates that the for-profit company will also always include an aspect of giving back. "I'm really excited about getting the word out about that," he says. Currently, 10 percent of profits are donated to local youth education programs; each location sponsors bi-monthly blood drives; and the company awards annual scholarships to employees.
Of course, chief among the "beneficial" offerings to the community is simply incredible ice cream. Wise visitors to the soon-to-open new shop will not fail to try the mouthwatering "Motor Oil," the innovative "Merlot Raspberry Truffle," and the ever-popular "Birthday Cake" ice cream—all Doc's originals—that have contributed to the company's growing acclaim. And, if this story is going where visionary Steinberger thinks it is, you might want to grab up a triple-scoop of shares, while you're at it.
My gut tells me you'll never regret an investment in Doc Burnstein's ice cream. And it should know.
Learn more at docburnsteins.com or visit the new shop at 860 Higuera St. in San Luis Obispo.
— Jamie Relth
Subscribe to weekly travel news
comments