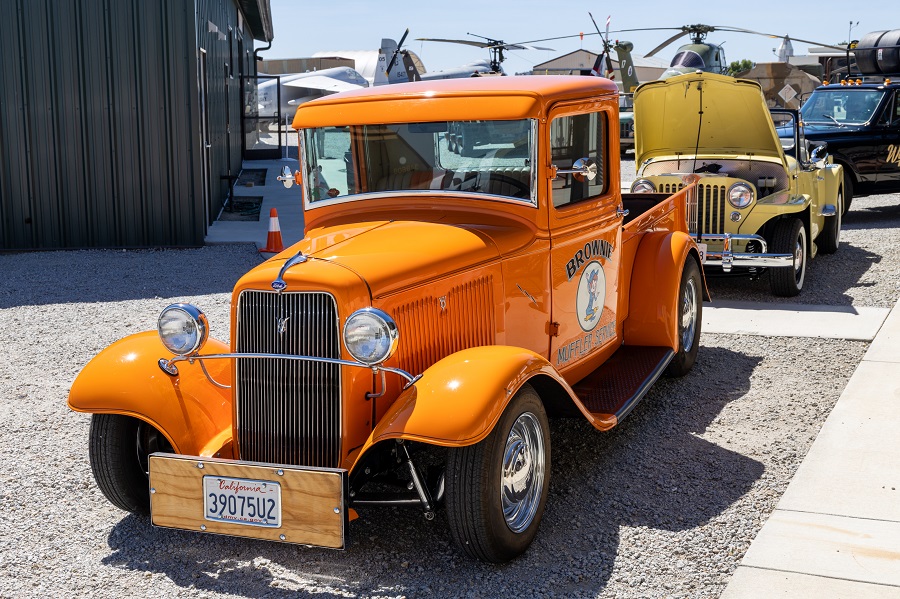 The annual event in May 2023 features over 300 vintage and antique cars and airplanes
—The Estrella Warbirds Museum, home of the Woodland Auto Display is hosting its 14th annual Warbirds Wings & Wheels car show on May 13. This is a premiere not-to-be-missed event for auto and aircraft fanciers! Enter your own vehicle or just come on out to look.
Between 250-300 vehicle entries are parked among the Warbird airplanes and down the taxiway. The event includes food and craft vendors, Firestone Walker Brewery serving beer, Eberle Winery serving wine, raffle prizes and family activities.
A Friday night dinner/dance on May 12, kicks off the event with Monte Mills and the Lucky Horseshoe Band playing country and rock n' roll favorites. Doors open at 6 p.m. Along with dancing, there is a silent auction and a 50/50 drawing. If your car is entered in the car show, you get one extra ticket for Saturday's cash drawing.
Dinner/dance tickets are $40 per person, $280 for a table for 8 and $360 for a table for 10. Get your tickets now!
Saturday admission is $10 and includes admission to all of the car show festivities plus admission to the museum buildings. Museum buildings are open between 10 a.m. and 4 p.m.
All proceeds from the event benefit Estrella Warbirds Museum, Inc. a 501 (C) 3 nonprofit.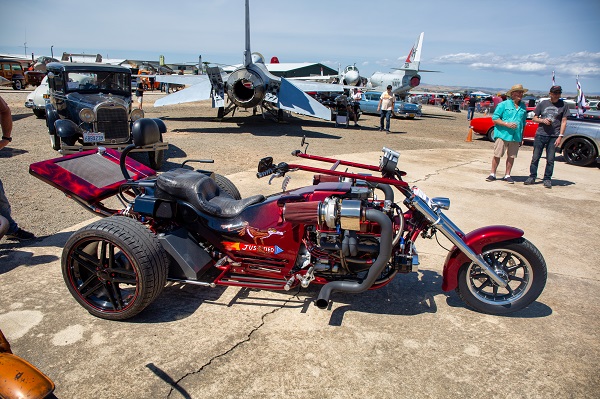 Enter your car, buy tickets or volunteer
Entry fee is $45 per car and includes a goody bag, two admission tickets, dash plaque, a picture of your car with a Warbird plane and a chance to win cash prizes of $200, $400, or $600. Must be present to win.
Register your car at www.ewarbirds.org/events for Warbirds Wings & Wheels. Gates open at 6:30 a.m. and your car must be in by 9:45 a.m.
Tickets for the dinner/dance or event admission are available at www.ewarbirds.org/events. Select Warbirds Wings & Wheels.
To sign up as a volunteer, vendor or sponsor, visit ewarbirds.org
About the Estrella Warbird Museum and Woodland Auto Display
The Estrella Warbirds Museum and Woodland Auto Display is one of the fastest-growing nonprofit museums in Central California and a "must-visit" for airplane, vehicle, and military memorabilia fans.
The displays include restored aircraft from the 1940s through the 1990s, a growing collection of armaments and ordnance, restored military vehicles, a full-size F/A-18 cockpit simulator that was actually used for pilot training, a fully equipped old Indy car garage, and the WWII Red Ball Express Motor Pool. The Woodland Auto Display includes historic NASCAR cars, a Steve McQueen Indian motorcycle with a sidecar and an always-changing assortment of street rods, antique and classic vehicles.
Education is a large part of the museum's mission.  School tours, monthly dinners with speakers, and a youth aviation program for middle and high school students are sponsored by the museum.
Estrella Warbirds Museum, Inc. is located at 4251 Dry Creek Road in Paso Robles. For more information visit ewarbirds.org or call (805) 238-9317.
comments