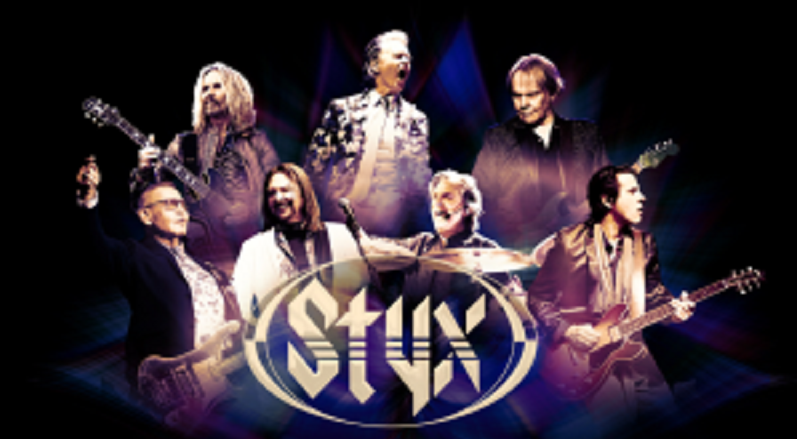 Tim McGraw, Styx, Parker McCollum and Ian Munsick confirmed for the 2023 line-up
—The California Mid-State Fair recently announced that Styx is confirmed to perform on Friday, July 28 at 7:30 p.m. An Evening of Music & Wine featuring Styx takes place in the Chumash Grandstand Arena at the Paso Robles Event Center.
Other early confirmations for the 2023 line-up include rising country music superstar Parker McCollum with special guest Ian Munsick as the opening act. The concert takes place on July 25 at 7:30 p.m. in the Chumash Grandstand Arena. This is McCollum's first performance at the fair.
Styx, McCollum, Munsick and more performers to be announced will be joining this year's fair to Shake, Rattle & Roll, the midway, concert venues exhibits and arena and livestock events during the fair from July 19-30. The 2023 fair theme, Shake, Rattle & Roll, incorporates the glitz and glamor of vintage Las Vegas. "We can't wait to host the 77th annual fair, full of games, rides, concerts, animals and food," said fair CEO Colleen Bojorquez.
Styx –nearly five decades of hits
Performing and recording since 1974, consistently producing hits and sold-out concerts, Styx called in a new era of hope, survival, and prosperity with the release of Crash of the Crown in June 2021. Crash of the Crown followed the release of a new EP, The Same Stardust, by only a few days, also in June 2021. The Same Stardust introduced two brand new songs, "The Same Stardust" and "Age of Entropia."
Crash of the Crown was written pre-pandemic and recorded during the trying times of the pandemic. STYX's holy mission for cutting Crash of the Crown was crystal-clear co-creator, Tommy Shaw,  from the get-go. "Absolutely no obstacles were going to get in the way of how we approached creating this album," Shaw concludes. "And everything came out exactly the way we wanted to hear it."
Tim McGraw – BDS Radio's most-played artist of the decade
Country music superstar Tim McGraw is appearing for his eighth time at the California Mid-State Fair Chumash Grandstand Arena on July 19 at 7:30 p.m.
Known for his high-energy concerts, McGraw has sold over 90 million records worldwide, won three Grammy Awards, 19 Academy of Country Music Awards and 14 Country Music Association Awards. Add to his many accomplishments are several films and TV shows, and co-authoring two New York Times Best Selling books, "Songs of America: Patriotism, Protest and the Music that Made a Nation" with Jon Meacham and "Grit & Grace: Train the Mind, Train the Body, Own Your Life" about fitness.
Parker McCollum – country music's 2022 New Male Artist of the Year
Singer/songwriter, Texas native Parker McCollum, took home the New Male Artist of the Year award at the 2022 Academy of Country Music Awards (AMC) and followed up a month later with the County Music Television (CMT) award for breakthrough album of the year for "To be Loved by You."
McCollum's debut MCA Nashville album, Gold Chain Cowboy was the highest first-week debut album of 2021. He has also been named an 'Artist to Watch' by Rolling Stone, Billboard, SiriusXM, CMT, RIAA, as well as Music Row's 2021 Breakout Artist of the Year and an all-genre Apple Up Next Artist for 2021. McCollum sold out over 40 shows in 2021 and in March of 2022, he made his debut at Rodeo Huston selling out over 73,000 tickets. His current hit song "Handle On You" is racing up the charts.
Ian Munsick—artist to watch
Breathing fresh Rocky Mountain air into the Nashville music scene, Ian Munsick is pioneering a new brand of country. The Wyoming-born singer/songwriter has been named "Artist to Watch" by Spotify, CMT, Fender and MusicRow. A seasoned entertainer, who grew up tending cattle by day and playing music in a family band at night, Munsick toured recently alongside country music superstars Morgan Wallen and Cody Johnson. Beyond his noteworthy professional accomplishments, he has also become both a husband and a father.
Munsick's upbringing was a mix of working the ranch and working crowds. Under the tutelage of their fiddle-playing father, Munsick and his two older brothers grew up playing everything from bluegrass to Beatles. Captivated by traditional lyrical truth and the modern soundscape, Munsick followed his ear to Music City. The recent releases of "Long Live Cowgirls" (with Cody Johnson), "More Than Me," and "Horses & Weed" are ushering in the next chapter of his musical saga. Fans are finding that, with Ian Munsick, country western is reborn.
Get your tickets — on sale now!
Styx tickets are $35 for Grandstand seating and $75 for Golden Circle seating.
Tim McGraw tickets are $50 to $175.
Parker McCollum tickets are $30, $40, $50, $60 and $85.
The California Mid-State Fair website is midstatefair.com, Box Office phone (805) 238-3565. The box office cannot guarantee the authenticity or validity of any tickets purchased outside of the fair's official channels. Table holders from 2022 will be notified about table renewal procedures and additional information via email. be sent via email at a later date. For more information about tickets or sign up for the table waitlist, email tickets@midstatefair.com.
The California Mid-State Fair is held from July 9-31, 2023 at the Paso Robles Event Center, 2198 Riverside Ave., Paso Robles. For the 2023 fair schedule, more information or to buy tickets visit midstatefair.com or call (805) 239-0655.
comments