Thursday Night Promotions Farmers' Market in SLO
San Luis Obispo's Thursday Night Farmer's Market is a world-renowned weekly produce market and street fair. Come for farm fresh produce, as well as grilled tri-tip, chicken, ribs, and sausage and other delicious options from booths offering everything from pizza to specialty desserts.
Recognized as a leader of such activities in California, Downtown SLO Farmers' Market is held on five downtown blocks of Higuera Street – between Osos and Nipomo streets. The area is closed to vehicles to make room for this bustling event.
Each market also features live entertainment from the likes of dancers, gymnasts, local singer-songwriters, rock and folk musicians, and high school bands. The market takes place every Thursday except for Thanksgiving or when raining. Barbecues and entertainment begin at 6 p.m.
All activities close at 9 p.m. For more information call (805) 541-0286.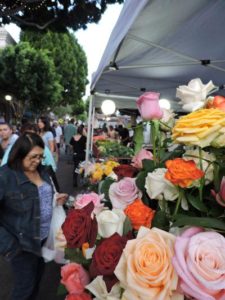 comments