–Everybody needs a place to go and feel beautiful, cared for and relaxed. One such place to visit, in the heart of downtown San Luis Obispo is Salon 62, located on Garden St. One step through the doorway and the refreshing scents of Aveda products hint at the wonderful services that are available. They use Aveda products "Aveda mission is to be environmentally sound" and is a company that lessens the carbon footprint. They have a full service spa and friendly specialists to help each person leave feeling renewed and happy.
The salon is owned by the passionate Kim Boege, a curly hair specialist. Having become a Deva Curl professional, Kim is able to help people learn how to care for difficult to manage, curly hair. She trains other stylists and has tips for clients who come into Salon 62 on how to work with curls. Her desire to share her knowledge and help others has grown into a project called the Curly Cure. Curly Cure consists of workshops for those who have gone through Chemo treatments and their hair has grown back curly, but they are unfamiliar with how to work with it. Curly Cure includes a gift certificate for a complimentary cut, a password to access a tips and tricks video online, and product samples. You can check out more online at thecurlycure.com.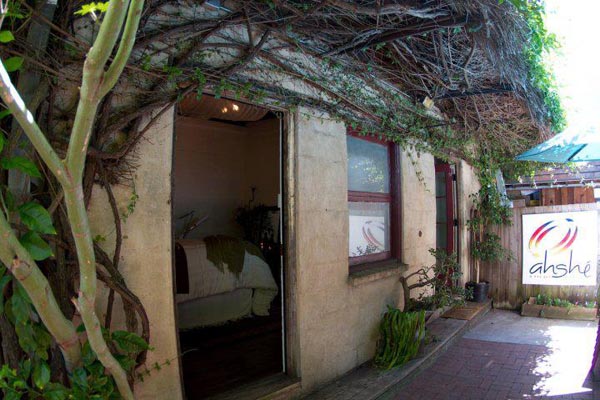 This does not mean they only work with curls at Salon 62. They care for each client as a whole person. "Those who enter as a guest leave as friends," Kim creates an environment that everyone can be comfortable and beautiful as themselves. Upon entering, the receptionist offers a beverage and homemade treats to settle you in. Cuts, styling, conditioning and makeup are only a few of what they have to offer. Through the back door of the salon an outside patio connects it with the renowned Linnaea's Café and leads to the spa. Here they offer a variety of services and packages to pamper each individual. Get a customized a massage from the massage therapist, or a facial from their esthetician.
A fun fact about Salon 62 is how long standing the location is. Although it has been called different names and had other owners, 1112 Garden St has been a salon since the 30's. The building it stands in is referred to as Barrett Block and is a part of the downtown community. Kim mentioned that Garden St will soon have a new vibe. Across the street a new hotel is opening and a brasserie, a type of French restaurant. The salon has a great relationship with its neighborhood and within its staff. Every person is well taken care of here.
At Salon 62, they want to promote self-love and give back to the world. Gift yourself and your loved ones with a trip to Salon 62. They are open Monday thru Sunday 10 a.m. to 7 p.m. For more information contact (805) 543-2060 or visit salon62.com and book an appointment.
–Rachelle Tellez
Related links
If you are visiting, for a great massage in San Luis Obispo, visit Embrace Massage for quality and professional service at 777 Pismo Street, San Luis Obispo, CA 93401. (805) 801-6658.

comments