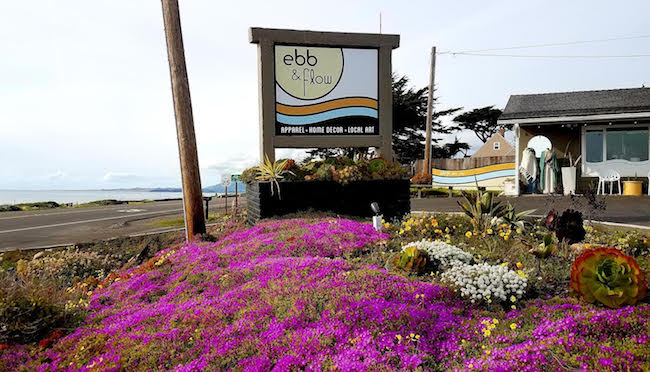 Bold and stylish clothing, jewelry, artwork, books, and more for individual style
-Located in an iconic beach house that was once an art gallery tucked right against the stunning sands of Moonstone Beach, Ebb & Flow welcomes visitors with an open door and the hope that the clothing, jewelry, artwork, and eclectic choices in the store will inspire feelings of individuality and serenity. The only retail boutique on Moonstone Beach Drive, owner Diane Garrigues Matzner is proud to continue the art gallery tradition by featuring some of the Central Coast's finest artists on a rotating basis.
In addition to supporting local artists, artisans and designers at Ebb & Flow, visitors can admire and purchase candles from Matzner's Cambria Candle Company, and marvel at the art produced by Ebb & Flow Creative Photography from Matzner's time living in Alaska and on the Oregon coast. This enchanting boutique, opened in 2019, encourages customers to find their individual styles and personal expression in the world by imagining the art, clothing, books, jewelry and eclectic accessories complementing their homes and lifestyles. "The thought makes me smile," says Matzner.
The seductive seaside-chic clothing, ocean-inspired jewelry, books and home decor, fuse with the offbeat surf and beach culture and the unconventional to make a visit to Ebb & Flow a tactile, sensory experience that shares Matzner's vision. "Moonstone Beach spoke to my soul at a crucial time of transition in my life," she said. "I became very intentional with whom and what I surround myself. I wanted to do and represent what lit me up personally, rather than just professionally, by not creating the typical 'safe' business or tourist beach shop. I took a risk and answered my desire to spend my days on the edge of life and the oceanfront. Then filling it with mutually minded vendors, designers and artists, proceeded to circle myself with a talented, dedicated and creative work family."
The experience at Ebb & Flow is distinctly different from the clutter of chain stores and internet shopping. "This mission is grounded in my personal vision, emanating from this place on Moonstone Beach, and connecting that by making the goods I sell a seamless through-line to the ocean and horizon outside my windows," says the owner. "I've reached the conclusion that my vision for apparel retail is more akin to an art gallery. We're more than just another shop featuring women's fashion. Not unlike a gallerist looking to represent the best works of art, I select and exhibit the best in contemporary fashion, but also jewelry, books, local art, and more, that capture the sense of place here on Moonstone Beach," said Matzner, who also owns Ocean Heir, another Cambria based fashion boutique which opened in 2012.
Matzner has spent the past 30 years developing and owning various boutiques in the California desert and the Central Coast, in addition to her work as an award-winning designer, and an active participant in city chambers and civic duty activities.
Providing a soulful space for creative exploration and collaboration with local artisans is what truly makes Ebb & Flow special and makes this boutique a must-visit in Cambria.
Ebb & Flow is located at 6100 Moonstone Beach Dr in Cambria. Open daily from 10 a.m. to 5 p.m. For more information, call (805) 203-5538 or visit ebbandflowoceanfront.com.
— By Sadie Mae Mace
comments