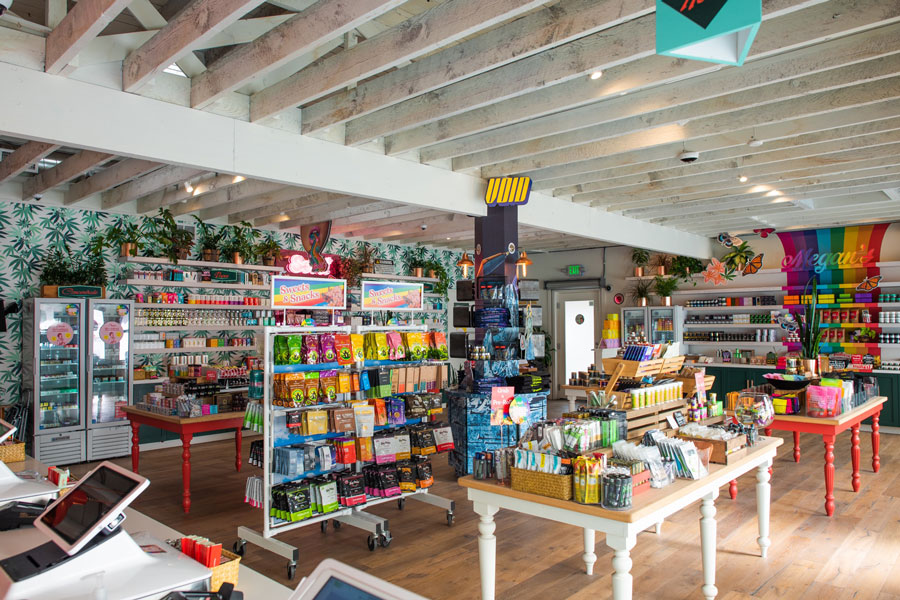 First dispensary in San Luis Obispo is 100-percent women-owned
Megan's Organic Market, lovingly known as MOM, offers a big and friendly welcome to guests visiting the first adult-use and medical cannabis dispensary and marketplace.
Located in downtown San Luis Obispo, MOM carries a variety of different products including flowers, concentrates, vaporizers, pre-rolls, tinctures, topicals, vapes, edibles, cannabis seeds and more. Cannabis products like these offer many benefits to consumers like pain relief, sleep aids and much more. The dispensary is also the exclusive Central Coast retailer of unique products from the SoHi and VOID brands. SoHi offers a lighter entry point series of cannabis products, which are best described as fragrant and yummy. VOID, with higher THC, is geared for connoisseurs.
"Everything we carry has to meet our high standards," said Tarrah Graves, MOM's Chief Creative Officer. One such product is the Rose Delights series of edible products offering a variety of different flavors crafted by chefs across the world.
Guests visiting the dispensary are greeted by some of the friendliest and most knowledgeable budtenders in the industry, who are always ready to help guests find the best products for their needs. MOM features an open shopping style experience reminiscent of a normal retail store. Guests can browse products laid out on open shelves and pick up and inspect whatever catches their interest. No products hidden behind glass and plastic at MOM!
Founder Megan Souza comes from a family of entrepreneurs, and was inspired by her mom and grandma at an early age. She initially founded MOM in 2013 as a delivery service under Proposition 215, and quickly grew the business into one of the most respected cannabis collectives, providing high-quality, cleaner products to medical cannabis patients. With years of experience under her belt and a loyal customer base, Souza decided that 2020 was the year to transform the business into a physical dispensary to provide recreational as well as medical products for adult use.
"Megan's heart is set on being able to offer a product she believes into as many people as possible," said Graves.
MOM's mission is to redefine society's relationship with cannabis through responsible stewardship, which the company exemplifies through its commitment to community involvement. The company has sponsored blood drives and community workshops, organized and staffed dinners at a local homeless center, performed clean-ups and adopted a two-mile-long stretch of Highway 1. MOM is also dedicated to becoming as green as its buds. The SLO shop was recently California Green Business Certified and they are working towards becoming net-zero on emissions. The company has recently installed solar panels, a rainwater capture system, two electric vehicle chargers and is committed to not carrying single-use vape cartridges due to the extra waste they create.
Megan's Organic Market is located at 280 Higuera Street in San Luis Obispo. Open every day from 9 a.m. – 8 p.m. For more information visit megansorganicmarket.com or call 805-592-1420.
comments