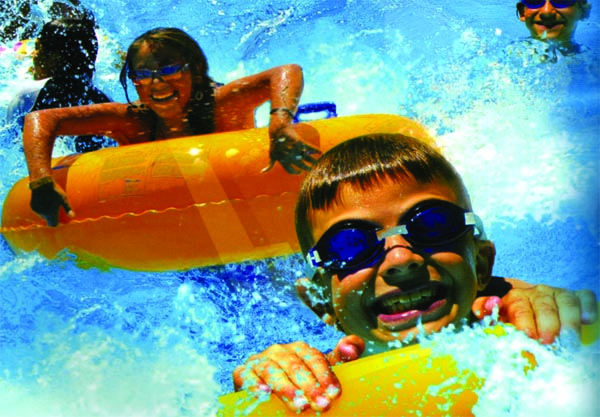 As its 9th anniversary approaches, The Ravine Waterpark is bigger and better than ever. Located on Highway 46 East in Paso Robles, The Ravine has dedicated itself to being a safe, fun resort for the entire family.
We offer many attractions for the whole family. For the 'littles' is the Tadpool: a 9000 square foot kids pool ranging from zero depth at entry to two-foot depth, loaded with slides and attractions to keep the little guys smiling and happy all day.
The entire family enjoys "kinging it" on Kickback Creek (The Lazy River) or "going big" in The Calypso Bay Wave Pool. When you need a break, relax under one of our many palapas on the sandy beach or sun deck, no doubt the best view in Paso Robles!
When you are ready to ramp it up a bit, head over towards Anaconda and Viper. These two, 325-foot long twisting turning slides are especially fun because in your first 10 feet you will be greeted by a light shower of approximately 3000 gallons per minute of water re-entering the slides. After exiting the underground tunnel, be prepared for splashdown into the catch-pool where you can step out and do it all over again, or continue on down Kickback Creek.
Kamikazee and Vertigo are for those who really want to get the adrenaline pumping. Kamikazee is a 5-story free-fall slide that is known for the screams! (Don't worry; it will all be over in about 3 seconds.)
Vertigo, better known as the Toilet Bowl, is definitely for the more adventurous riders. Slide down an insanely fast enclosed tube, shoot out of an opening into a large bowl with no idea which way your heading, and then drop 4 feet into a 8 foot deep pool of swirling water.
Quadzilla is a brand new, four lane racing slide that provides both simultaneous fun and competition for friends and family. Pick your lane and plunge down five stories of supersonic liquid track before splashing down 300 feet at the finish line.
If you are really ready for the ultimate day of rest and relaxation, treat yourself to one of the 35 private cabanas at The Ravine. Cabanas are available throughout the entire park and include a reserved parking space, your own cabana server, lounge chairs and table. Cabanas are also the only place down in the park to enjoy a cold beer or glass of wine!
The Surfside Grill and Sandbar Restaurant at The Ravine offer an affordable menu for everyone. From a slice of made-fresh-daily pizza and fresh charbroiled hamburgers (both under 5$) to grilled fresh fish tacos and ahi-mango salad, there is no need to pack a picnic. Little Swimmer kids meals include any entree with fresh carrots, sliced fresh fruit and real juice. The Chill Shack and Tiki Hut will satisfy any sweet tooth with many treats including thick Dreyers ice cream malts to 100% real fresh fruit smoothies. Bongos Beach Shack is also loaded with treats as well as shirts, cameras, sunscreen, or any item you may have forgotten when packing.
Although the park is a huge draw to those with children, The Ravine is not strictly for those with children. Bootlegger Tiki Bar is a family friendly setting on the shady grass hill overlooking the waterpark. Ice-cold beer and wine and margaritas as well as live music every Saturday make this a definite "hang out" for the adults.
The Ravine is open daily from 10:30 to 6 from Memorial Day Weekend through Labor Day Weekend. Visit The Ravine for details or call (805) 237-8500.
Subscribe to weekly travel news
comments