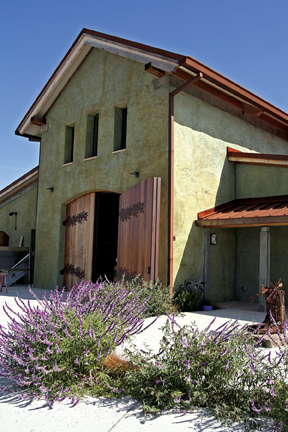 –At Kiler Ridge Olive Farm it isn't only the olives that are green; it's a way of life for owners Gregg Bone and Audrey Burnam. Their journey into the world of olives began with a bicycle tour through the Tuscany region of Italy. While exerting the effort it takes to pedal up the steep road grades of that area they took in the expansive views that included olive trees.
When Bone, who has an extensive technical and engineering background, was ready for a totally different career, they decided to look for property on the Central Coast of California. They found 60 acres at the top of a hill on the west side of Paso Robles, and planted seven varieties of Italian olive trees and built an environmentally friendly processing mill and tasting room.
Approaching the hilltop you are greeted with a 360-degree view of the surrounding terrain. There at the pinnacle is the Frantoio, a large straw-bale-based building that Bone and Burnam built. The Frantoio is where all the important activity of olive oil production is conducted. 
A tasting will have you learning everything you ever wanted to know about olive oil.   Burnam explains that extra virgin olive oil is classified as "mild, medium or robust," Kiler Ridge olive oils are medium and robust, containing a high level of polyphenols known to be helpful in warding off heart disease and diabetes.  "The positive flavors of an extra virgin olive oil include its fruitiness, bitterness, and pungency," and as we taste and talk about the olive oils the differences in flavor profiles from one to another oil become apparent.   
During the harvest and pressing of olives in late fall, an oil called Olio Nuovo is available.  This is the olive oil that has just been pressed and therefore is the freshest you will find. The term olio nuovo means "new oil" in Italian, and refers to oil that is so recently pressed that it is not yet clarified.  It should be consumed within a few months, but is a special treat during olive harvest time.  At Kiler Ridge, the Olio Nuovo is green, grassy and peppery.
Olive oil tasting is available from 11 a.m. to 5 p.m. Thursday through Monday.  Call ahead for groups of 6 or more.
Kiler Ridge is located at 1111 Kiler Canyon Rd, Paso Robles. For more information, or to schedule a tour, call (805) 400-1439 or go to kilerridge.com.
– Ruth Ann Angus
comments