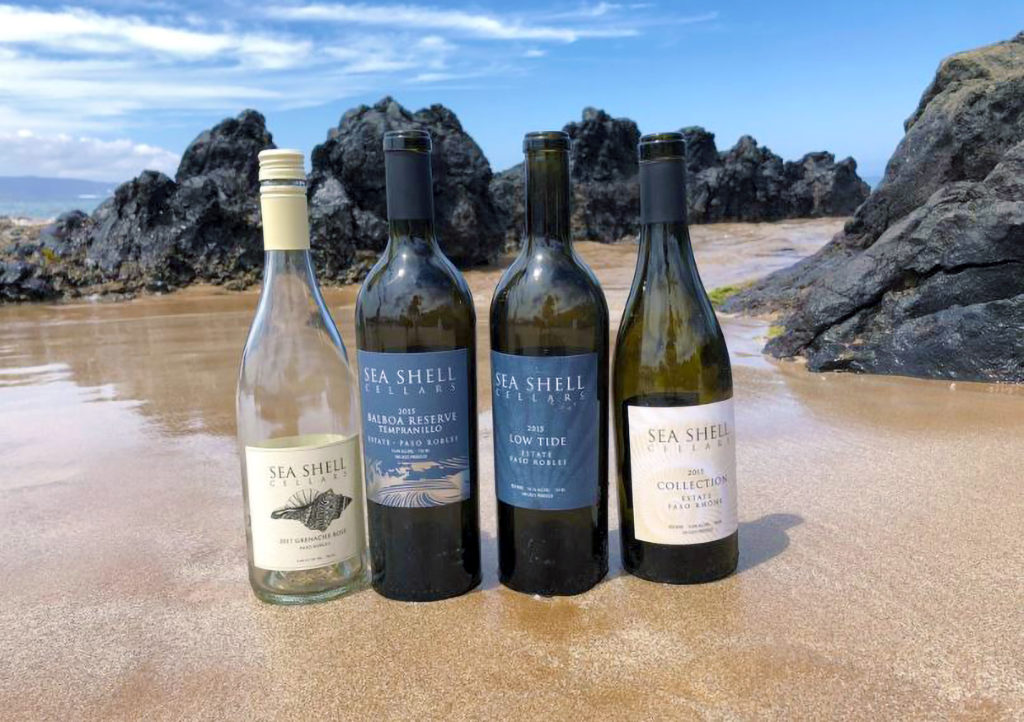 Approachable, unpretentious, fun and enjoyable wine
—If you come to Paso Robles for the wine, a visit to the Sea Shell Cellars wine tasting room in the heart of downtown is required, both for the wine and for the fun, relaxed ambiance that matches the winery's award-winning wines.
Ranked as one of the 13 unique top tasting rooms by Paso Robles Wine Country, guests to the tasting room are greeted with a massive floor-to-ceiling beach mural that sets the tone for an enjoyable adventure into some of the best wine from Paso Robles wine country.
"So many wines can be intimidating," said co-proprietor Michelle Carter, "By the name and the label, our goal was to make wine fun and enjoyable."
She and Rick Carter have a special affinity for the beach: Michelle, originally from Denver, started dating Rick, a Southern California native, at Balboa Beach in Orange County. They named their winery Sea Shell Cellars in homage to the many wonderful memories they have made there.
"Low tide is the best time to find seashells," explained Michelle, "That's why we named our first big wine, 'Low Tide.' And all of the wine labels have different shells."
The tasting room is in step with the nautical aesthetic of the branding. The team updated the downtown space with fresh coats of paint, new furniture, and a beach mural where guests can pose with their wine glasses for a fun photo.
"We think the tasting room sums up everything that our wine brand is about: Having fun and enjoying wine," says Rick.
Waves of accolades
Paso Robles Wine Country named Sea Shell Cellars one of the top 15 tasting rooms in downtown Paso Robles.  The Carters seem pleasantly surprised at the amount of recognition that their wines have received since their first competitions in 2013. The awards and accolades are almost too numerous to list; gold, silver and bronze medals dangle proudly from the bottles displayed near the tasting lineup.
"Our production now is about 2000 cases, but actually our vineyard could produce over 10,000," Rick said with an excited twinkle in his eye.
Humbly, the Carters pass credit for their success to their wine team, who, in turn, give credit to the land. The 97-acre vineyard is in the rolling hills adjacent to the Huero Huero Creek and is covered with historic oak trees and approximately 60,000 vines on over 50 acres.
Winemaker Jeff Strekas has worked with wineries around the world. Strekas works in tandem with Vineyard Manager Tony Domingos, a local, fourth-generation farmer. What sets Sea Shell Cellars apart, they say, is that all of the grapes are estate grown. They also expressed gratitude at having creative freedom both to work with the land, and to work for the Carters, who encourage and allow them to do what they love and what they do best: "just let the estate express itself," as Strekas says.
The team hopes to expand in terms of production, at the downtown tasting room and at their vineyard. The wine club is quickly growing. The Sea Shell team had their first Beachcomber Wine Club pick up party this past October on the vineyard. It was a huge hit and fun was had by all with live music and catered food for everyone to enjoy.
Stop by the tasting room and say "Hi" to manager Rochelle Carter or tasting room veteran Denise Levy.
Sea Shell Cellars is located at 840 13th Street, STE G in downtown Paso Robles. Open Sun-Mon noon-5 p.m. and Tue-Sat noon-6 p.m. For more information, call (805) 238-6800 or visit www.seashellcellars.com.
comments