New hot spot is a 'modern day speakeasy'
Found on the corner of Mason St., the Mason Bar & Grill is the newest hot spot in Arroyo Grande. There has never been many bar options in this little town, but in May of 2015 this new establishment entered the scene. It was designed to be a setting to gather and drink without the typical bar crowd; welcome to the modern day speakeasy.
From the expansive window that lines the face of the building to the original Mason jar light sconces and chandeliers, be assured that this gastropub will surely captivate you. Step through beautiful etched glass doors and be welcomed by a friendly staff.
Dustin Winkelpleck is an enthusiastic manager, who ensures that the Mason Bar team is capable and knowledgeable, to create, "a place where adults can play," and you'll likely want the staff's advice once you take a look at their menu. They keep the small craft beers on rotation, and not only are there 25 beers, but wine is available on tap as well. This newer method is eco-friendly and helps keep the quality of the wine, stopping it from over oxidization.
Not a beer or wine fan? Around 25 bourbons are also available, along with a number of whiskeys. Winkelpleck's says his favorites are the, "craft cocktails featuring fresh local ingredients," such as the Cinnamon Apple Mojito or a Strawberry Basil Lemon Drop, which gives homage to Arroyo Grande's popular Strawberry Festival. In addition, the Mason Bar offers a unique variety of barrel aged cocktails. These are pre-mixed concoctions that are placed into barrels and aged to give them a unique taste. If you love one of their creations, you can join the Barrel Club. Once a member, they fill a 2-5 liter oak barrel with your favorite customized cocktail and reserve it with your name for future visits.
Try a bite to eat with your drink and you'll be sure to savor the experience. Favorites include the Lobster Dogs, or the ground rib-eye burger on a house baked bun. Jason Gable, a culinary consultant, shaped the menu's foundation and gathered a perfect team. In house, Jordan Joseph collaborates to update the bill of fare with an array of approachable foods that have a new twist, like his current favorite, the Carbonara. According to Winkelpleck, "It's a modern sexy take on some of your favorite classic dishes."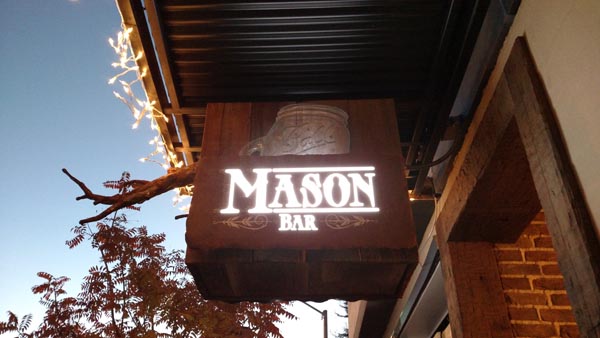 This little place has big plans in store for the future. Winkelpleck said that they intend to expand the kitchen and bar, to increase their bourbon selection to 50 and provide a high end steak on their menu.
The Mason Bar & Grill is located at 307 E. Branch St. in Arroyo Grande. They are open daily from 11:30 a.m. to 10 p.m. Sunday thru Thursday bar is open until last call, Friday and Saturday bar is open until 1 a.m. For more information call (805) 202-8918 or visit www.masonbarag.com.
-Rachelle Tellez
comments