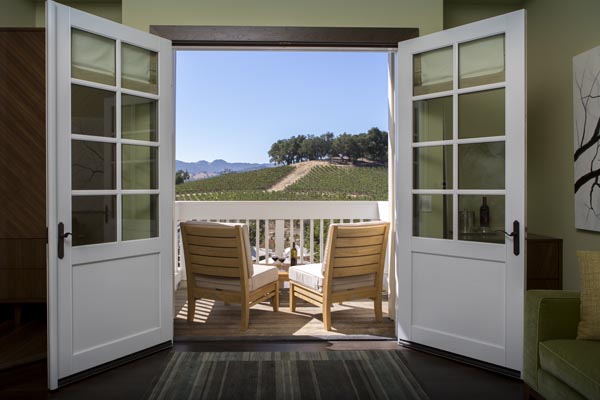 Justin Winery, located among the pastoral hills on the West Side of Paso Robles, may just be the quintessential Paso Robles wine country story and experience. An early pioneer in Paso Robles wine making, Justin Baldwin first purchased acreage in 1981, with a dream of producing world class Bordeaux style wines. Paso was in its infancy, with very few vines planted and little wine production.
As Paso grew, so did Justin Winery, or vice-versa. In 1986 Justin released his first cabernet, selling it exclusively to friends, and in 1987 the initial reserve cabernet was released, later to be renamed Isosceles, which to this day is the flagship wine of Justin Winery. The dream had taken root, just like the vines. In 2000 the 1997 Isosceles was named 6th best wine in the world in Wine Spectator's Top 100 wine list, and in 2015 Wine Enthusiast magazine designated Justin Winery American Winery of the Year. In the 35 years since those first vines were planted, Justin Winery, as Paso Robles, has transitioned into a destination wine region, offering fine wine, accommodations and amazing food.
The Complete Justin Experience: Sip-Eat-Stay
The complete Justin Winery experience has to begin with a visit to the tasting room, set among the vineyards. What could be more relaxing or enticing than to sip world class wines in a modern, comfortable tasting room, while enjoying spectacular and inviting views of the surrounding vineyards?
Following your tasting, you may want to partake of an award winning gourmet lunch in The Restaurant at Justin (Thursday-Saturday), Sunday brunch, or a relaxing, romantic dinner (served Tuesday-Saturday). The menu changes with the seasons, and features the freshest of local ingredients. Complement your meal by choosing the perfect wine from Justin's award winning wine list, including not only Justin wines and Paso favorites, but hard to find wines from around the world.
Once your day is over, end your stay in one of the elegant rooms at the Just Inn. Nothing says "luxury" or "romance" better than a stay in one of these select, well-appointed rooms. The following morning, begin your day with a deluxe complimentary breakfast, followed by a tour of the winery and caves. For the ultimate wine country experience, or romantic weekend, come sip the wines at Justin, dine in their restaurant, and spend the night in the Just Inn.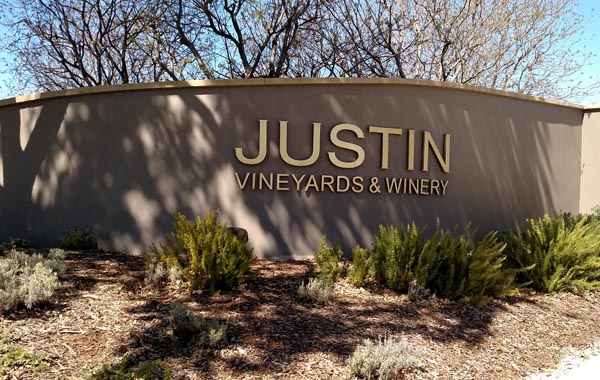 Special Events are Very Special
Justin offers a variety of events for the wine lover, and they are all extra special. Visit Justin for a wine tasting in their comfortable tasting room. Book a tour to experience the grounds and the winery. If it's education you want, they offer a variety of unique tasting seminars, including their newly introduced Food and Wine tasting seminar, to enhance your appreciation of attaining the ultimate enjoyment from pairing Justin wines with accompanying small bites. Learn the basics of food and wine pairing in a fun environment.
In addition to the above special events, there is a vibrant wine club, The Justin Wine Society, which offers various wine shipments to fit your wine needs. Benefits of membership include discounts, free tastings, complimentary tours and invitations to special food and wine events, such as the Annual Gala which takes place the second Saturday of August, featuring music, tastings and wine in the winery and caves.
If you are planning a special corporate event, you will be hard pressed to find a venue that is as perfect and picturesque as Justin's winery or outdoor area. Justin is the complete package.
The success and history of Justin parallels the growth and maturity of Paso Robles and the wine industry. Justin, and Paso have grown over the years, from the 'beginnings' of the wine industry in the 70's and early 80's, to a world renown wine destination, offering "the best of the best" for wine, food and lodging, while maintaining its friendly "early California" charm and ambience.
A visit to experience the Paso Robles wine country, and all it has to offer, is not complete without a visit to Justin Winery, where you will enjoy world class wines, poured by knowledgeable and affable hosts, gourmet cooking, and deluxe lodging at The Best American Winery of the Year.
Learn more about the extra special events at Justin Winery, visit their website: www.Justinwine.com. Justin is located at 11680 Chimney Rock Road in Paso Robles. Tasting room open daily: 10 a.m. – 4:30 p.m.
–Don Sonderling
comments