Modern menu lets patrons enjoy classics with a twist
Inspired by the local wildlife, co-owners Debbie Schiro and Daryl Cope opened Rooster Creek Tavern. The family friendly restaurant features an outside patio that entices all, including the occasional rooster. This establishment is perfect for many events, from birthdays to meetings. There is a banquet room that seats up to 45 people, making it a prime location for all gatherings.
This restaurant was the start of a new scene in little Arroyo Grande. Its modern menu gives locals and visitors a great way to enjoy old favorites with a twist. Take a walk across the swinging bridge and view the roosters that have nested along the creek over the years. Then stop by Rooster Creek for lunch, dinner or drinks.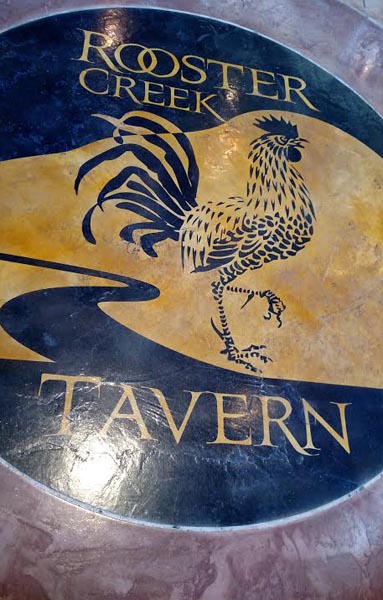 The locals are drawn to the chic dining experience; Be it a casual night out with friends or an excuse to dress up and celebrate, Rooster Creek Tavern is the spot to go. "The community has embraced Rooster Creek and we can't be more grateful for it," says Schiro. They take in the opinions of customers, especially the regulars to help update their menus and create a selection for all to enjoy.
The diverse menu ranges from tasty appetizers to unique or traditional pizzas. A popular item is their fried chicken, served with a side of 805 gravy. Their rapport with Firestone Walker is one that allows them to serve it on tap (not something everyone is privy to). A healthy and delicious option is the beet salad, filled with fresh local beets, goat cheese and topped with sherry vinaigrette. Of course, the weekly specials are always a guaranteed to hit the spot. Top of every meal with a delectable dessert, like the cookie skillet; it's really impossible not to enjoy.
Another option is to pick up food to go and take it along to enjoy. The restaurant is in prime location to stop at when heading to Edna Valley. Schiro coins it as being located, "at the gateway to the wineries." You can even go online to SLO County Vintners association has an awesome online tool to plan wine tasting trips and Rooster Creek can be added to the itinerary.
Rooster Creek Tavern is located at 200 E. Branch St in Arroyo Grande. They are open daily 11:30 a.m. to 10 p.m. and Friday thru Saturday the bar stays open to midnight. For more information call (805)489-2509 or visit www.roostercreektavern.com.
-Rachelle Tellez
comments