'Paso Doble' sparkling wine released at the end of the new harvest each year
Vino Vargas winery, located in San Miguel just north of Paso Robles, offers delicious sparkling wines made in the traditional way. Vino Vargas Paso Doble sparkling wine is just one of the many award-winning wines available through the wine club or by visiting the winery.
Each year the wine is released at the end of the new harvest at the Vargas Harvest Winemaker Dinner. The festivities begin when Winemaker Pedro Vargas' wife, Vicky, a certified sommelier, sabers a bottle to celebrate the occasion.
This year the dinner is Nov. 10th and, like every year prior, tickets are limited and will sell out. Begin the evening with passed hors d'oeuvre and the Paso Doble, then enjoy a four-course dinner served with a Vino Vargas wine that complements each dish. But don't despair, they do offer tasting previews prior to the ceremonious release date.
In addition to the sparkling wine, Vino Vargas currently offers chardonnay, pinot noir, grenache, a grenache-syrah-mourvedre blend, tempranillo, and cabernet sauvignon, along with two Port-style dessert wines – a red and a white.
A white Port? Yes. Just as "Champagne" is a term that should only be used to describe wines from that region, "Port" describes the manner and origin of that wine. That's why Pedro is careful to describe these wines as "Port-style" dessert wines – they are made in the winery in the Paso Robles vinicultural area. The white Port-style wine is called "Oro" – Spanish for gold – that describes the color of this wine. Like a late-harvest dessert wine, Oro has flavors of honey, aromas of jasmine, and pairs very well with desserts such as Crème Brulee. Served cold, the Oro is crisp and refreshing to the palate, not syrup-sweet or overwhelming.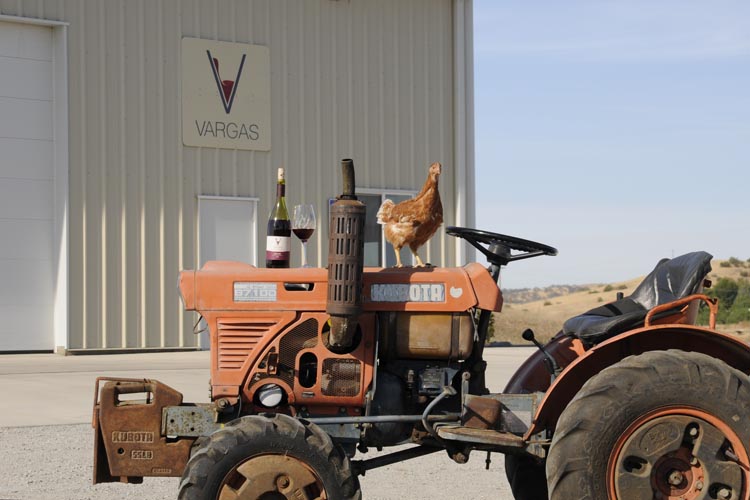 These wines are not available in your local grocery store, but you can taste, savor, and buy the wines by visiting Vino Vargas in their scenic, Westside winery just outside the town of San Miguel, 8 miles north of Paso Robles. The quiet country setting with views of vineyards and rolling hills is perfect for the wine lover looking for something a little quieter and special. Open daily, visitors should call or email the winery to assure they will get attended to personally be the winemaker, Pedro, and his wife, Vicky.
The tasting room is open without appointments during all area wine events, such as Harvest Weekend, Zinfandel Vintage Weekend, and Wine Fest. For reservations call: (805) 369-1440. Vino Vargas is located at 950 Indian Dune Road, San Miguel. Visit the Vino Vargas website at www.vinovargas.com and Like the Facebook page facebook.com/vinovargaswine to stay informed of special events.
comments