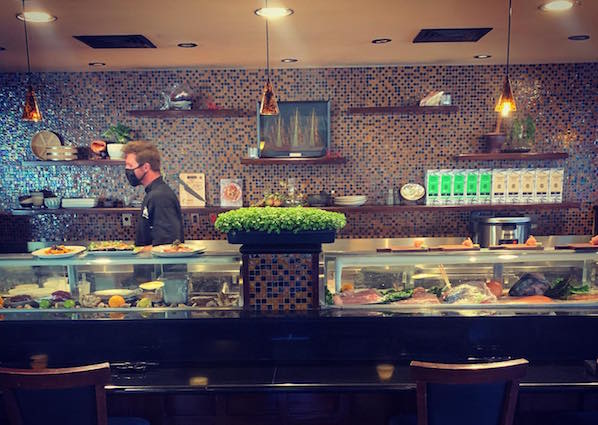 Tantalizing food from BBQ to seafood, prepared with care and precision
—Hungry visitors to Atascadero can enjoy an excellent dinner at the perfectly named restaurant, Nautical Cowboy. Located inside The Carlton Hotel, excellent juicy steaks and sustainable seafood are available along with red oak-fired pizzas and BBQ. A fresh raw bar is open on the weekends.
Nautical Cowboy's dishes are prepared with care and precision. The restaurant is well known in the area for the wonderful customer service, delicious food and attention to detail, not to mention the tantalizing smell of the BBQ as folks drive by.
The menu features starters, soup and salad, pasta and steak house entrees such as grilled Tomahawk rib eye and King salmon and half roasted chicken to name a few.
The Carlton Hotel is centrally located within the county and is situated in the up-and-coming downtown district of Atascadero. Any visit to Atascadero is incomplete without seeing the beautiful downtown area surrounding the iconic El Camino Real, which passes City Hall, built in 1918. See the many shops, pubs, beer gardens, murals, cider houses and boutiques in this burgeoning artistic community.
The Carlton was originally built in the early 1920s, with a history of hosting many different businesses over the years. The Carlton has improved significantly, fully upgraded in the 90s and 2000s, becoming the hotel we know and love today. After years of renovations and restoration, the Carlton Hotel reopened in 2005.
The family-owned and operated Nautical Cowboy is the creation of owner David Weyrich, who decided the hotel-run restaurant would serve as a go-to dinner spot featuring a lounge and high-class Surf n' Turf. The Steak and seafood offerings can be found nowhere else on the Central Coast. Share a family-style dinner, or an intimate evening with loved ones in the elegant setting. "Guests say it feels like home when they are here," shared assistant manager Annie Guerrero.
Nautical Cowboy is located inside The Carlton Hotel at 6005 El Camino Real, Atascadero. The restaurant is open daily for dinner from 5-9 p.m. and is available for catering and private dining as well. For more information call (805) 461-5100 or visit www.nauticalcowboy.com.
–Cassandra Frey
comments