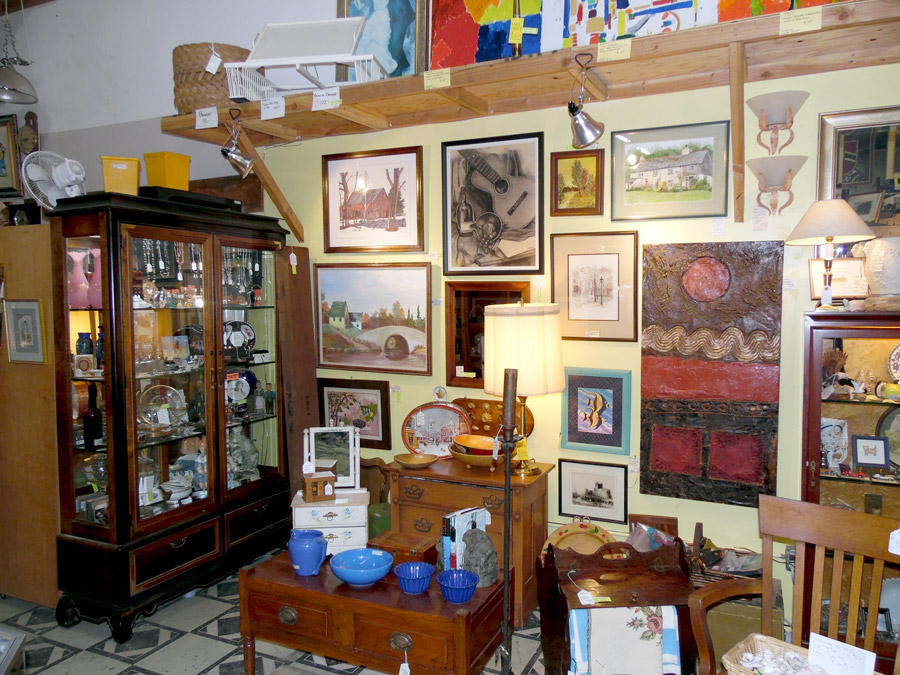 Usually, it begins with just one item. Something that catches your eye, like a porcelain figurine of a Scottie dog, an old metal sign for a now obsolete brand of soda, a piece of costume jewelry.
"So many people stop in and then spend an afternoon browsing our store," says Jeannine Cantrell, owner of Vineyard Antique Mall. "We have underpriced treasures in our 10,000 square foot antique mall."
Just ask one of her regular customers, Dan Lassanske, world record-holding collector of 9,000 spinning tops. The recently retired Cal Poly professor of horticulture has a fascination with collecting the small antique toys that has grown beyond what most would call a hobby. And it doesn't stop with tops. He also collects children's shoes, cast-iron banks and much more. In fact, his level of commitment to antique collecting is such that he designed his home as much to showcase his prized pieces as to live in. The two-story Victorian-style house features a wrap-around deck, custom shelving, and a two-story garage (which is devoted entirely to his tops), all built with an eye to display his collections.
Having caught 'the bug' in the 1960s, Dan has spent decades amassing his home-museum of outdated oddities, driven not by the value of the items, but by what he calls the "the hunt." He says he started long before there was such a thing as eBay, which allows a person to assemble a massive collection in a matter of minutes. "It takes the fun out of it," he says, explaining that for him, antiquing is about the "crazy" characters you meet along the way at shops and fairs, the relationships formed by trading and sharing. Lassanske travels often and shops regularly in search of the next gem to add to his archives of Americana. He explains that items move quickly in and out of a popular store like the Vineyard Antique Mall, so every week there is a new chance of finding that elusive item.
Jeannine and her husband Greg, who added on to their home in order to make room for their own private collections, started out as amateurs and soon fell headlong into the hobby. They took the reins at Vineyard Antique Mall in 2000, enjoying the process of curating a treasure trove of varied vintage delights in the vast 10,000 square feet mall. The business was originally founded in 1983. Jeannine explained that sometimes they would buy an entire estate to sell in their store, but they also worked with hundreds of consignment accounts—some providing contributions as minute as one shelf of antique thimbles, others offering huge installations of furniture—in order to provide the kind of variety and fresh finds their voracious clientele seek.
What feeds the endless fascination? It's a number of things. Jeannine pointed out that many people are drawn to old toys, both agree, "Part of it is reliving youth." Jeannine related the story of one antique collector, a rocket scientist, with a four-car garage dedicated to his train collection. "For people who grew up during the depression, getting one gift for Christmas was a huge deal. But, there were so many other toys that you would see in the window and would want. So, when people see those same toys in antique stores it brings back the memory, and they buy them and put them on display."
Vineyard Antiques has over 100 dealers and consigners. Browse through the aisles and find antique furniture, from elegant to primitive. The inside of the store is filled to the brim with old tools, glassware, jewelry, collectibles, old signs as well as auto, gas, oil and railroad memorabilia, mirrors, art and more. Outside, the mall has a 2,000 square foot patio with an extensive collection of garden art, old wheels and all sorts of rusty findings.
"Everywhere the eye can see, visitors to our mall will enjoy a step-back-in-time shopping experience," says Jeannine.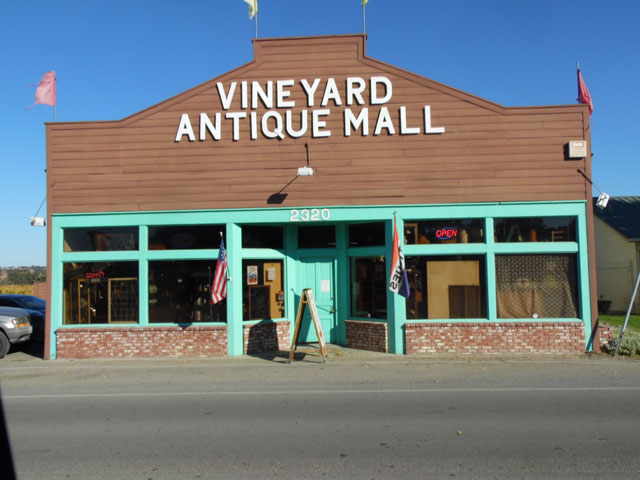 At Vineyard Antiques, antiquing is also about bridging a gap between generations and preserving a part of cultural history that might otherwise be lost. "Most kids today won't have any idea what toys like jacks and even yo-yos are unless they have someone in their life that introduces it to them," she says, noting that many children, busy looking at "their screens," have probably never seen the old spinning tops that were wound up with a string. Dan agreed that that's part of the fun: you can take an old toy like a top or marbles, which children perhaps have never seen before, to a playground and within minutes you have a crowd of kids excited to play.
The timelessness of certain antiques seems to give them an added value and charm if for no other reason than that they can play a more practical and dynamic role in modern life. But there are just as many collections that serve no real purpose other than to delight the collector. Dan picks up one of his finds for the day, an antique pair of children's roller skates. Looking down at them, the quiet bemused smile on his face told more than words could describe of the simple, singular joy that a stirred memory creates. From something as simple as skates, a treasured moment that time can never tinge.
You can't miss the iconic barn edifice that houses Vineyard Antique Mall, located at 2320 Ramada Drive in Paso Robles, directly facing Highway 101 and directly adjacent to a sprawling, old-vine vineyard. Visit any day of the week from 10 a.m. to 5 p.m. Open seven days a week. For more information, call (805) 237-4012.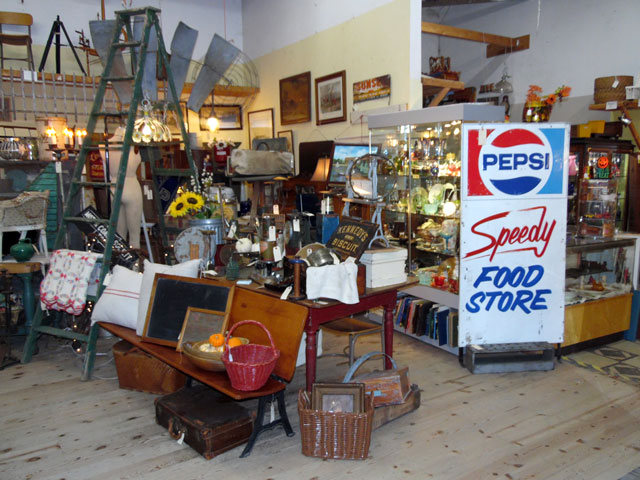 – Jamie Relth
comments