The mission that time forgot
Just forty-five minutes outside of Paso Robles, nestled snugly against the foothills of the Santa Lucia Mountain Range, you can take a step back in time and discover a hidden treasure: Mission San Antonio de Padua.
Founded on July 14, 1771 by Fray Junipero Serra, San Antonio was the third in the eventual chain of twenty-one Alta California Missions instituted by the Franciscan Order. The Spanish government, eager to establish territorial claims in the New World, had already built presidios at the ports of San Diego and Monterey. Mission San Antonio represented their first inland venture for the Franciscans, and Serra protested formally against a Spanish Military presence at this new mission, citing multiple human rights violations against the Indigenous Peoples by the Spanish soldiers. Mission San Antonio, therefore, was the first Mission established without a Spanish Presidio. Ironically, the mission is now completely surrounded by Fort Hunter Liggett, an Army Reserve base that serves as the Western Regional Training Center for all branches of the military.
Unlike the majority of the California Missions, San Antonio did not have a city grow up around it after secularization. Today, it appears much as it would have during the Mission era. Protected, both as a California State and a National Historic Site, the eighty-six acres sit like an oasis from a bygone era. Still visible are remnants of the ancient aqueduct system, the workings of the mill pond, original river rock threshing floor and grist mill. Without the effects of light pollution, the night sky at the mission presents a stunning array of stars, flung far and wide, telling their timeless
stories by way of glittering diamond constellations.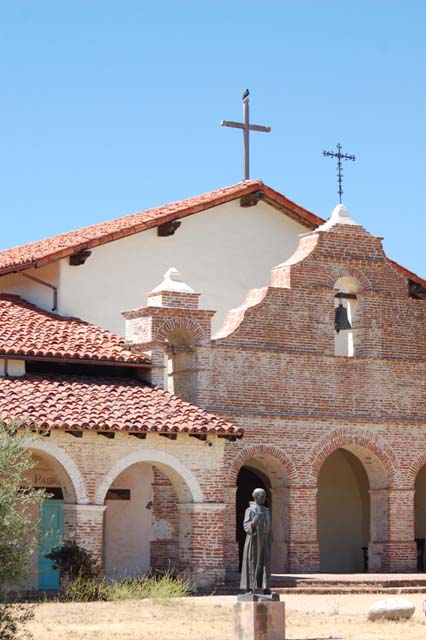 Mission San Antonio currently continues to serve a small but stalwart parish community of less than six dozen members. This community grows at each of its annual fundraising events, one set in each season.
History, however, is not all that San Antonio has to offer. The mission offers an excellent ten-room museum of mission-era artifacts and an exceptional Southwest-museum is temporarily closed as the final touches of the a restoration project are completed.
The Mission Gift Shop and Gallery displays the artistic creations of over one hundred artists. This elevates the shopper's selection of available unique gift items and ensures that many of the items are truly one-of-a-kind.
Vital to the daily operating budget is the revenue stream from the Mission Retreat Center. In a world that often spirals out-of-control with busyness, the peace and serenity of this historic site nurtures a sense of calm well-being. The mission accommodates both private and group retreats focusing on either spiritual or educational purposes.
California State has mandated that all unreinforced masonry buildings in the state and serving the public must be seismically stabilized to remain open. In 2010, in response to this call to improve safety conditions for the thousands of guests and visitors to the mission, a group of concerned community members established a non-profit 501 c-3, named Campaign to Preserve Mission San Antonio de Padua. Tasked with the goal to raise the money necessary to fund the massive seismic retrofit/restoration project, this group has been hard at work soliciting donations.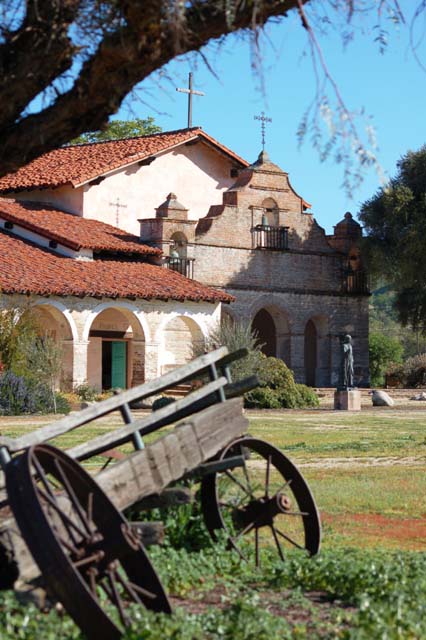 August 4, 2014 construction work began on Phase I (of five phases) of the retrofit project. To date, Phase I (the Church), Phase II (South Convento including Museum, Library, Cloister, Gift Shop, and Parish Offices), and Phase III (West Convento Retreat Rooms) have been completed. The seismic work and the electrical upgrade of Phase IV
(North Convento Retreat Rooms) is nearing completion.
"Through the continued generosity of many individuals and foundations, we have accomplished approximately three-fourths of the stabilization/restoration project," said Joan Steele, Mission Administrator. "We are now at a critical junction. Our money has run out and we are in need of approximately $3 million to complete the remaining plumbing and ADA compliance work. We are asking for your support. We need to get the word out about this hidden gem on California's Central Coast."
Steele adds, "Please visit Mission San Antonio. See for yourself how worthwhile this project is. Come spend a night or two with us and refresh your spirit, rejuvenate your soul. Please share the details of our plight with others. It has taken the generosity of many, many people to get us this far. It will require the contributions of many more generous individuals for us to succeed in completing this vital project. Use your Facebook, Twitter, Instagram…please help us spread the word. Just as the Mission was built brick-by-adobe-brick, it will be saved dollar-by-dollar. Please accept the invitation to become part of the team that saves this historical treasure for future generations!"
Mission San Antonio is located at 1 Mission Creek Rd, in Jolon. For more information, visit missionsanantonio.net or call (831) 385-4478.
comments