High end vacation spot offers guests an elegant retreat
The luxurious Vines RV Resort is a premier lodging accommodation in Paso Robles for tourists and locals who enjoy exploring the Central Coast. It has a convenient location, just minutes away from the Ravine Water Park and the Mid-State Fair for family fun in the summer, multiple award winning wineries, and various popular tourist destinations along the Central Coast including San Luis Obispo and Hearst Castle.
Accommodations
The Resort offers two different rooming options: an RV spot with full amenities and a one-room, tastefully furnished cottage. RV sites are located on concrete pads, which allow for easy set up. The cottages are rustic, yet upscale, with landscape paintings reminiscent of Paso Robles in the bedroom and a fireplace in the living room area. In each location, wi-fi and cable are provided. For those staying in their exclusive RV site, private bathing facilities and laundry options are available. For guests that wish to relax in style, the Resort has two pristine swimming pools and a spa with a hot tub. If guests are looking to explore the surrounding Paso Robles community, the Resort faculty are always on hand to recommend different activities around the area. Several of the activities have the option of a shuttle service for transportation, and guests are provided different schedules for popular local events. If guests or locals are interested in attending an on site event, there are frequent craft and quilting classes to enjoy.
Events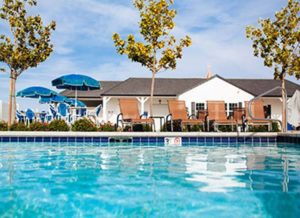 Vines RV Resort is its own mini retreat with multiple amenities and facilities for use. Events can be held at the Mulberry Ballroom and the Royal Oak Ballroom, with equipment needed for business ventures or for a catered event. Each ornately decorated room can hold a maximum of 100 guests, who can lounge by the fireplace, admire the paintings or enjoy the elegance during their event. Also available for relaxation and comfort is the Magnolia Lounge, which serves beer and wine, and where you can engage in a friendly game at the billiards table. Also available is the dog park for your furry friends and library with floor to ceiling bookcases. The Resort also features a fitness center with quality equipment that overlooks the pool and lounge area. Also on site is a general store with RV supplies, food and more.
If you are looking for an enjoyable location to relax and travel around the Central Coast in style, look no further than the Vines RV Resort.
Visit Vines RV Resort at 88 Wellsona in Paso Robles. Call (877) 820-0940 or sunrvresorts.com for more information.
~Sadie Mae Mace
comments