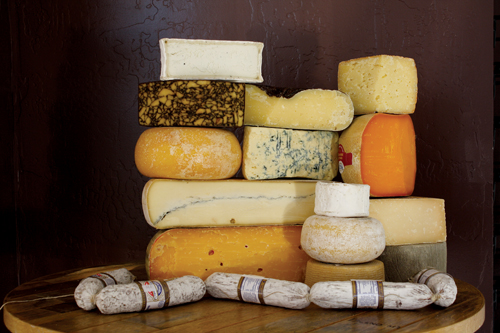 Vivant Fine Cheese is a Paso Robles destination that is not to be missed. Located in the heart of downtown Paso Robles, Vivant is the place to stock up for a wine tasting picnic or relax away the afternoon over a glass of wine and a cheese plate on their picturesque patio. Guests to Vivant Fine Cheese are greeted with a smile and a sample – Owner Danika Reed and her welcoming staff of "Cheese Experts" are always excited to share their favorite fromage.
In addition to offering over 150 varieties of cheese, Vivant is a one-stop shop for charcuterie, olives, crackers, baguettes, olive oil, jams, pâté, and other gourmet picnic necessities. There is also a lunch menu with hot and cold sandwiches on freshly baked bread, flatbread pizzas, and of course, a beautiful cheese plate. Wine, beer, and artisan sodas are also available.
The most popular menu item is the Vivant Fine Cheese Plate, which comes with five cheeses, Marcona almonds, dried fruit, and fresh baguette slices. Salami, prosciutto, or Lucques olives can also be added. The cheese plate is most commonly shared among a group of friends and a bottle of wine on Vivant's beautiful patio, but can also be prepared "to-go" for an easy wine tasting snack.
Cheese Tasting is the New Wine Tasting
Guests who are looking for an in-depth, unique cheese experience can partake in a cheese tasting or wine and cheese pairing. The cheese tasting features five generous tastes of an interesting variety of cheeses ($5), while the wine and cheese pairing features four local wines matched with four perfect cheese pairings ($10). This selection rotates on a regular basis, as Vivant Fine Cheese features a different local winery each month.
Join a Cheese Club
Vivant's newest venture, which is just about to turn a year old, is the Vivant Fine Cheese Club. Members of the Cheese Club receive bi-monthly shipments of three cheeses, along with detailed information about each cheese and a recipe. At $30 per shipment (plus shipping, if required), the club is a great way for cheese lovers to try new cheeses and learn about new ways to use cheese. Often, the cheese in the shipments are limited-batch or hard to find varieties.
The History of Vivant
Reed has always been interested in cheese. After graduating from Atascadero High School, she majored in Dairy Science at Cal Poly. "I was very involved in agriculture and was the president of FFA in high school," said Reed, "I knew I wanted to go to Cal Poly, and the Dairy Science department was recruiting. They offered me a job in the creamery." Reed worked at the creamery for four years, and learned to make cheese, butter, ice cream, and bottled milk. Her last two years were focused on sales and marketing, which set the stage for her first career: cheese brokerage.
As a cheese broker, Reed bought and sold "truckloads of cheese." She traded loads of cheese on the Chicago Mercantile Exchange and sold cheese to large manufacturers such as Kraft and Sargento. After working in the cheese brokerage industry for ten years. Reed decided to open her own business in June 2006.
"The last two years before I opened the shop, I was commuting to Wisconsin two weeks a month and living on the Central Coast two weeks a month. I was ready to come home," says Reed. "I saw a need for a cheese shop in Paso Robles to service the wineries, and Robert Gilson [owner of Hotel Cheval] was willing to invest in the shop to help get me started." At first, Vivant Fine Cheese was a wholesale-only business. Reed and Gilson invested in what was essentially a mobile cheese store – it was equipped with a real-time computer system with scales, refrigeration, and hot and cold running water. Reed would use the infamous "big cheese truck" to deliver to local wineries. By November of that year, she saw the need for a retail shop, and after a bit of construction, Vivant Fine Cheese as we know it today opened.
Whether visitors are new to the world of gourmet cheese or cheese connoisseurs, there is something for everyone at Vivant Fine Cheese.
Vivant Fine Cheese is located at 840 11th Street. The entrance is on Pine Street, across from Park Cinemas and adjacent to Hotel Cheval. Vivant is open Sun. through Thur. from 10:00am to 5:00pm, and from 10:00am to 6:00pm on Friday and Saturday. For more information, visit vivantfinecheese.com or call (805) 226-5530. Vivant can also be found on Facebook and Twitter.
— Laura E Zolnoski
Subscribe to weekly travel news
comments