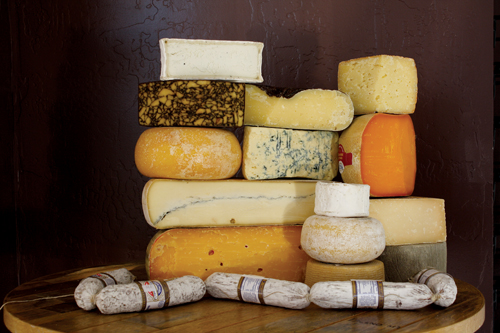 Find handcrafted artisan cheeses paired with Central Coast wine and beer in downtown Paso
Vivant Fine Cheese in Paso Robles is a gourmet cheese tasting room, featuring premium local and imported handcrafted artisan cheeses paired with the finest Central Coast wine and beer. The shop is located at 821 Pine Street, Suite B.
"We are located right in the heart of Historic Downtown Paso Robles and easily accessed for those wishing to take our exceptional cheeses along with their wine tasting," says owner Danika Gordon.
Vivant Fine Cheese is a retail cheese shop and a wholesale cheese supplier to over 150 wineries, restaurants and finer stores. The company offers over 200 different cheeses to choose from at the new location. The friendly staff offers in-house wine and cheese pairings with varietals from J Dusi, Hearst Ranch and more.
Vivant also offers a delicious lunch menu including soups, salads, sandwiches, and grab-and-go lunches. A selection of cheese boards, charcuterie platters, picnic baskets and boxed lunch sandwiches are available; dine in or take on a wine tasting trip or hike along the Central Coast.
"I frequent there to expand my pairing knowledge of cheese and wine," says Betsy Canter, local food blogger, "I was impressed at the depth of knowledge and amazing choices Danika offered."
Whether visitors are new to the world of gourmet cheese or cheese connoisseurs, there is something for everyone at Vivant Fine Cheese.
Stop by Vivant Fine Cheese at 821 Pine Street, Suite B. Open daily, 10 a.m.-5 p.m. For more information call (805) 226-5530 or go to www.vivantfinecheese.com.
The History of Vivant
Gordon has always been interested in cheese. After graduating from Atascadero High School, she majored in Dairy Science at Cal Poly. "I was very involved in agriculture and was the president of FFA in high school," said Gordon, "I knew I wanted to go to Cal Poly, and the Dairy Science department was recruiting. They offered me a job in the creamery." She worked at the creamery for four years, and learned to make cheese, butter, ice cream, and bottled milk. Her last two years were focused on sales and marketing, which set the stage for her first career: cheese brokerage.
As a cheese broker, Gordon bought and sold "truckloads of cheese." She traded loads of cheese on the Chicago Mercantile Exchange and sold cheese to large manufacturers such as Kraft and Sargento. After working in the cheese brokerage industry for ten years. She decided to open her own business in June 2006.
"The last two years before I opened the shop, I was commuting to Wisconsin two weeks a month and living on the Central Coast two weeks a month. I was ready to come home," says Gordon. "I saw a need for a cheese shop in Paso Robles to service the wineries, and Robert Gilson [owner of Hotel Cheval] was willing to invest in the shop to help get me started." At first, Vivant Fine Cheese was a wholesale-only business. Gordon and Gilson invested in what was essentially a mobile cheese store – it was equipped with a real-time computer system with scales, refrigeration, and hot and cold running water. She would use the infamous "big cheese truck" to deliver to local wineries. By November of that year, she saw the need for a retail shop, and after a bit of construction, Vivant Fine Cheese as we know it today opened.
comments