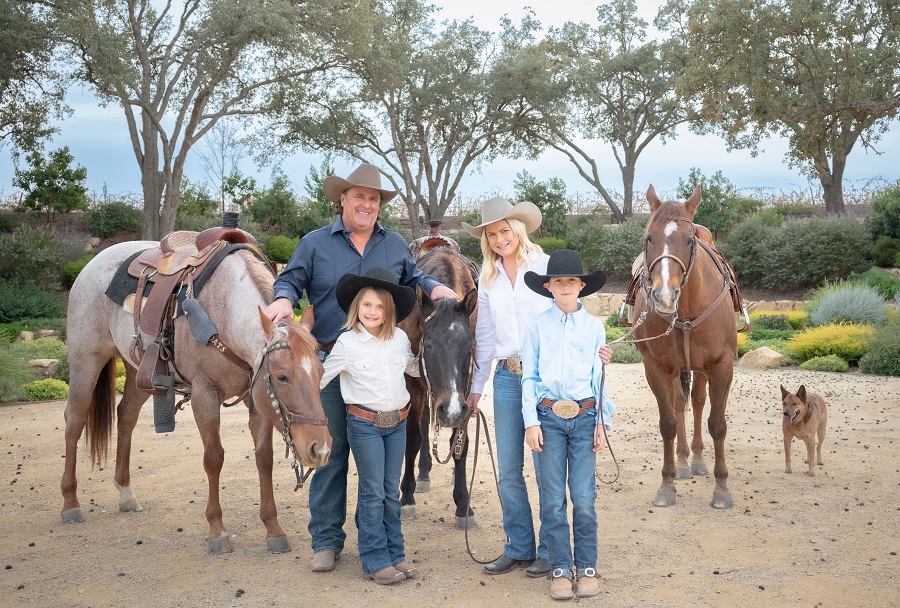 Family-owned and operated winery tasting room voted USA Today's Top 10 Best
— Exceptional wines, extraordinary hospitality, and extensive views of the surrounding hills and vineyards await visitors to the Rava Wines tasting room in Paso Robles. Located in the El Pomar District, a sub-appellation of the Paso Robles AVA, this family-friendly, award-winning tasting room showcases the wines and welcoming spirits of Chad and Lauren Rava.
As third-generation farmers, Chad and Lauren take a different approach to growing grapes and producing wine. Their son, Sterling, is on his 12th vintage, while their daughter, Jade is on her ninth as a fourth-generation farmer.
"We recognize our responsibility to our children and future generations," Lauren said. "They are the driving force behind us taking a minimalistic approach to producing a good product and having the time to enjoy it."
Sustainability in Practice
In addition to looking out for their children's future, Chad's cancer diagnosis of Non-Hodgkin's Lymphoma in 2013 had a dramatic effect on the way they farm the land and also led them to pursue a Sustainability in Practice (SIP) certification for their vineyards and winery.
Certification addresses the "three ps of sustainability" – people, planet, prosperity – to ensure natural and human resources are protected; practices the Ravas had been implementing for more than a decade before becoming officially certified.
As they continue to celebrate Chad's recovery, the Ravas regularly host fundraising events for Sabes Wings and The Cancer Support Community.
The wines and the makers
Winemakers John Clark and Sherrie Holzer work alongside Chad to bring a mixture of creativity and fun to their working relationship. As the newest member of the Rava team, Holzer has been integral to bringing new ideas to the mix. With her experienced palate, she is passionate about pairing wines with foods.
Crafting their sparkling wines in the traditional méthode champenoise style, the Rava team produces 11 sparkling varietals. Many of the small lots are offered exclusively to their wine club, The Sparkling Society.
Included among those offerings are classic sparkling wine styles Blanc de Noirs and Blanc de Blancs, more unique and rare varietals such as their Muscat, and the Sparkling Gruner Veltliner – a favorite of Holzer's.
"This wine showcases the vineyard where it comes from, expressing a minerality from the limestone soil and natural acidity that is the backbone of the wine," she said. "I love the freshness of the aromatics that make me think of a beautiful, spring day: green apple, blooming jasmine, Asian pear, and fresh-cut grass."
Still wine offerings include the award-winning 100% Estate Cabernet Sauvignon. Clark particularly favors the Sparkling Blanc de Noir made from pristine Monterey pinot noir grapes hand-harvested at the peak of perfection.
"The winery has precise temperature control from pre-chilling fruit, fermentation, and bulk storage, storage of bottles en tirage to disgorging; one of the hallmarks of quality," Clark said.
Although selections of Rava wines are available at local restaurants, sales are conducted primarily direct-to-consumer through the tasting room.
"Our guests tend to look for wines that are unavailable commercially," Lauren said. "People like knowing who is making their wine, what is going into it, and spending time at the winery; it's an experience you won't find at the grocery store."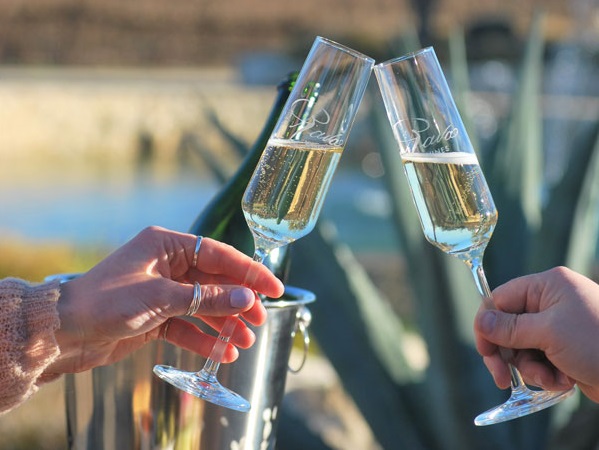 Vineyard plantings and tours
Born and raised in Paso Robles, Chad farms more than 800 acres of vineyards boasting 30 signature varietals from Italian and French origins. Locally, the estate vineyard features 16 varietals, and there are 14 varietals planted in the foothills of Monterey's Santa Lucia Range.
"Chad likes to experiment with different, interesting varietals, and he has added new small lots to our existing estate vineyard," Lauren said. "That's an ever-changing aspect of the industry, to be ahead of the game when it comes to certain varietals."
New varietals planted locally in 2022 include grenache noir, grenache blanc, cinsault, picpoul, pinot Meunier, and pinot blanc. Experience an up-close and personal view of these plantings, as well as older vines, with a self-guided walk along the pathway leading to Cripple Creek through the vineyard.
Want to explore Rava Wines with one of the owners? Book an Immersive Vineyard Tour with Chad and enjoy a glass of wine produced from estate grapes while taking in the winery's scenic views. A bottle of Reserve, a cheese & charcuterie board, and wine tasting await inside the tasting room at the end of this tour.
Lauren leads the Behind the Scenes Cellar Tour, taking visitors through the entire process of the time-honored methode champenoise of sparkling wines, from the cuvee to the finished product. Enjoy a tour of the winery while sipping on a glass of wine and get a sneak peek inside the cellar with Lauren followed by a reserve tasting.
Award-winning tasting room
Rava Wines was chosen among the 10 Best Tasting Rooms for USA Today's Readers' Choice Awards for the past three years based on the uniqueness of the wines, welcoming environment, and outstanding guest experience. With its contemporary tasting room surrounded by vineyards and native landscape, Rava Wines is the perfect place to spend the day.
"Our knowledgeable staff will guide you through the process of sparkling winemaking and share details on the vineyard and winemaking process," Lauren said.
Cheese and charcuterie plates are available daily. A full menu of delectable food offerings from Chef Gregg of KelleCo Project Catering is served up Friday through Sunday.
Concerts and events
Rava Wines welcomes award-winning Nashville hit-maker Jerrod Niemann to their state-of-the-art, contemporary indoor concert space on Saturday, May 20 to celebrate Wine Festival Weekend. Find tickets at the event tab on ravawines.com. Additional events at the winery, including the popular outdoor summer concert series, are complemented by an abundance of outdoor, open spaces with generous seating areas.
The Rava Wines tasting room, located at 6785 Creston Road in Paso Robles, is open daily from 10 a.m.- 5 p.m. Reservations are recommended, and walk-ins are welcome; book online at ravawines.com. Check the website and social media for updates on concerts and events. Call (805) 238-7282 for more information.
 – Meagan Friberg
comments