Taste, eat and explore in the heart of Paso Robles Wine Country
When it comes to delivering a diverse, appealing, and down-right fun wine tasting experience, nobody does it better than the folks at Opolo Vineyards. With a friendly and knowledgeable tasting room staff, it's no surprise Opolo has garnered a reputation for providing exceptional hospitality and service to visitors and locals alike.
Deemed a "Paso Original", Opolo is Sustainability in Practice (SIP) certified and delivers one-of-a-kind events for wine club members. Owners Rick Quinn and Dave Nichols have been hands-on with the winery and tasting room experience since 1999, and can often be seen enjoying their award-winning wines with guests.
"We believe that you can balance a fun place to taste with seriously great wines," said Quinn. "Opolo prides itself in producing quality wines and our efforts have been rewarded time and time again. Opolo is more than just wine tasting; we utilize our property to provide a wide range of experiences and our staff is committed to making guests feel welcome."
Winemakers Chris Rougeot and James Schreiner are passionate about fashioning wines from grapes grown on nearly 400 acres of flourishing vines situated along the east and west side of Paso Robles that feature an extensive range of varietals. The westside coastal vineyards are topographically diverse, providing intense and unique flavor profiles. On the eastside, the heat and dryness combine to create an ideal microclimate for growing Bordeaux varietals.
The Opolo vineyard and production teams work together to provide high-quality wine made from high-quality grapes. In addition, the estate vineyard on Vineyard Drive is surrounded by rolling hills that boast unsurpassed, picturesque views for tasting room guests.
Tastings & dining
Experiences abound at Opolo, from wine tasting and varied flight options to tours, patio dining, and, the newest addition, brandies and premium liqueurs. Perhaps these experiences are best summed up in a few words – unique, exceptional and, above all, fun!
Wine tasting options include a classic flight, wine and cheese pairing, estate tour and tasting, and reserved tastings for groups. The menu for Pairings on the Patio, a must-try, features an assortment of wood-fired pizzas, artisan cheese and meat platters, sausages and accompaniments, and fresh, crisp salads.
Sample staff favorites in the warm, inviting tasting room and learn about the Opolo winemaking process while sipping some of the best wines of the region.
"We offer one of the most diverse and immersive tasting experiences in Paso Robles and empower our staff to create individual tasting flights for each person that visits Opolo. Our team is knowledgeable about our broad range of wines and their goal is to educate while providing a fun place to visit," said Nichols.
Try the 2018 Albariño or Rosé – both are perfect for enjoying with fruit and lighter meals during the amazing spring and summer evenings of the California Central Coast. The Albariño has hints of orange blossoms, melons, cherries, and fresh basil while the Rosé is a lovely blend of grenache, syrah, and viognier.
Looking for a red wine? Opolo's 2016 Sangiovese bursts with rich aromas of cherry, strawberry, and roasted herbs balanced with vanilla and cinnamon spice, a touch of tannin, and a roasted toffee finish – the best! And be sure to try the 2018 Mountain Zinfandel, a signature offering at Opolo. Truly exquisite, this classic medium-bodied wine has notes of red plum, blueberry, sandalwood, white pepper, and silky tannins – a must-try.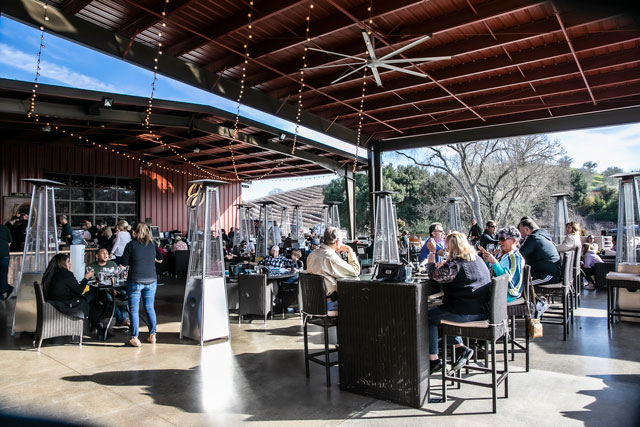 Wine club, events, lodging and more
Opolo's special events, including quarterly Wine Club pick up parties, are famous for delivering the fun. Sign up for the Valentine's Winemaker's Dinner, Zinfandel Festival Dinner, Sunset Crab Feed, or the annual Tour the Adriatic Coast. And what could be more special than a romantic wedding? Opolo Vineyards is the ideal venue, with oak tree-lined roads, acres of vines and walnut groves, and a picturesque hilltop.
Find the ultimate Paso Robles wine country experience at The Inn at Opolo Vineyards with luxurious, spacious rooms, fireplaces, soaking tubs, wine and appetizers each afternoon, and made-to-order breakfast each morning.
Opolo even features an onsite distillery. Willow Creek Distillery delivers top quality, aromatic fruit brandies and premium liqueurs. These hand-crafted delights are created using fresh, local fruit and saignee from the wines. Stop by and taste brandies, whiskey, and liqueurs while friendly staff members share more about the history of these libations.
"Opolo offers one of the most diverse and immersive tasting experiences in Paso Robles," said Nichols. "From the property itself to a wide range of award-winning wines, there's something for everyone at Opolo."
Experience Opolo Vineyards at 7110 Vineyard Drive in Paso Robles. Open daily, except major holidays, 10 a.m. to 5 p.m. Call 805-238-9593 or see Opolo.com for more information.
–By Meagan Friberg
comments