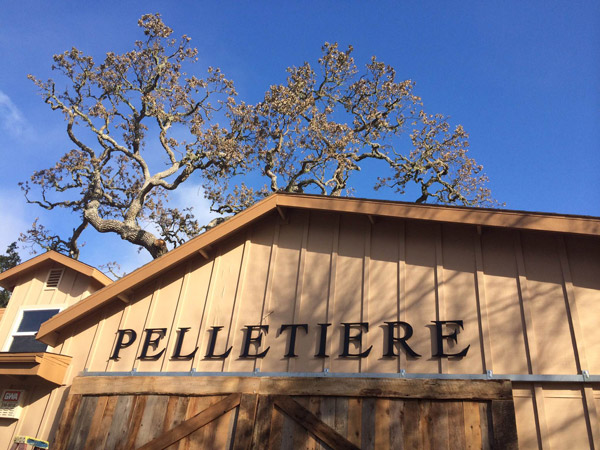 Century-old tradition and history, Italian heritage, and a revitalizing take on some of the area's best grape varieties, make Pelletiere Estate winery one of the newest Central Coast wine country gems.
Rich History and Nostalgic Ambience
Located in the heart of the Willow Creek district on the westside of Paso Robles, the vineyard was meticulously planted from 1993-1995 in the sloped, rocky limestone soil of area. The winery actually has a rich Mennonite history dating back over a century. In fact, the original farmhouse on the property is believed to have been built-in the late 1890's, which was evidenced by the German newspapers and square nails that the current owner, Janis Denner, found in the insulation during renovations.
Denner moved to Paso Robles five years ago after selling her market research company. Though her intention was to retire, she yearned for a project to stimulate her creativity and allow her to work in a beautiful, natural setting. She bought the property that is now Pelletiere winery several months ago. During those months, they managed to harvest and crush the grapes, remodel the farmhouse and tasting room, bottle the wine, and landscape and furnish everything.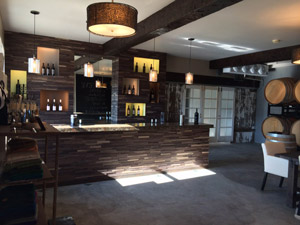 "What I love most about this industry is the diversity within winery ownership," said Denner, who immensely enjoys the agricultural segment of the industry as well as growing, producing, winemaking and finally retailing and marketing the wines, plus providing hospitality.
"It's the equivalent of four different businesses. I love the diversity and the collaborative effort that goes into all of it."
The name of the winery is Denner's maiden name; her father's family was originally from Naples, Italy. Bringing her Italian heritage to the remaking of the winery, she conducted all renovations to both the interior decor and exterior build with the aim of preserving as much of the rich history of the property as possible. Along with beautiful design and lingering history, the house has amazing views of the vineyard. She even added an expansive deck that trails off of the dining and living room, which adds an outdoor living space.
The overall layout and ambience of the entire house attributes to it not only being comfortable and functional, but also beautiful. Denner, who loves natural elements of design, utilized an exquisite array of stone, wood and hides to pull the look and feel of the house together.
"We wanted to create a beautiful, peaceful retreat out of the winery. So that's what we did," said Denner.
Grapes With Character and Luxurious Wines
All of Pelletiere's wines are made from the grapes from their 10-acre estate. They specialize in Italian, sustainably farmed varietials, such as sangiovese, nebbiolo, lagrein and Montepulciano. They also grow and produce zinfandel, syrah, and viognier. And though they sell a wide variety of single-varietal wines, they are most proud of their sangiovese reserva, a 36-month oak-barreled wine.
With its refined/rustic look and feel, Pelletiere's tasting room is like no other tasting room in Paso Robles. For just $10, patrons can taste five of Pelletiere's signature wines: the viognier, sangiovese reserva, Montepulciano, zinfandel and the lagrein.
Why Pelletiere is a Must-Visit
Julie Lent, a recent patron to Pelletiere, raved about both the atmosphere and the personable service she received. "We were greeted by the owner, Janis, who gave us a personal tour of the remodel," Lent said. "The customer service was great! Rarely are you shown around by the owner. In addition, we are familiar with the winemaker, Amy Butler, who does some really nice things with the wines."
Lent also admired the exquisitely executed decor. "I loved the distressed beams and inviting dining room table…the outdoor picnic area with views of the neighboring wineries. It was very peaceful," she said.
She also said the wines were "lovely," as she tried several varieties she'd never heard of before. Of those, her favorites were the sangiovese, Pelletiere's "unique" zinfandel and their buttery/oaky viognier.
"The wines were not only wonderful, but–to me–this overall experience is my favorite kind of winery: small and friendly, just like Paso," Denner said.
Visiting Pelletiere
Though they just opened for business in January and therefore do not yet have many events planned, they will be pouring as part of Zin Fest with their estate Viognier, after which guests will be seated at their rustic country farmhouse tables. The tasting continues with Sangiovese Reserva and four additional handcrafted wines; Montepulciano, Zinfandel, Lagrein and a late harvest Zinfandel. Each wine will be paired with artisanal cheeses and meats to compliment each. Zin Fest will be taking place March 20-22.
Pelletiere is located at 3280 Township Rd., Paso Robles. They are open Thursday through Monday, 11 a.m. until 5 p.m.
comments