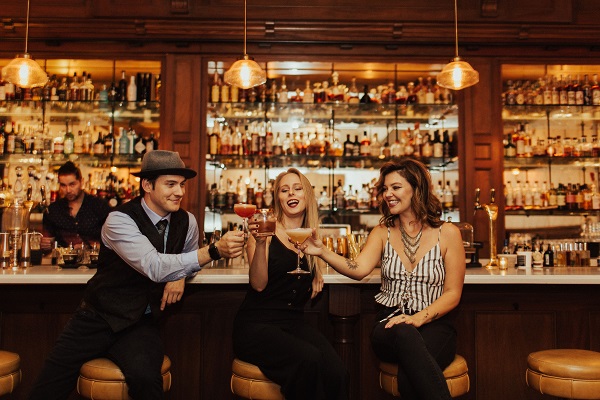 From an Irish theme to south-of-the-border flavors, exotic cocktails and a flashback to the 1920s, the Park & Pine Group offers unique dining and drinking experiences
—If you have ever been to downtown Paso Robles, chances are you have enjoyed one of the Park & Pine Group's venues. Each of the four concepts (Pappy McGregor's, 1122 Speakeasy & Cocktail Lounge, Fish Gaucho and the CANE Tiki Room) offer something truly unique.
The group is owned and managed by Donovan Schmit and Troy Larkin, cousins who grew up in the restaurant business. The success of each business is due to attention to detail, focus on unique concepts and superior customer service.
Pappy McGregor's
Their first venue in Paso Robles, Pappy McGregor's, opened in 2006 and is a locals' favorite receiving accolades of "Best Bar/Pub" for eleven straight years. The Irish-themed gastropub offers delicious comfort food, fresh seasonal craft cocktails, local wines, beer on tap, and is home to the best nightlife in Paso Robles! With plenty of indoor dining space, two full bars, two outdoor patios, kid and dog friendly, it's easy to see why the locals love Pappy's and why it is a must-visit when in downtown Paso Robles. They have recently added delivery services and a Pub Club for locals offering members points and rewards. Pappy's is also the perfect venue for celebrations with the back patio or the entire restaurant available for private parties such as rehearsal dinners, wedding receptions, birthday parties and more.
Pappy McGregor's is located at 1122 Pine Street, Paso Robles. Open 7 days a week, kitchen hours are 11 a.m.-9 p.m., bar hours are Sun-Thu 11 a.m.-11 p.m. and Fri-Sat 11 a.m.-2 a.m. For more information visit pappymcgregors.com.
1122 Speakeasy & Cocktail Lounge
Behind Pappy's is the 1122 Speakeasy Cocktail Lounge. This establishment takes guests back to the prohibition era. To enter, guests press a doorbell and are greeted by a host (through a cage in the door) who explains the rules of the speakeasy. The host secures cell phones in a special pouch that is kept in a locked position with the guest and escorts them through the secret door leading to the hidden cocktail lounge. Once inside, a unique cocktail experience engaging all the senses begins. The bartenders provide an elevated cocktail experience with offerings from the classics, the forgotten, and unique/seasonal cocktails created by the bartending team. Smoked cocktails are a favorite and the popular Butter Pecan Old Fashioned is now offered in pre-made bottles to go. Bartending seminars, educational events, and private events are offered throughout the year. They have recently added a Spirits Society membership for discounts on cocktails, access to special events, and other perks.
1122 Speakeasy is located on Pappy McGregor's back patio. Enter through Pappy's. Walk-in hours are Fri-Sat 5 p.m.-1 a.m. Reservations are recommended for Tue-Sun, 6-11 p.m. but walk-in guests are still accommodated. For more information or to make reservations visit eleven-twentytwo.com.
Fish Gaucho
Another "Best Restaurant" winner year after year is Fish Gaucho. During a trip to Mexico, Troy and Donovan were sitting on the beach, sipping fresh lime margaritas without high-calorie mixers added to sweeten the margarita, they wondered, "Why can't we find a drink like this back home?" As they enjoyed their fresh ceviche, creative salsas, shucked raw oysters, and fresh fish tacos, again they found themselves wondering where they could eat like this back home. They returned to develop Fish Gaucho as a restaurant and tequila bar that offers a large selection of fine tequilas, hand-muddled margaritas, seasonal cocktails, local wines, imported beer, and a modern Mexican menu with all items made using fresh ingredients. The décor is mostly used reclaimed wood and metal which was inspired by old-world rustic Mexico with each piece custom-made for Fish Gaucho.
Fish Gaucho is located at 1244 Park St., Paso Robles. Dinner every night from 3-9 p.m. Lunch is served Fri-Sun 11:30 a.m.-3 p.m. Reservations are available for parties up to 18. For more information or to make reservations visit fishgaucho.com.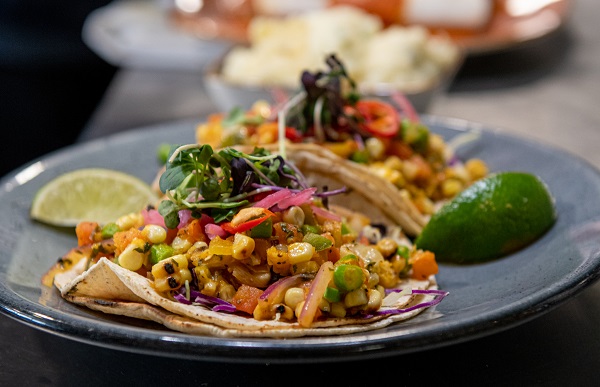 Cane Tiki Room
The newest of the four concepts is the Cane Tiki Room. This tiki bar and restaurant was conceived during COVID when the speakeasy was not able to open and instead operated from a Tiki bar setup on Pappy's back patio. It was a huge success so when the space around the corner from Fish Gaucho became available, Troy and Donovan jumped at the chance to create Paso's first Tiki bar. They did not spare any attention to detail when remodeling the space – Cane (Paso's Tiki God of Cocktails) is a water feature behind the bar that blows smoke, lights up and plays music when special drinks are ordered. Every nook and corner is decorated fitting the Tiki theme. The menu includes all the classic Tiki cocktails, some Cane Tiki Room originals, and a Polynesian-inspired menu ideal for sharing with items like teriyaki bowls, fried rice, egg rolls, Spam musubi, chicken lettuce cups, ahi poke and Mongolian beef. A visit to this island oasis is a wonderful escape from the everyday.
Cane Tiki Room is located at 1240 Park St., Paso Robles. Open daily at 4 p.m. For more information and for reservations visit canetikiroom.com.
For more information about the Park & Pine Group, visit theparkandpinegroup.com/.
—By Lisa Pretty
comments