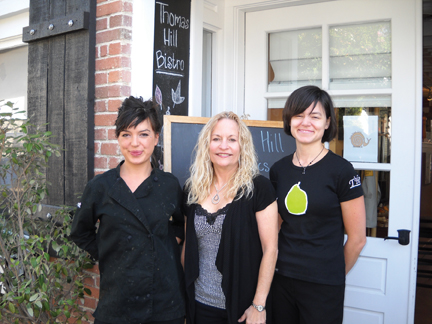 Thomas Hill Organics restaurant, in its romantic alleyway location in Paso Robles, CA, sprung out of the need of owners Joe and Debbie Thomas to find an outlet for the abundance of fresh produce they were growing on their nearby farm. The restaurant was met with such enthusiasm by both locals and visitors to the area that within its first year it had expanded to include additional dining room space.
Now the restaurant occupies much of a building which is rumored to have been Jesse James' brothers' stable. The old barn has been converted to house the restaurant but still carries the feel of its previous incarnation. The original barn door adorns a wall in the dining room, and the secluded patio dining space feels a bit like it might have been part of a hide-out at one time. Visitors to Thomas Hill Organics enjoy the out-of-the way feel made possible by its location on an alley in Paso Robles' historic downtown, says owner and host Debbie Thomas.
When Joe and Debbie moved to Paso Robles 7 years ago from Pasadena it was with the desire to get away from the business of the Los Angeles area. Joe had traveled to Paso Robles for its wine region and like it. Debbie says she fell in love with the area when Joe introduced her to it. When they purchased 10 acres of land in Paso Robles they were not planning on having the farm that they have today. Says Debbie, "We just wanted a place big enough for our dogs." However, once they made the move Joe started planting.
Joe planted over 900 fruit trees, including apples, pears, pluots, pomegranates, figs and nuts. And this was just the beginning. Thomas Hill Farms now grows, as Debbie puts it, "anything you can grow here." Depending on the season Thomas Hill Farms produces row crops including heirloom tomatoes, chilies, cucumbers, summer squash and specialty greens like arugula, mustard greens, dandelions, kale and black kale.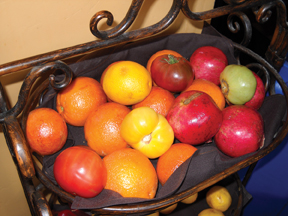 Mostly, says Debbie, the fruits and vegetables just went to their neighbors at first. However, when the fruit and nut trees began producing in earnest, the amount of produce was too much for the Thomases to disperse. So, the Thomases decided to set up a community supported agriculture program, or a CSA, to distribute the extra produce they had.
After the CSA program had been going for a few years a friend suggested to the Thomases that they take a look at a space in Paso Robles that could potentially house a restaurant. The restaurant could serve as an additional destination for all the fruits and vegetables being produced on the farm. The space seemed too perfect to pass up, and within a few months Thomas Hill Organics was up and running.
If the space inspired the opening of Thomas Hill Organics, then the hiring of Chef Julie Simon cemented the restaurant's success. Debbie says that Julie, who had previously worked as a sous chef at central coast restaurants The Park and Windows on the Water, "is incredible" and adds, "Her food is amazing." Julie is French, and was studying to become an attorney when she moved to the central coast to pursue a career as a chef.
Debbie says that Julie is a extremely creative chef, and that she "thinks outside the box." Case in point: the vegan pizza offered at Thomas Hill, which is topped with carrots, beluga lentils, cashews and coconut milk. It is this ability to combine ingredients in new and interesting ways that makes Julie the perfect chef for Thomas Hill Organics. Debbie says that because the focus of the restaurant is "farm to table," they rely on Julie to use whatever the farm is producing during each season to update the ever-changing menu.
Debbie describes as a goal of Thomas Hill Organics to source whatever they don't produce from local farms, and says that they serve fish according to what is in season. She also says that they use natural meats and grass-fed beef as much as they can, and describes the Thomas Hill burger as "the best burger in town." Another favorite of Debbie's is the heirloom tomato salad which is "simple and good." For Debbie the most important factor to serving great food is to have great and fresh ingredients.
It is Thomas Hill Organics' success at implementing the farm-to-table approach that has made the tucked-away restaurant such a favorite with locals and visitors alike. While the menu changes according to the season, some things remain constant: Thomas Hill Organics offers creative and fresh meals with a focus on locally-grown food.
Visit Thomas Hill Organics at 1305 Park Street in Paso Robles, CA. Lunch is served Monday, Wednesday, Thursday, Friday and Saturday from 11am – 3pm. Dinner from 5 – 9 pm on Sunday, Monday, Wednesday and Thursday and from 5 – 10pm Friday and Saturday. Brunch on Sunday from 10am – 3pm. Closed on Tuesdays. Call (805) 226-5888, or visit www.thomashillorganics.com for more information.
— Kate Joyce
Subscribe to weekly travel news
comments