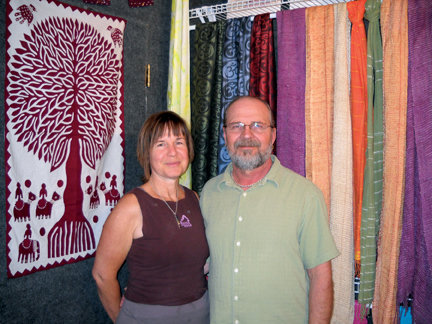 In Earthtones, owners Mary Uebersax and Greg Carroll wanted to create a place for visitors to be able to take a moment to relax and "feel a sense of personal peace," says Mary, as well as a place to purchase handmade gifts. Earthtones has been at its location in downtown Paso Robles since 2005, and was located in nearby Atascadero before that.
For Mary and Greg having their store in a space at the heart of their community was important. The concept of "Main Street" as a bustling core that binds together an area is central to their concept of their shop. Mary says that sometimes some of their regular customers will stop by the shop as a way to decompress and take a quick break from their daily lives.
This idea that Earthtones can serve as a refuge from the hustle and bustle of the day takes form in the items that the shop displays. As a Yoga and Pilates teacher, massage therapist and Reiki healer, Mary puts a great deal of importance in all of the senses. Essential oils, wind chimes and music help to shape the Earthtones environment. Mary describes Earthtones as "Your respite in the Central Coast."
Earthtones offers crafts from artists worldwide as well as artwork and crafts made locally. Mary sources the items she offers in her stores directly from many of the artists, and focuses on fair trade practices when selecting the merchandise. She says that she brings in items from "emerging communities from around the world" and strives to buy products that tie into development in their communities. Especially important to her are the issues of education, conservation of the environment and support of women's organizations.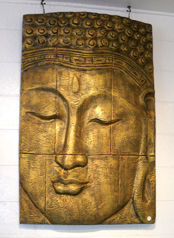 Mary and Greg work as a team, and enjoy showcasing the Central Coast in their merchandise. Mary focuses on connecting with the artisans and says that Greg is responsible for the environment which visitors to Earthtones experience: "He has designed this attractive place," she says. Greg's mother, a fiber artist in Mexico, is one of the artists represented in Earthtones.
Visitors to Earthtones will find among its offerings handmade candles, hand-crafted household goods, art and photography from local artists, bath salts, incense, essential oils, books, music, jewelry and clothes. Many of the gifts that Earthtones offers are economical, and Mary wants the emphasis of the gift giving to be in the experience of choosing the right gift, and feeling good about the origin of the item. Mary says of Earthtones, "This is a gem that expresses the Central Coast" and says that she is happy to represent artists and craftspeople of an "amazing caliber."
Earthtones also serves as a local spot to purchase Jobella Coffee whole bean coffee. Jobella is a local coffee company that roasts fair trade coffee. Jobella has even made Earthtones its own blends: the Amethyst and Earthtones Blends.
With Mary's studio in the back of the store providing a place for her to teach Yoga and Pilates and offer massage and meditation, the image of Earthtones as a mini-getaway is complete. Mary and Greg are at hand to discuss the items in Earthtones, and, as Mary says, there is "so much to be excited about." A Paso Robles downtown treasure trove, Earthtones is living up to its two mottos: "Experience Tranquility" and "Conscious Living Inspired By Nature."
Visit Earthtones at 1319 Park Street in Paso Robles, Monday – Saturday from 10am – 6pm and Sunday from 10am – 4 pm. Call (805) 238-4413 or visit www.earthtonesgifts.com for more information.
— Kate Joyce
comments