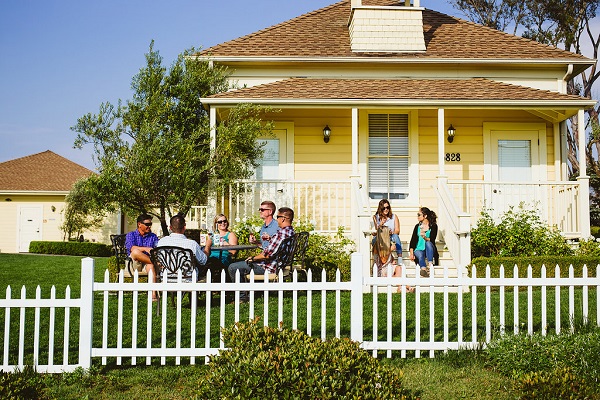 Winetasting destination is only minutes from Downtown SLO
—Driving the back roads of San Luis Obispo County's picturesque Edna Valley is spectacular any time of the year with its rolling hills and vineyards, panoramic views, and historic schoolhouses and rustic barns. A drive through the valley, stretching from San Luis Obispo to Arroyo Grande, is the opportunity to visit some of the top wineries in the area and experience the world-class wine produced in the Edna Valley AVA.
The charming coastal Edna Valley has a winemaking history dating back to the 1800s is one of the oldest grape-growing regions in San Luis Obispo County. In its ancient past, the valley was the ocean floor and today benefits from the rich oceanic and volcanic soils. The gentle sunshine and moderate Pacific Ocean maritime climate combine with the fertile soil to create one of California's longest grape-growing seasons. All of these conditions come together to produce incredible world-class wines
Bring a camera and plan on a day of adventure sipping great wine, sampling some apple brandy, having lunch and playing some bocce ball.
Baileyana Tasting Room offers a beautiful array of wines in a historic schoolhouse
Traveling down Orcutt Road from downtown San Luis Obispo, the Baileyana Tasting Room is the first you will encounter as you enter the Edna Valley. Housed in the historic Independence Schoolhouse built in 1909, the Tasting Room is the home of Baileyana, Tangent, True Myth and Zocker brands.
Charming both inside and out, this Tasting Room offers wine-tasting experiences designed to accommodate all visitors. With around 35 different white, red and Rosé wines to choose from, there are wines for every palette, whether the guest is a first-time wine taster or a wine expert. For those willing to adventure and discover, an amazing experience awaits! With extensive picnic grounds and views, the tasting room is family-friendly and provides a memorable and fun experience for every guest.
Veteran Winemaker Rob Takigawa is focused on bringing elegant Chardonnays, aromatic whites and Pinot Noir wines from the cool Edna Valley and powerful reds from the warmer Paso Robles to Baileyana visitors. These wines are rich in story, and those stories are well-told by the engaging tasting room team.
The Baileyana Tasting Room is located at 5828 Orcutt Road, San Luis Obispo. It is open from 10 a.m.- 5 p.m. daily. Reservations are required. Please book on Tock or call (805) 269-8200.
Wine, grappa, and apple brandy at Autry Cellars
Nestled in the heart of Edna Valley, overlooking rows of vineyards and a 40-mile stretch of the Santa Lucia mountain range is Autry Cellars. Owner and artisan winemaker Steve Autry and his tasting room staff pour wine varietals, brandy, and grappa borne from some of the best grapes selected from across the region, along with his signature apple brandy.
Autry Cellars' informal, the unpretentious tasting room is, "decorated in early American warehouse" style, jokes Autry.  However, don't be deceived by the modest décor. In this tasting room, visitors can experience superb wine varietals ranging from best-selling petite Sirah to malbec and viognier.  In addition, you can taste the gold medal best-in-class grappa and silver medal-winning American oak and Hungarian oak brandies, awarded by the California Mid-State Fair.
With over 18 years of winemaking experience, Autry became a commercial winemaker 10 years ago and a fully licensed brandy distiller in 2012. A visit to Autry Cellars is about discovery.  He says people who visit his tasting room, "come for the wine and discover the brandy." At Autry Cellars, visitors gain access to impressive wines and brandies that are available exclusively in the tasting room. Every wine is unique, and each is produced only in small quantities.
Visit Autry Cellars tasting room at 5450-B Edna Road in San Luis Obispo; open 11 a.m. to 5 p.m. daily, autrycellars.com, (805) 546-8669. 
Saucelito Canyon tasting room is the destination for the finest Zinfandel
Along with a selection of amazing red and white wine blends, Saucelito Canyon Vineyard makes one of the finest Zinfandel wines from historic dry-farmed old vines. The Saucelito Canyon tasting room on Biddle Ranch Road is the perfect destination for tasting some of the vineyard's top selections. The tasting room specializes in Zinfandels that express the natural qualities of our historic estate vineyard in the Arroyo Grande Valley.
A visit to the tasting room is a great way to be introduced to Saucelito Canyon wines. Enjoy tastings, a bottle of wine and a choice of tapas boxes or picnic boxes while soaking up the beautiful Central Coast weather. Non-alcoholic beverages are also available.
Join the wine club for great discounts and special wine club member perks.
Saucelito Canyon Tasting Room is located at 3080 Biddle Ranch Road, San Luis Obispo. Tasting reservations are recommended and walk-ins are welcome upon availability. The last seating is at 3:30 p.m. Hours are 11 a.m.-5 p.m. daily. Closed Thanksgiving, Christmas and Easter Sunday. For other holiday hours, wine tasting and tapas menus, reservations, wine club, or more information visit saucelitocanyon.com or call (805) 543-2111.
Check out Claiborne and Churchill Winery
Claiborne & Churchill Winery, still run by original owners Claiborne Thompson and Fredericka Churchill Thompson, has been producing Alsatian-style "alternative whites" in San Luis Obispo since 1983. In 1995, Clay and Fredericka built their pioneering, eco-friendly strawbale-constructed winery and opened their tasting room in the Edna Valley, and over the years they have expanded their picturesque garden area to accommodate more guests and larger parties for tastings and seasonal events.
The winery's upscale welcoming tasting room is located, to the delight of visitors, right in the barrel room, allowing the popular producer to accommodate more visitors comfortably. For guests who are interested in holding their own private parties at the winery, they take reservations for small, special events such as birthday, anniversary, and graduation parties.
Their guest cottage is perfect for couples hitting the road for a weekend, for parents visiting students at Cal Poly, or for anyone just looking for a relaxing "getaway." The unit is available for vacation rental through the VRBO/Homeaway website, or by emailing elizabeth@claibornechurchill.com.
Centrally located in SLO Wine Country, Claiborne & Churchill's vacation property is only a ten-minute drive from Pismo Beach, San Luis Obispo, or Arroyo Grande, and a fifteen-minute drive to Cal Poly.
Visit the tasting room at 2649 Carpenter Canyon Rd., in San Luis Obispo's Edna Valley; open every day from 11 a.m. to 5 p.m. (except major holidays), claibornechurchill.com, (805) 544-4066.
comments