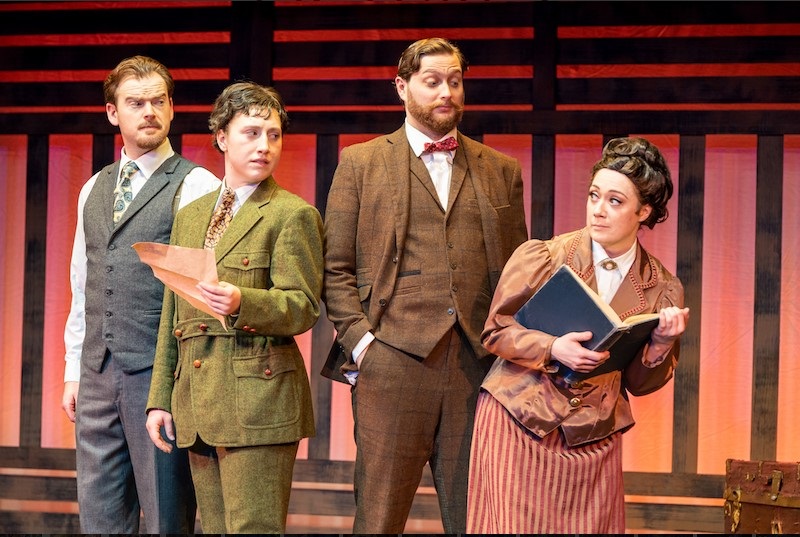 Family fun with actor interaction
—The Great American Melodrama Theatre in Oceano is a unique, one-of-a-kind evening of music and comedy that has thrilled audiences for 48 years. The theatre offers fun, interactive, family-friendly performances with top-tier professional actors who greet audiences at the door, entertain them all evening both on and off stage, and deliver the best performances on the Central Coast.
Known as the "Melodrama" by its fans, the theatre offers fresh, funny shows with titles that you won't see at any other theatre around. Modern musical plays or contemporary takes on familiar stories are all performed in the melodrama style, including the use of broad comedy, and larger-than-life characters, and audiences are encouraged to boo the villain, cheer the hero, and swoon for the lovers.
A favorite experience for many audience members is interacting with the performers throughout the evening. The actors not only perform but also greet guests at the door, show them to their seats, serve them food at the snack bar, and take time during intermission to celebrate birthdays and anniversaries in the crowd.
With a wide variety of food, snacks, desserts, beer, wine, and sodas as well as a third-act Vaudeville Revue, an evening at the Melodrama is really three experiences in one: A great play, delicious dining, and a themed cabaret full of music, parody and comedy sketches.
On stage
Trudy and the Beast, September 15 – November 11, is an updated "tale as old as time," that blends everybody's favorite tale with a sci-fi classic. A strange creature, half-man, half-fish, has been spotted near the lagoon on the 13th hole of the Black Lake Golf Course in Nipomo. Trudy, an avid golfer, dismisses the stories as an urban legend. Everyone is surprised and horrified when the creature takes an interest in Trudy. Mixing in song parodies and pop culture references, Trudy and the Beast is a surefire crowd-pleaser.
The Great American Melodrama Theatre is located at 1863 Front St, Oceano. The box office is located at 1827 Front St. For more information or to purchase tickets visit americanmelodrama.com or call the box office at (805) 489-2499.
—by Lisa Pretty
comments