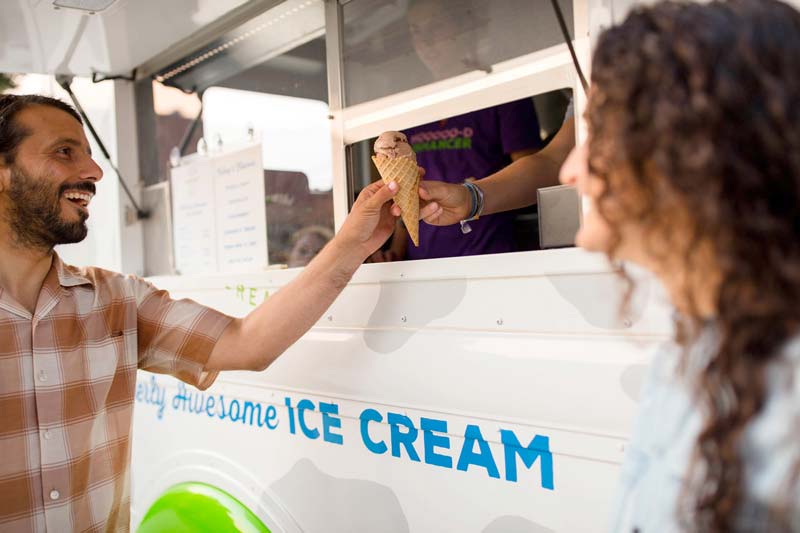 Discover the Central Coast's sweet tooth
Nestled in the small town of Harmony, where the population is 18, one of California's hidden treasures is just waiting to be discovered – Harmony Valley Creamery. With multiple artisan ice cream flavors, this family owned and operated business is a great destination for a road trip to enjoy a cold treat and explore the town.
"Come visit the little hamlet of Harmony and step back in time," said Tom Halen, president of Harmony Valley Creamery.
Harmony Valley Creamery is well known for their signature ice creams with quirky names, such as Mayor Freddy's Vanilla Bean with Madagascar Bourbon beans, Doo Dah Mint 'N Chip, Local Yodelers Cookies 'N Cream, School's Out Strawberry and Harmony Chapel Chocolate. Pints and scoops of the decadent flavors can be found at different restaurants and markets around San Luis Obispo County.
The Scoop Truck is another avenue to appease a sweet tooth. There are currently two restored trucks: a 1957 and 1964 DIVCO that were formerly used as milk delivery trucks from Arizona and California. These ice cream shops on wheels travel around the Coast to farmers markets to bring the taste of Harmony to locals and tourists. One of the trucks is used for special events, where guests can reserve the Scoop Truck to bring ice cream right to their party, wedding, or other celebration.
The Harmony Valley Creamery has over a hundred years of experience in the dairy industry and it certainly shows in the smooth, delicious ice cream. The business started in the early 20th century and temporarily closed down in the 1960s. After Harmony decided to renovate the town to its quirky nature, the creamery reopened for business in 2015.
The town, along with the creamery's building, is scheduled to open in 2020. Along with a dairy shop that will sell cheeses, milk and other similar products, there are plans for a restaurant. While devouring a mouthwatering scoop of Harmony Valley Creamery's iconic frozen treat, make sure to explore the Harmony Glassworks, general store, Harmony Pottery, or the beautiful outdoors.
With the town of Harmony making its mark on the Central Coast with every scoop of ice cream, a perfect day on the Central Coast must include a taste of this famous dessert.
Harmony Valley Creamery is located at 2177 Old Creamery Road in Harmony. Open every day from noon to 4 p.m. For more information, call (805) 927-1028 or visit harmonyvalleycreamery.com.
—Sadie Mae Mace
comments