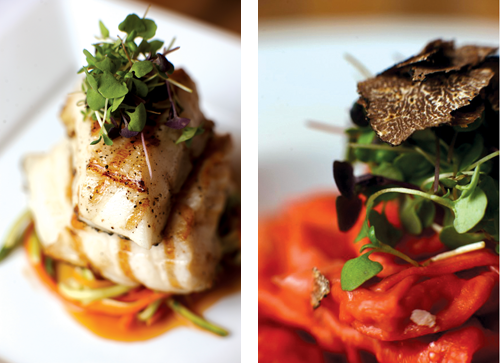 Journey to Italy via the experience of Il Cortile Ristorante befittingly set in Northern San Luis Obispo's wine country. Il Cortile, located at 608 12th Street in downtown Paso Robles, has offered locals and visitors a unique dining experience, which has been described as big-city fine dining in a warm, small-town setting with affordable pricing.
Dinner is served seven days a week beginning at 5 p.m. in Il Cortile's contemporary but yet old world design influenced dining room and outdoor courtyard where patrons can enjoy the beautiful Central Coast climate.
Executive Chef Santos MacDonal and co-owner and wife, Carole MacDonal, opened Il Cortile in November 2009 after Santos' amazing rise in the culinary arts industry. Santos launched his career in the highly-acclaimed Italian restaurant, Giorgio, in Malibu, under renowned Chef Giorgio Baldi.
Santos' career voyage led him through the kitchens of fine Los Angeles restaurants, such as Via Veneto, Locando de Lago, Koi, La Sosta, to name a few. After demonstrating an authentic passion for his art, Santos was handed the reins as executive chef at Bridge Restaurant and L'Angolo Cafe.
"I loved the way he (Giorgio) ran his kitchen. He always took pride in the best quality ingredients. My philosophy like his is to use the freshest ingredients. I am constantly challenging myself to create new and tasty dishes that reflect what is available at any given time. All of my pastas and sauces are handmade and my dishes are created in such a way that the pasta is involved with the sauce, not just as an accompaniment," said Santos.
The Italian Experience
When patrons arrive at Il Cortile Ristorante, the sophisticated exterior architecture begins the patron's journey to another time and place. After being greeted by Il Cortile's friendly and warm staff, they can choose to sit down in the inviting contemporary yet old world dining area or choose a table in the enclosed courtyard, which is what Il Cortile means when translated into English.
The dining area décor is modern but relaxing. The lighting is set high enough to read the menus but low enough to create a romantic and enchanting atmosphere. The courtyard is lit with candles for an old-world charm. Patrons can even sit outside and listen to the rain and enjoy the evening air as they sit protected in the winter season covered courtyard while enjoying Santos' succulent creations.
"We chose these colors, furniture and light fixtures to create a warm and comfortable environment for our customers," said Carole. "We want people to feel they are eating at a restaurant in Italy. We are truly passionate about what we do. We really do care that customers have a great experience. We want them to say that they had an amazing experience."
Il Cortile Cuisine
The cuisine is influenced by the different parts and seasons of Italy, which is reflected by Il Cortile's seasonal menus. Santos hand selects and buys all the ingredients, even if that means he has to travel throughout the area to find the highest quality ingredients. He believes in using a maximum of nine ingredients in his dishes.
"If you use more than nine ingredients you are overdoing it," agreed Carole.
Currently, patrons can start their palette's journey with fresh antipasti dishes which include shrimp, scallops, grilled octopus or calamari, pan roasted quail, fresh cheeses and other fresh vegetables.
Patrons can also enjoy selections from Il Cortile's mozzarella menu items to enhance the feel of an authentic Italian restaurant or just select a wine from Il Cortile's exquisite array of fine local and Italian wines.
One of the restaurant's most ordered specialties is Pork Osso Buco, which is a 16- to 20-ounce pork shank with bone in that is brazed all day in white wine and herbs and served with Parmesan Risotto.
Santos says he only wishes to use the freshest and highest quality ingredients to create dishes that are normally not accessible in this area.
"I always challenge myself to see what I can do better," said Santos. "I want my customers to have the best dish in their life."
Patrons can also choose among other delicious main dishes, such as Chilean Sea Bass; Filetto al pepe verde, a filet mignon with a green peppercorn sauce; Costate di agnello, a rack of lamb roasted in an aromatic herb sauce; Vitello ai funghi porcini, or a veal chop with porcini mushroom sauce with a red wine.
The menu also includes truffles which come from Alba in Piedmont, Italy. Carole says they offer black truffles in the spring and summer and white truffles in the winter time just like Italy.
Carole believes in a high level of customer service and frequently talks to her customers to make sure they received exceptional service,
"The customers get the best service. We pride ourselves in exceptional service," said Carole. "When customers leave here, we make sure they leave knowing they had a great experience."
Carole says during the year they hold reverse wine dinners. Normally a person will choose a meal and a wine will be paired with the meal. In the reverse wine dinners, customers choose a wine and Santos prepares a three-course meal to marry with it.
Il Cortile's notoriety has grown since opening. The restaurant has appeared in well-deserved write-ups in The New York Times, The LA Times, USA Today as well as local media such as The Tribune and The New Times.
For more information or reservations at Il Cortile, please call (805) 226-0300.
— Ben Banuchi
comments